Job Smeets is honest: When he was asked four years ago if he would like to arrange the reopening exhibition for the (then) Gemeentemuseum Weert, he was not immediately thrilled. Smeets, the founder of Studio Job, one of Holland's most famous designers with clients and exhibitions around the world, had, after all, left the provincial town at the age of 17 to never return.
But then three years ago he became a father for the first time and a kind of calm came over him. In 2020, Weert municipality commissioned him to create a sculpture for Zuid-Willemsvaart, where the Weert industry once thrived. Not much later, he bought two gymnasiums from his old school, designed by the Limburg architect Theo Boosten.
So now it is true that he stands here, in the four halls he decorated as Wunderkammers. Bursting with his own work, supplemented with works from the museum's collection, and with art he bought or exchanged: Donald Judd, Constant Permeke, Maurizio Cattelan, Piet Hein Eek, Andy Warhol. 'It's like my own house in Milan,' he says, 'it's my most personal exhibition ever.'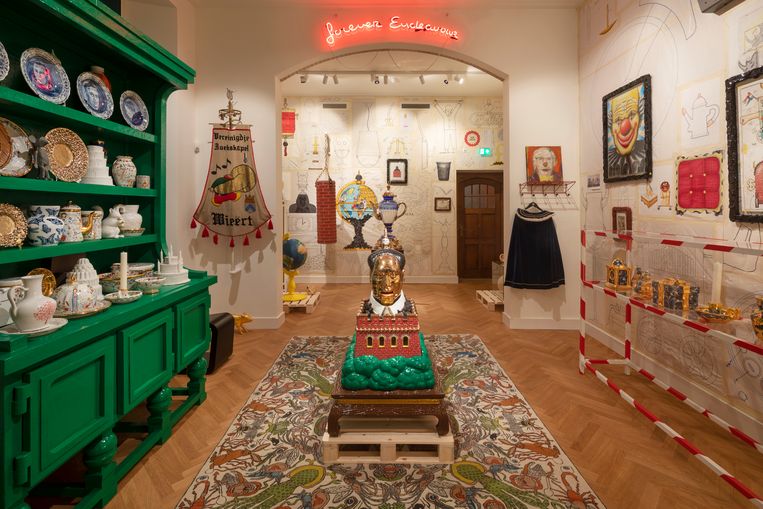 His boys' bed is there, a design by Rietveld, with a crocheted plaid by his cousin Connie, who has also made something for Viktor & Rolf. A portrait that his father painted of him, and over what Karel Appel made of a schoolmate's father, it was lent to the museum. Piece for Peace, established in 2010 for the office of the first President of the European Council, Herman Van Rompuy. A head of Mao on top of the Great Wall of China – the Chinese client never received it because pictures of Mao do not enter China.
Your own life path

It's full, it's naughty, it's colorful, it's everything Weert is not on this weekday. This immediately makes it a bold statement for a small city museum that, before its closure, led a drowsy existence as a treasure trove of religious art by the Franciscan brothers in Holland and of regional and local (cultural) history. For a while in the 1990s, the ambition was to add a (nationally) attractive program for contemporary art, but after one exhibition (and a round of cuts) the idea disappeared in the drawer. Back was a small collection with works by, among others, Jan Dibbets, Frans Franciscus, Gijs Frieling, Rob Birza and Fons Haagmans.
In 2015, the municipality decided to breathe new life into the museum. There was a quartermaster, a new museum vision, a new name (Museum W) and a designer was appointed, Maurice Mentjens, who not only renovated the old building (the former town hall), but also a spectacular new extension with 'golden' facade cladding .
The exhibition plan is now based on three pillars: a permanent assembly scheme, two changing exhibitions a year and a program outside the walls. All three are based on the same question: how am I formed as a person? 'A tour of the museum', it says on the website, 'is like walking your life path.'
Freelance curator Patricia van der Lugt (Schunck, Scheringa Museum) was recruited for the changing exhibitions. Not all of these will be of Job Smet's caliber – the budget will not suffice. She says she is a big fan of the Stedelijk Museum Schiedam, which changed course a few years ago under the direction of Deirdre Carasso. 'You can sum this up as: how do I reach out to the public without sacrificing quality.'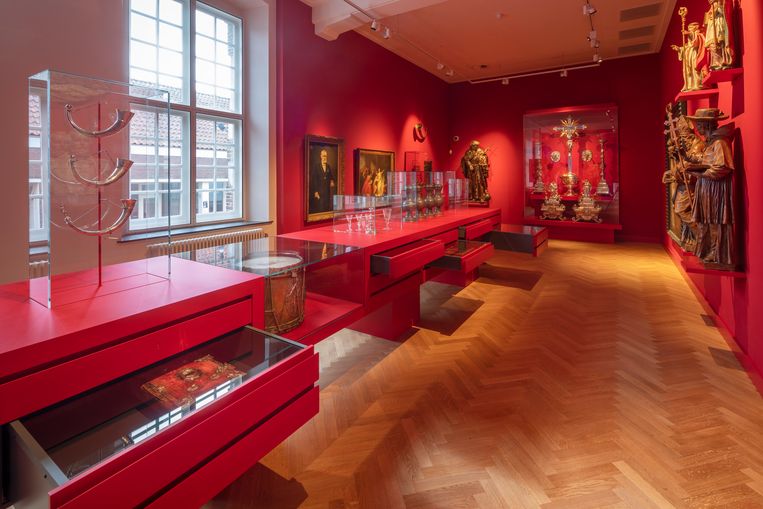 In the autumn, there are i.a. The essentials by audiovisual artists Martin and Inge Riebeek: video portraits from 23 countries revolving around the question: 'What makes your life meaningful?' Van der Lugt: 'And an exhibition that would also fit well here, I just mention the working title Skin ego: an exhibition about how skin helps to determine your identity. You can also involve local tattooists. Or we send a young photographer into the neighborhoods to capture tattoos and record the bearers 'stories.'
The permanent collection is divided into ten themes 'from cradle to grave', including body, family, power and splendor, faith and superstition, as well as suffering and death. In just as many rooms we see crucifixes, pietas and statues of the Virgin Mary, a lot of religious silverware from the famous Weertse Kunstwerkplaats Esser-Werz, 16th century tin-ewers, club banners, coins and tools from the region, complemented by work. by contemporary artists.
Inclusivity

Ask curator John van Cauteren how the Roman Catholic artifacts from the collection may be a mirror to the diverse population of Weert (one in five residents of Weert has a non-Western background), and he responds easily: 'I think inclusivity and diversity in museums is important. I took this into account as far as possible when choosing themes and the loans. But what makes me stubborn is the pressure I feel, because especially the museum world of the suburbs tends to judge all museums on spaciousness. Even though their collections are not as suitable for this as ours. Of course, in our education program, we will create all sorts of connections to today's society. That opportunity is provided by the changing exhibitions as well. But I do not have the illusion that the non-western residents of Wetteren suddenly come to the museum by forcibly auctioning objects'.
Which visitors will Museum W attract with the new programming? Patricia van der Lugt addresses the experienced and untrained museum guest, from the region and beyond. The municipality – wholly owned – hopes to reach especially Weert's residents in the first year. Gift from the city: With 30,000 golden tickets, printed in door-to-door papers, they will soon be able to enter for free.
outdoor exhibition
The facade of the new building contains two five-meter high LED panels. It features a video installation by artist and photographer Emily Bates. It lost spring. Lost year takes passers-by back to the first spring of the corona pandemic. Bates brought flowers from his daily walks, and therefore the idea for a weekly self-portrait with flower face masks was born. Every year, Museum W invites another artist to this 'outdoor exhibition'.