Little is sadder than the great promise that died young, which was the fate of Mathieu Clement (1905-1929), gifted advertising artist for Philips in the department of artistic propaganda. An overview of his work, plus talented other artists and designers, has been arranged at the Philips Museum in Eindhoven: eye-catcheron Philips graphic art from 1910-1965.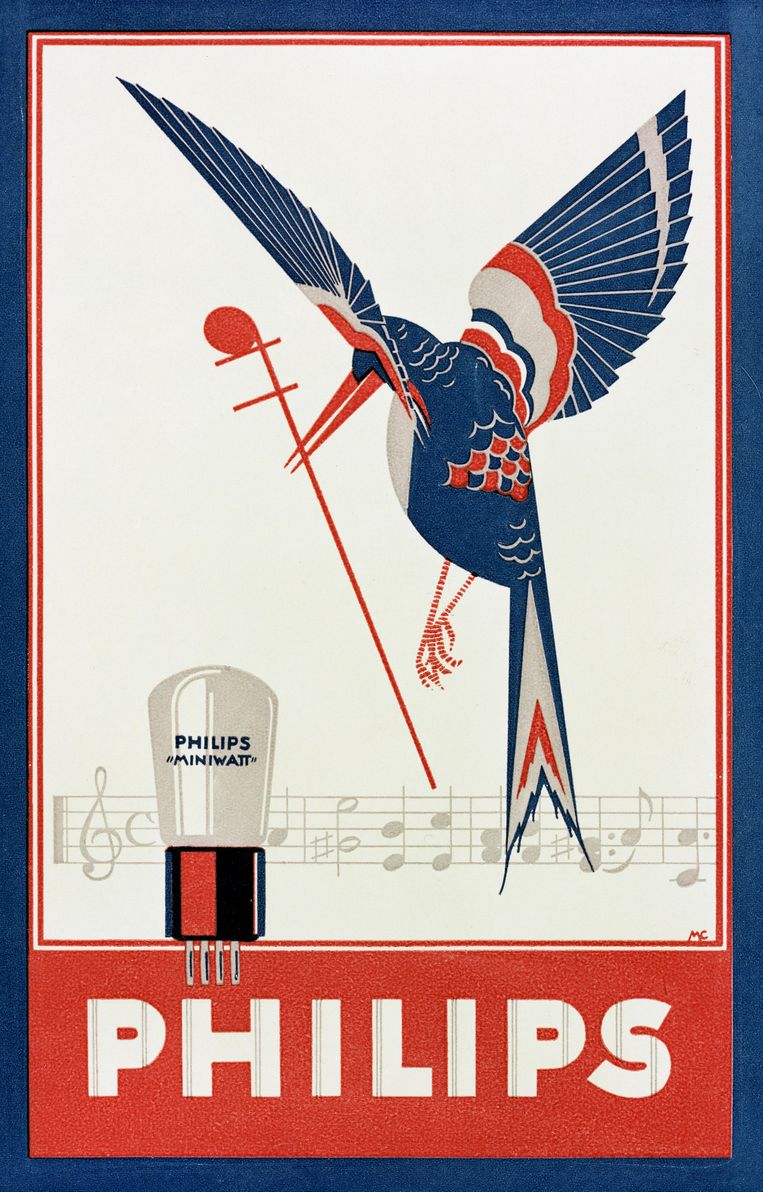 Especially from the second half of the 1920s, the bulb factory's advertising department produced high quality work. Skilled cartoonists such as Albert Hahn, Raoul Hynckes, Mary Aubele, Carl Probst and Louis Kalff struck a poetic and at times homely tone when imagining products bearing small poetic names such as 'miniwatt' and 'rectifier'. For example, Clement translated the functionality of a miniwatt – a radio tube – into a stylized red-blue hummingbird with a node in its beak. A surprisingly graceful and accurate picture of the then 22-year-old artist.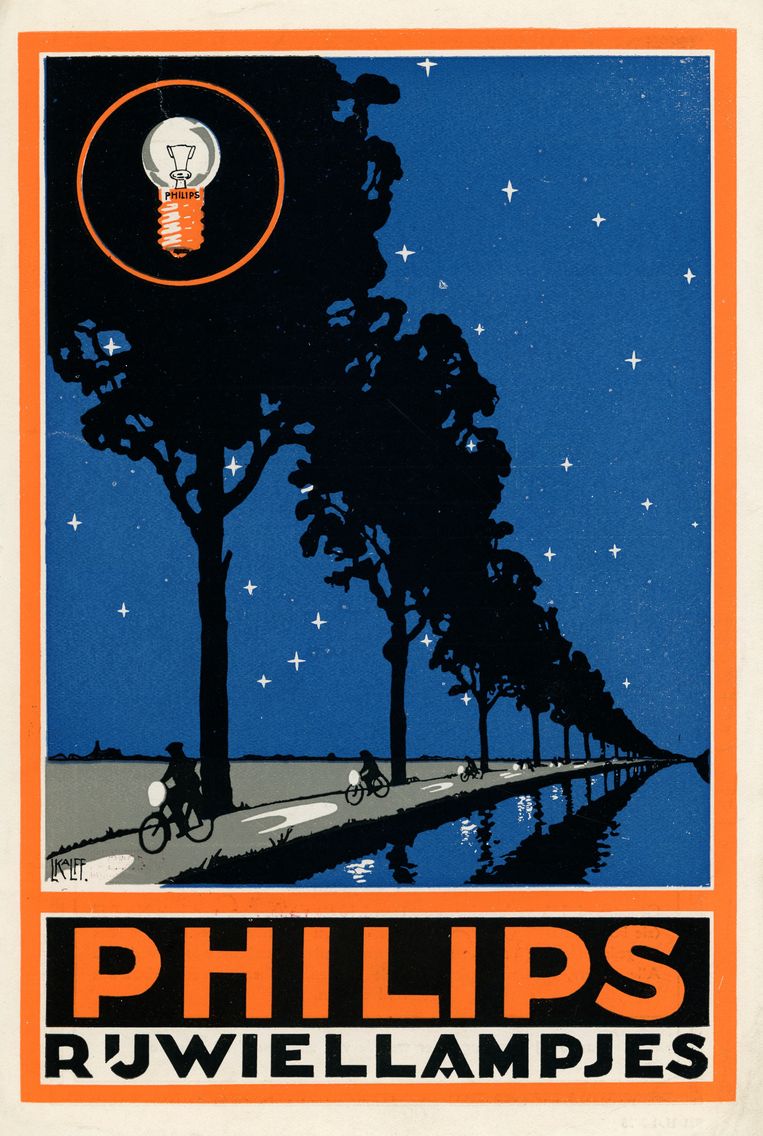 The great imagination of the artists from the period before (and shortly after) World War II creates the overview eye-catcher worth the effort. Photography hardly played a role back then. The drawing hand had the freedom to promote a novelty like bicycle lighting in a powerful graphic scene: a beaded row of bicycles in the blue night, along a straight canal, with headlights that cast a seal-shaped beam of light on the pavement, a 1926 advertising brochure by Louis Kalff.
It was the same Kalff who set Philips' advertising department in a new direction in 1925. Kalff, a trained designer and architect, had written a critical application letter to Anton Philips, the man who was rapidly building a multinational. How is it possible, Kalff wondered, that a company of this attraction promotes its products with only girls in old Dutch costumes? For it was Philips' most important advertising strategy until 1925. In response to the criticism, Anton Philips Kalff immediately made it the leader of what would later be called the Department of Artistic Propaganda.
It was also Kalff who recognized the talent of Mathieu Clement, a young man who came to Philips in 1925 fresh from HBS with a portfolio of drawings. Despite his early age, Clement dared to take the liberty of developing his own signature, both in his work for Philips and in his own, autonomous landscapes and portraits. The promise of art is visible in both facets, prompting a small biography of Clement, published on the occasion of the exhibition. The edition clearly shows that his untimely death meant a great loss to the Department of Artistic Propaganda.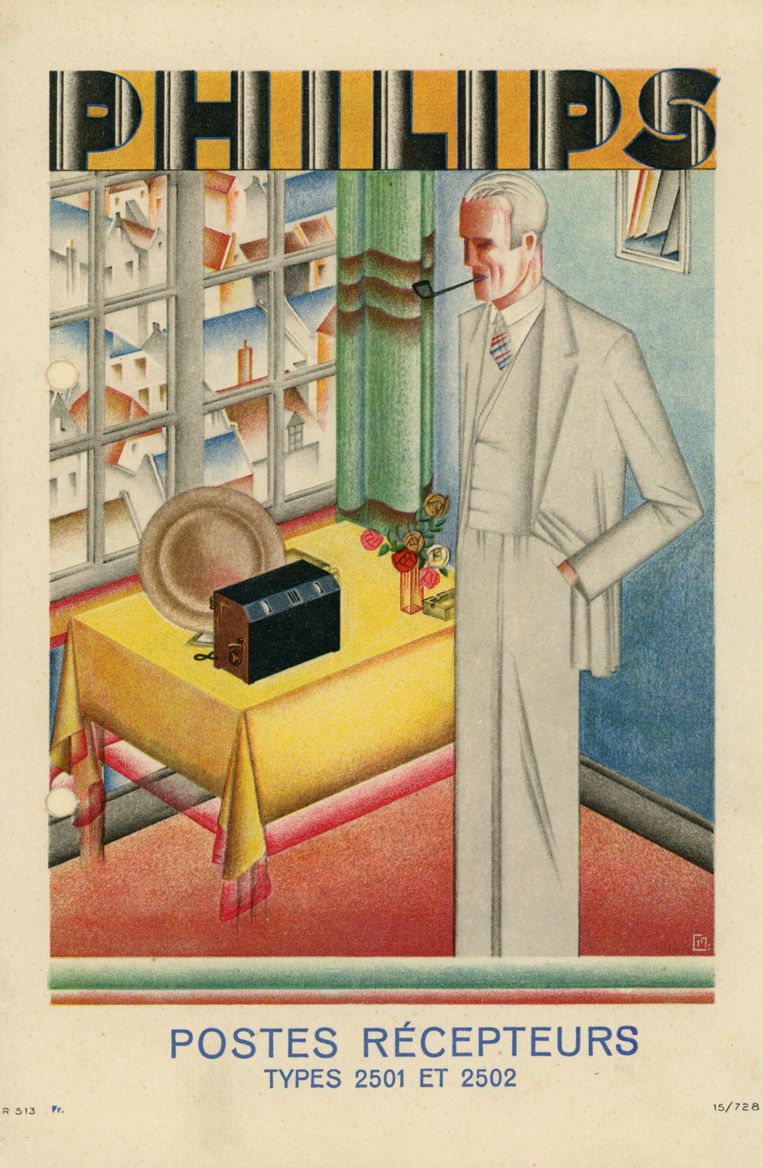 A good example is a 1928 advertising poster by Clement promoting a recipient. Radio technology is still relatively new and the mind must be prepared for wireless reception. Clement draws a well-groomed gentleman in a fashionable suit with vest, thin trouser legs and pipe, on the table an angular apparatus to be placed in all living rooms. The window offers a view of a crowded urban landscape. The image breathes modernity, Clement's relaxed scene must tempt people to open a new window to the world.
Temptation was at the heart of the communications strategy in the years when Philips' growth seemed to be exploding. In 1927 the ten thousand employee was welcomed in Eindhoven, two years later the counter was already at twenty thousand. The advertising talent that was to stimulate sales came not only from the Netherlands but also from the USA, England, Germany and France and was diverse in its style. eye-catcher shows that boss Kalff on the one hand tries to introduce a house style and unity, but on the other hand also gave his cartoonists freedom, giving a rich and diverse picture of an innovative company.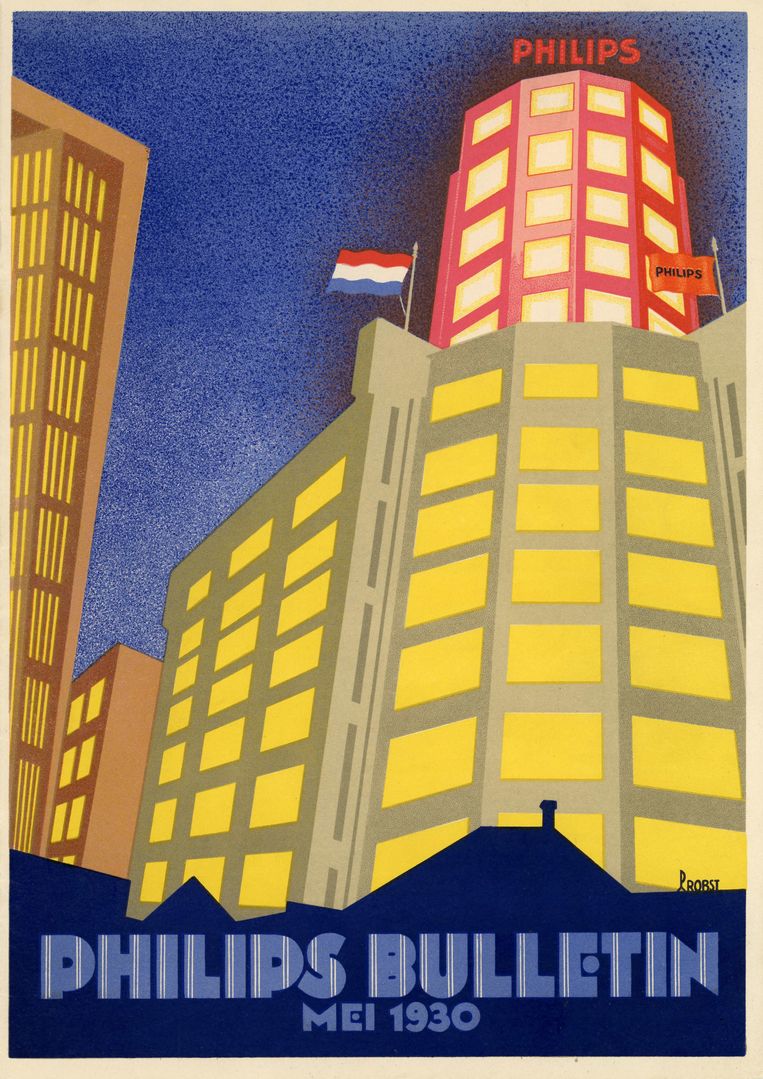 Philips had money left over for talent. Carl Probst was a German artist who in 1929 was on the payroll for 700 guilders a month, a handsome salary. The German was a craftsman who played with light and dark contrasts in his posters and other work, with dark blue shadow areas versus white-yellow window lights, as on the front of Philips Bulletin from May 1930.
Mathieu Clement has never experienced this again. In 1928 he fell into a crisis of inspiration, visited Amsterdam to refuel and saw the work of the painter and photographer Breitner: 'The only one who had Amsterdam's color on his palette', he wrote to his brother. He returned to Eindhoven to work again for the department of artistic propaganda. In 1929 he died quite suddenly of a disorder of the adrenal glands.
'I am convinced,' said his boss Kalff in an interview a year later, 'that he possessed a great talent and that he would certainly have been capable of great things if he had lived longer.'
Eye-catching: Philips Graphic Art 1910-1965† Until 31 October, Philips Museum, Eindhoven.
Ans van Berkum, Cathrien Clement & Peter Thoben: Mathieu Clement – Natural artist† Acqua Tornata.
Kalff: the first design director

Architect and designer Louis Kalff (1897-1976) wanted to play a key role in maturing Philips' communications strategy. From 1925 he not only drew many posters and brochures, he also made the first company logo – even before the current Philips shield – in bold, checkered letters. As head of the artistic propaganda department, he was responsible for 'the aesthetic care of Philips products'; makes him the first design director. Kalff was involved in Le Corbusier's famous Philips pavilion for the 1958 World's Fair in Brussels and designed the Evoluon in Eindhoven together with Leo Bever.