Where are you from? This can be an unpleasant question, especially when asked to people who are not supposed to have been born in the Netherlands based on their appearance. It is even an issue that, according to recent instructions from the 'Diversity and Inclusion Code' in the cultural sector, should be completely avoided. At least by the coffee machine. For at the same time, in this search for diversity and inclusion, the art world has almost become obsessed with the question: where does the artist come from? While in museum rooms, as with the coffee machine, there is a risk that we look more limited. So be careful.
Until an artist comes along who asks exactly this question 'Where do I come from?' has made it the core of his art. One such artist is Remy Jungerman (62). In his solo exhibition at the Stedelijk Museum Amsterdam, he profusely celebrates his bicultural background, his mother was Afro-Surinamese, his father had a European background. Jungerman shows himself as a master of the remix in Stedelijk. He shows sculptures, wall sculptures, paintings and a film. The works of art are ingenious mixes, think of all kinds of music mixed together without it becoming a cacophony, or a rather full of strange ingredients that still taste good.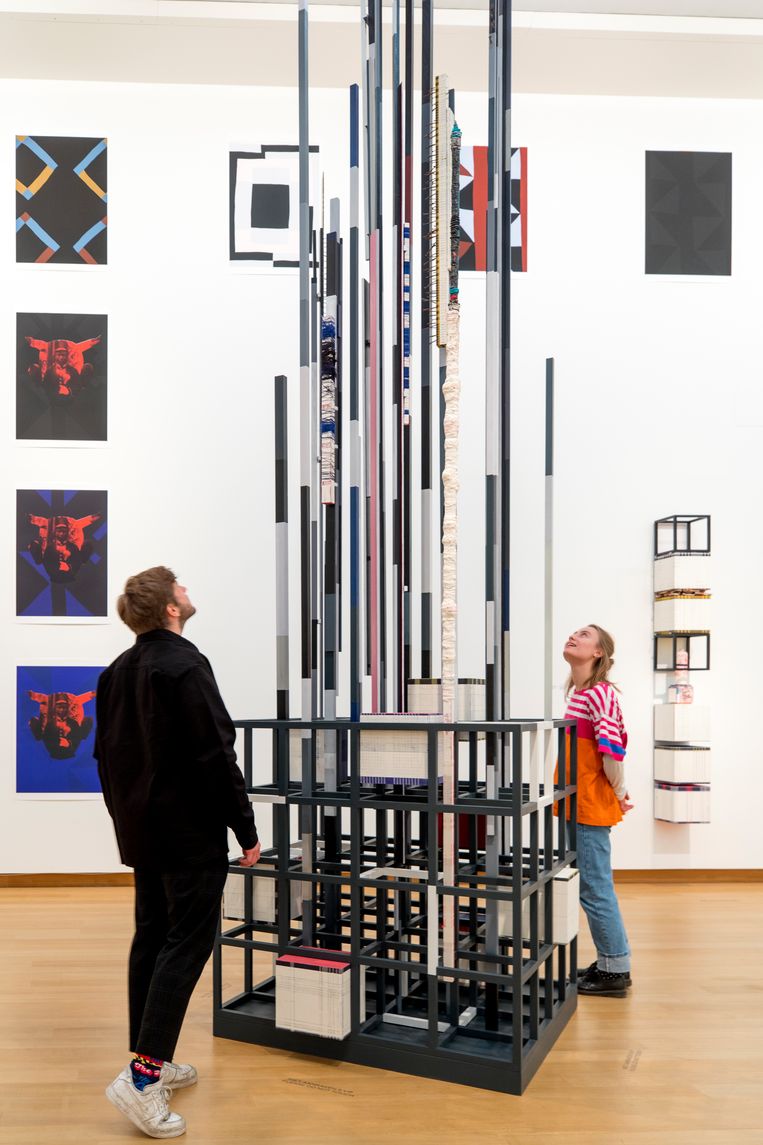 take lift, a large work of art that was exhibited in the Dutch pavilion at the Venice Biennale in 2019 and was recently acquired by Stedelijk. It is a large stand, a lattice, with long sticks in. These sticks are colored and stand upright. I immediately think of those in power, modernist sculptors, De Stijl, Mondriaan and Rietveld, but I am still far from it. Textiles and white clay have been incorporated into the artwork. The textile with geometric patterns comes from the Surinamese reddish-brown culture, the clay has to do with the Winti culture. And the sticks refer to the Winti flagpoles and to the artist Stanley Brouwn's (1935-2017) oeuvre, which, like Jungerman, came from Suriname.
It is something of a list: is it necessary to know or understand all this? Certainly not Jungerman's art. They are very careful compositions and combinations. Visually, for example, Maroon's canvases are perfectly suited to beautiful serene geometric paintings reminiscent of the American abstract painter Agnes Martin (1912-2004). Not that it's all pure harmony, this mix also sometimes collides. Then Jungerman shows a garden gnome wearing a Congolese voodoo mask, or he sticks a Sinterklaas in a collage between images of a Winti ritual.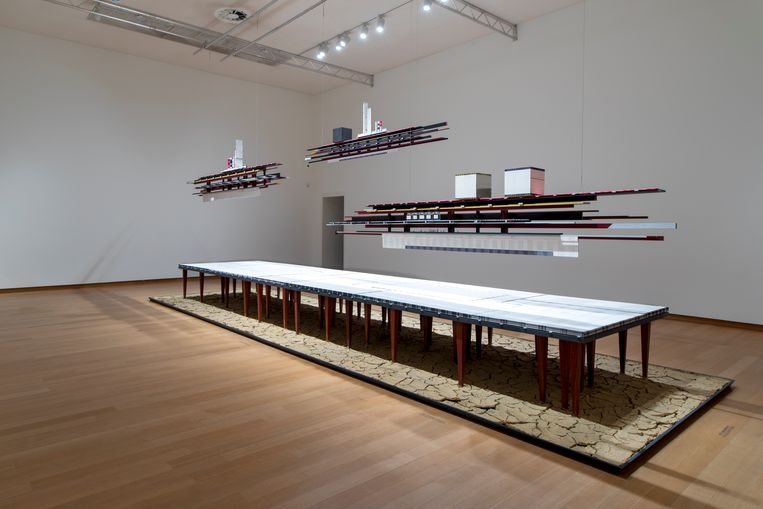 The spectacular highlight of the exhibition is the installation Visiting deities also seen in Venice, a giant table covered in dried clay. Above it, ships made of wooden slats seem to float. The artwork, which refers to the table of a Winti ancestor, was given a separate museum space and thus an appropriate, sacred charge.
It is special and unexpected that because of all these works of art together, the troubled question also forces itself on the viewer: where do you come from? Who are your ancestors? What do you see when you look at a work of art that is based in part on a culture that you may not know well? Questions that should definitely be asked at museums.
Surinamese art in Stedelijk
Art by Surinamese and Surinamese-Dutch artists has recently received a great deal of attention in the Stedelijk Museum. Last winter and spring, a large exhibition on Surinamese painting was shown until 1980. It has been closed for a long time due to the closure and can now be seen online. Remy Jungerman's solo exhibition can be seen as a kind of sequel to this one. In the fundraising event 'Tomorrow is a Different Day', a room with art by Surinamese-Dutch artists, including Jungerman, has also been set up.
Rituals remain
In 2005, Remy Jungerman traveled to Suriname after the death of his father. There, the artist, who has lived in Amsterdam since 1990, participated in rituals for ancestral worship. In the short film crazy† as he made especially for the exhibition, images from this defining journey and the rituals can be seen.
The experience has changed his art: Since this journey, Jungerman chooses to show his Surinamese background more clearly. But it's not just about 'seeing'. In the audio tour, the artist calls his art a 'remnant of ritual acts'. If he works a sculpture with white clay that has a cleansing meaning in Winti rituals, then applying the clay is a ritual. The dice he shows sometimes contain strips of fabric and 'memories' (he pronounces them before closing the cube). Invisible and ritual elements also play a role in Jungerman's art.
Remy Jungerman, Behind the Forest

Visual art
Stedelijk Museum Amsterdam, until 13/03/2022