The strange thing about Frida Kahlo is: we remember a lot about her, but also a lot we do not. Frida Kahlo is as malleable as it can be. You can walk away with her as a female galleon figure, as an Native American galleon figure, if queer galleon figure, as a galleon figure for free love, as a modernist, as a fashion icon or as a hero for the physically handicapped – after a serious accident at the age of 18, she continued to have serious problems with her body for the rest of her time. life. My teenage son wears Frida Kahlo in a light green jacket and mask because some skate brand has decided that she is also a galleon figure for them (I'm happy for a long time, it increases the chance from 0.001 to 0.1 percent that he comes again this time year to a museum to see 'the artist of his coat'). Frida is hoisted by many on the shield. Although one hears much less about the things that fit less into a contemporary image, such as her lifelong sympathy for Joseph Stalin.
Still, Frida Kahlo is much less hijacked than you might first have imagined. That's the beauty of it, and I notice it again at every exhibition of her work (this year there are two in Holland). This painting shows a quite spiritual side of her, it is full of faith in an omniscient nature and ditto universe. That was new to me. A whole lot happens, just in one detail. Frida's chest is torn open and thick drops of blood drip out. At the same time, milk drips from the equally cracked coffin on a figure that is a kind of Mother Earth / Universe, and tears drip from Frida's eyes. And it's just this detail; we also see a naked man as a baby with an all-seeing eye on his forehead on his lap, a Mexican hairless dog named Señor Xólotl, a white face in the clouds, a huge white and a black hand with roots from his fingers and lots of cacti. This is certainly not an example of the motto 'championship in championship' and I think many viewers would have laughed heartily if it had not been for Frida Kahlo. Not because of the subject, but because of the almost Liberace-like surplus.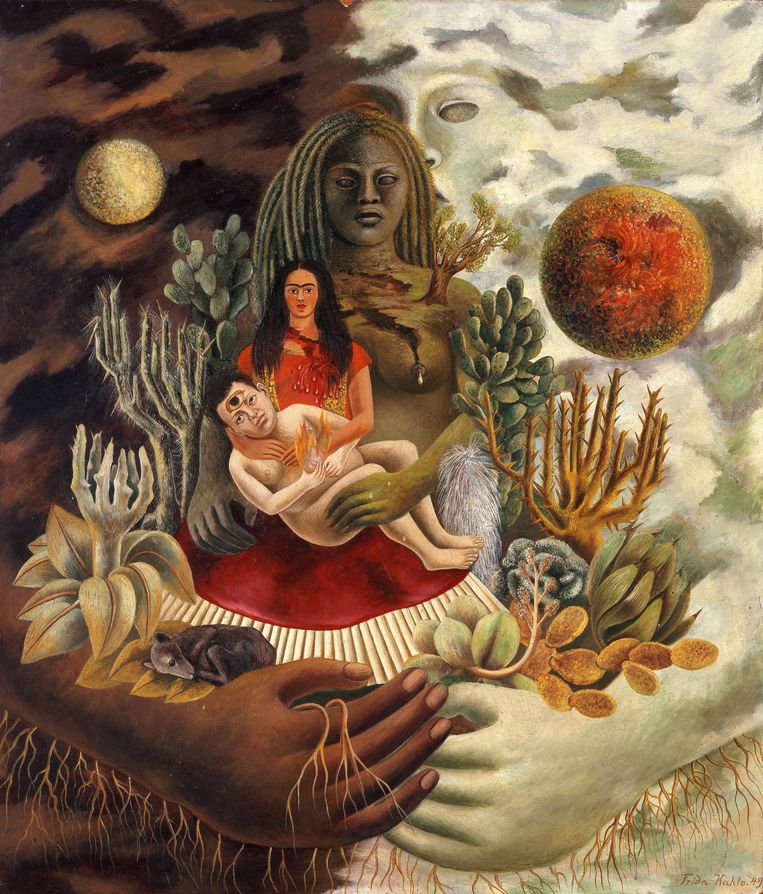 The elements of this detail – tears, lactation and bleeding heart – are deeply rooted in art history. It echoes the tears of Mary and Mary Magdalene at Christ, bleeding wounds in colorful images from the Spanish Inquisition, and mother-earth breast milk is also related to the symbolism that Mary and other female saints give milk as a source of life. Rich associations, therefore, the challenge lies in seeing oneself. At least I'm not used to the emotional diversity. This aesthetic is the opposite of my view of Frida Kahlo's art, I thought as I tried to keep looking. Kahlo understands powerful visual language, striking colors and the meaning of a single detail. That's why she became such an icon, all the way down to the oral cavity. This painting, this one detail, turns the image of Kahlo upside down again. And that's why she's so fascinating.
Frida Kahlo, Embrace of love of the universe, the earth (Mexico), Diego, myself and Mr. Xólotl1949, oil on masonite, Gelman Collection / Vergel Foundation, exhibited until October 3 in the exhibition Frida Kahlo & Diego Rivera, A Love Revolution in Cobra Museum Amstelveen.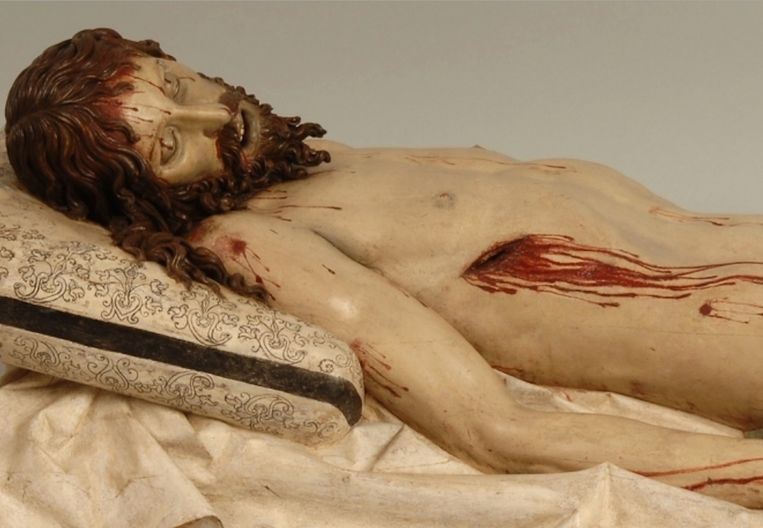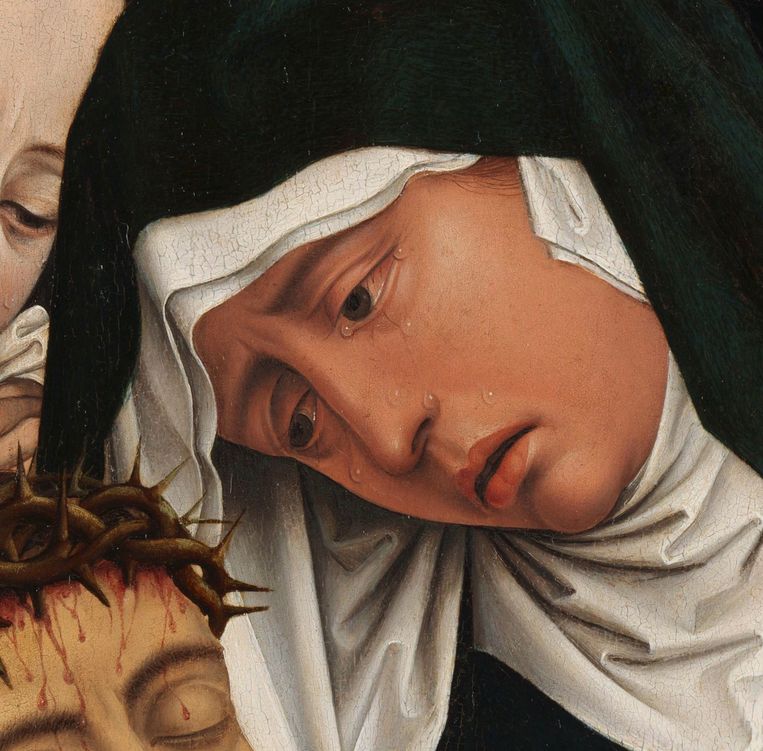 Colin de Coter, Christ's lament1510-15, Rijksmuseum.