The meadow bird in Holland is not doing well. The Frisian farmer Sietze Henk Haytema also noticed this, and therefore he bought a special piece of land where the birds can breed safely. He uses drones to search for nests to protect them.
Dairy farmer Sietze Henk Haytema from Koudum has two 60-hectare plots of land. One part is to provide feed for his 120 cows, the other part he has bought specifically to give the meadow birds space. "If the birds succeed in having young, I will become a happy man. If a fox or a crow takes them away, it hurts me."
'First my wife and then the birds'
His love for the meadow bird arose in his youth. "When I was young, the meadow birds were everywhere. 10 to 15 years ago I thought, 'I don't see them anymore.' That's why I bought special land for it. My heart beats for the meadow birds. First comes my wife and then the birds."
He can only use the piece of land for the birds to a limited extent now that the breeding season is in full swing. "The natural land is really for meadow birds, until July 1. The bird takes the lead." This means, among other things, that he does not mow and the field remains soft. This makes the soil less suitable for its livestock. "Maybe I'm so crazy I'm willing to do it."
Drones are looking for nests
Birdwatchers in Friesland have been working with drones for several years to protect nests. The bird watchers from Bond Friese Vogelwachten consult with farmer Sietze about the time to mow grass and warn him about places where there are nests.
With thermal cameras, the drones can detect hidden nests with eggs and later chicks in the meadow. Early in the morning, just after sunrise, is the best time to look for them.
Successful experiment
It works so well that the province of Friesland recently set aside 100,000 euros extra for the experiment. This means that drones can be flown even more often.
Sietze also sees that success. "The problem is that there are too few birdwatchers. With a drone you can make many meters in a short time and in principle it finds every single nest."
Black-tailed Godwit tells a lot about biodiversity
Extra attention to the protection of the meadow birds is only welcomed by the Bird Protection. Director Floris van der Herst: "It is especially bad with the meadow birds and the great bustard. We have international responsibility, because 80 percent of the black-tailed godwit breeds here."
It's going bad because of the way we use land, he says. "Food production has increased enormously, and meanwhile biodiversity is declining. The black-tailed godwit is an indicator of how biodiversity is doing. If things are going well, insects, flowers and herbs are doing well."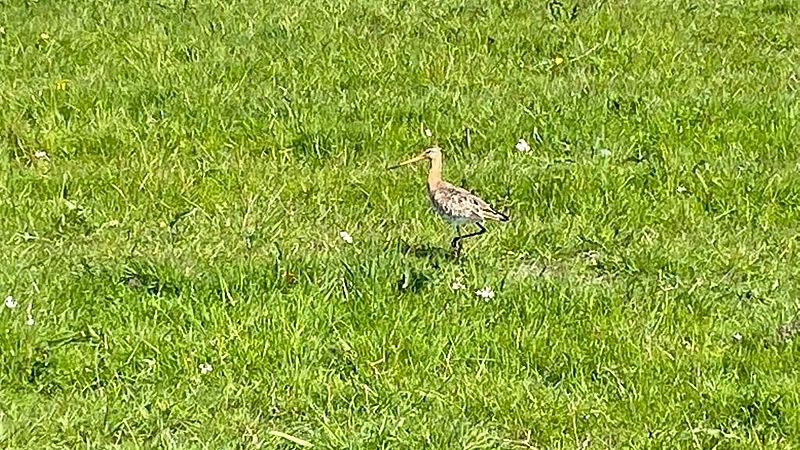 Often millions of euros, but the stock of blacktails fell
The Black-tailed Godwit is the national bird of the Netherlands. But where in the 1950s, according to Van der Herst, there were still 120,000 breeding pairs a year, there are now only more than 25,000. This figure continues to fall by 5% each year.
Tens of thousands of millions have been spent in recent years on improving the population of railings, but the number of birds has fallen, according to a study by the Court of Auditors at the end of last year. "The money that has been allocated in recent years has not ended up in the right place. The objectives were not clear," Van der Herst said.
Extra million for bird protection
There is now a new pool of 70 million euros. Vogelbescherming has contributed ideas on how these millions can be used effectively. For example, farmers should be encouraged to mow grass later and keep their pastures wet, as Sietze already does.
There is urgency. "The farmer's earnings model is important. It must be more than a compensation. The idea is that the farmer even improves." In addition, there is hope attached to the 25 billion that the government puts in the Nitrogen and Nature Fund.
'Higher compensation helps'
Koavler Sietze is an example that they like to see at Vogelbescherming. He agrees that it is not for every farmer to pay so much attention to the birds. "I'm a little crazy about it. Financially, I can bear it, that's why I do it."
He understands that some milk producers are less aware of bird life. "Dairy cattle farming is under pressure. I think the increase in compensation can help preserve nature and save the meadow bird."
Birds sometimes bother farmers
The meadow birds sometimes bother him when they choose his second piece of land to breed, but even then he tries to save the nest. "It's not always helpful with the meadow birds, but when we find a nest, we try everything we can to protect it."
It succeeds well, because according to him, there are already 70 nests close to the farm, and he had about 200 last year. ' I sit regularly with the binoculars or drive up and down with the tractor. I like to enjoy it. "
See the full report here.