Anyone who has ever wondered what the artists' work practices looked like centuries ago – large studios, many assistants, complicated techniques that various craftsmen had to help with – can see a glimpse of this in the coming weeks in the Dome Cathedral in Haarlem . The cathedral, built by Joseph Cuypers (son of the great architect Pierre) in various styles from Romanesque revival and Art Nouveau to Berlage, is today the scene of a Gesamtkunstwerk put together in the catacombs by a group of artists and assistants under the supervision of Gijs Friling (55).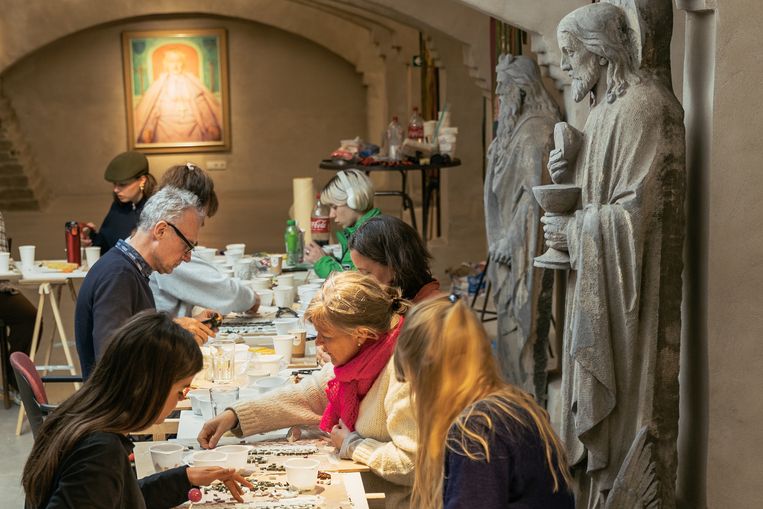 You can visit these catacombs. Behind the altar down the stairs (take care of your head), you enter the low, vaulted rooms, where cheerful pop music blares from boxes, and – the moment your reporter was there – four artists concentrated like old monks cutting pieces of glass stone with what looks like small pizza cutters. To then place the small pieces on a board, each assistant has his or her own board. An ancient technique, used in famous cathedrals of Sicily and Ravenna in the Middle Ages, in classical Roman baths and houses and in religious buildings throughout Europe.
Each piece forms a detail in a large mosaic that will be attached to the walls of Haarlem Cathedral next summer by a specialized craftsman. The daylight in the cathedral, which changes angle and strength every hour, will soon be reflected in the thousands of colorful glass particles and, like the ancient mosaics, bring the stories to life every day.
Frieling is a wonderful contemporary artist with a penchant for collective art experience. He attended the Rietveld Academy and the Rijksakademie, his work hangs in the Stedelijk Museum Amsterdam and in other museums, but he prefers to work on commission. And he is a Christian. Two of these commissioned works of art are now on display; in Amersfoort, the entire interior of Elleboogkerk has been painted, and the Haarlem mosaic is under construction.
The actual size sketches are placed on the wall above the catacombs of the cathedral's nave so you can see them at eye level. Frieling depicted plants, patterns, insects, water and air in his distinctive, decorative style. Jesus sees us as the good shepherd, life-size, a sheep draped around his shoulders. A welcome statue, inspired by one of the oldest Christian works of art, says Frieling in the echoing room, while an organist in the background tests his organ as if he were the only one in the world: 'In the Roman catacombs the oldest images of Christ were found, made by the first Christians who sought refuge there. It is an open image of a young shepherd, very accessible. You do not need to know much to understand what is written. '
But Frieling would not be Frieling if this Jesus did not look contemporary. In the 1990s, he became famous with a painting in which Jesus walks along the canals in sneakers. Since then, Frieling has been a modern interpreter of the ancient religion. This new Jesus is wearing Dries van Noten. A white shirt with wavy patterns, inspired by the American designer Verner Panton.
Five years ago, Frieling made his first large mosaic, also here in the cathedral, just above the sacramental chapel, which was mainly made of gold mosaic. A parishioner ordered him: the story of Moses and God speaking to him in the burning bush. It was the first time Frieling worked with this demanding, very expensive technique and it required a completely different approach and work rhythm than he was used to as a painter. Moses, a young shepherd with a mand bolle on his head, followed by a flock of goats and standing in front of a spectacular burning bush, in which the flames simultaneously form the words of the Almighty: 'I will be there'. In fact, it should say 'I am as I am', just like the classic translations of Exodus 3:14 in the Bible. But the client wanted these words from recent translations.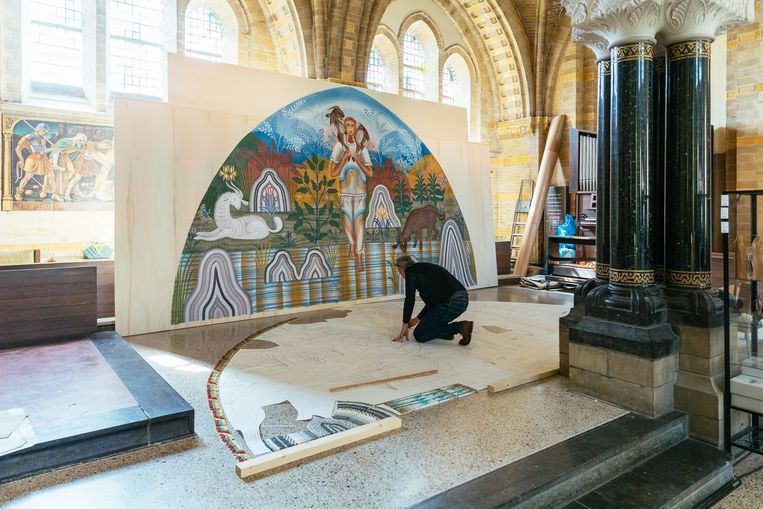 See here the modern artistry-in-commission: you do what the customer wants you to do. The freedom of the artist lies in the interpretation of the details. Like the choice of goats instead of sheep, Frieling explains: 'When people think of a shepherd, people think mainly of sheep, but early translations of the Bible refer to' wolves'. It includes goats. And they are quite different in character. Sheep are herds and are docile, goats are stubborn. ' If you want to learn to swear, you have to have a goat, a farmer friend Frieling once told me. It gave him an idea. "Modern man is no longer a herd animal, so I chose goats that get lost, climb trees and sometimes crash into a ravine – too stubborn behavior can also go wrong," says Frieling, pointing to a poor deep ravine.
This work of art was something of an educational experience for Frieling. Mosaic is demanding. You should not design it as a kind of mini-stag with every detail and every color calculated and measured in advance. It does not work. 'Mosaic is expensive, it takes a long time to order, and the material may be different than you might think. The pieces make it a bit pixelated, there does not seem to be room for very fine details. Above all, I had to learn that one can not quite plan it in advance. I design it now while I paint, and make adjustments while I create. Not every line should run as I have planned in advance. '
This method also allows you to give assistants a lot more space.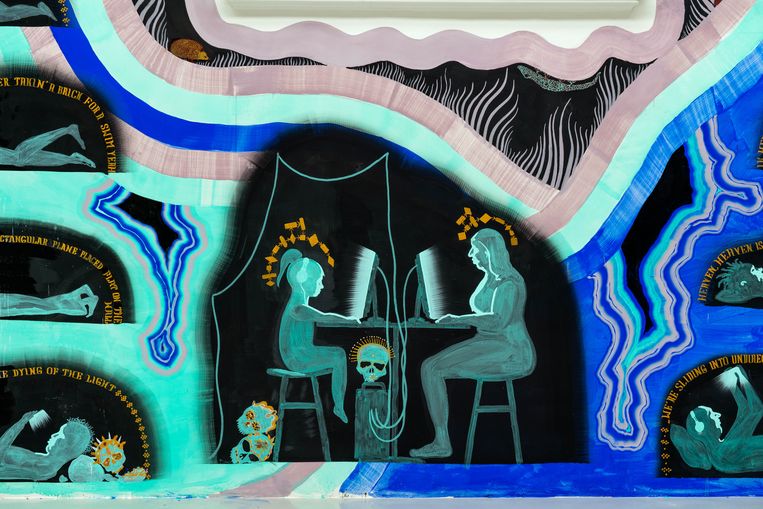 It also happened with Frieling's second project, which can now be seen in Amersfoort. Also a Gesamtkunstwerk, made with twenty artists who helped, also in a church: Elleboogkerk, as part of the exhibition Abrasive paradise at Kunsthal Kade. But very different from Haarlem, this church is no longer a church, but an exhibition space – a free cultural space. And much unlike in Haarlem, the walls were painted here instead of mosaic. And another thing: The work in Amersfoort is temporary like graffiti in a train tunnel. In three months, Elleboogkerk will be completely whitewashed again. While the mosaics in Haarlem potentially have the life expectancy of the mosaics in Monreale near Palermo: at least a millennium.
Visitors will soon be able to absorb Frieling's clear color and imagery and his rich embellishments in both places.
In Amersfoort, Frieling proposes in his artwork (title: It's all one big unit, Bert, after a quote by Piet Mondriaan) the underworld as a dystopia, where people are glued to screens in blue-green light. Hell is a world where screens determine our thinking, being and action. And where the space for self-insight is thwarted by metadata and algorithms.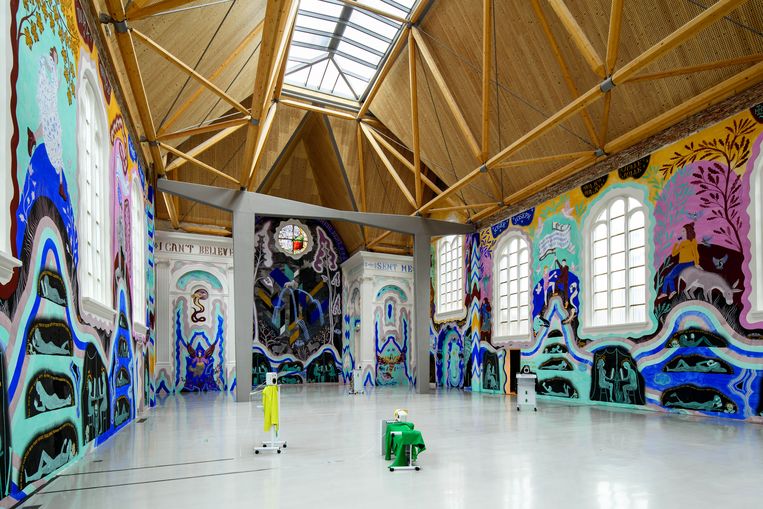 Over the waves of this underworld, the various participating artists have made allegorical (self) portraits, honoring relatives who are no longer there; their names are written over the high windows, just as in churches the names of saints and evangelists are written. There is an open world, much more paradisiacal with birds and plants, bright colors and portraits. There are quotes from lyrics and songs everywhere, the whole seems like a modern reflection on what drives us. At the site of the high altar, very religious, stands a sheep from whose legs three rivers spring, as a source of life. At the bottom right of the wall a poem by Rainer Maria Rilke: Death is big / We are the ones / Laughing mouths. / When we mean ourselves in the middle of life / He dares to weep / in the middle of us.
For Frieling, the two works are two sides of his art, and he feels 'privileged' to make them both. He has been thinking a lot, in fact ever since Jesus in sneakers along the canal, about the place where his art comes into its own. His faith plays a role in this. Born into an irreligious family, Frieling converted at the age of 21 and lived in an Amsterdam where his entire cultural environment had just shaken off the ecclesiastical feathers. A remarkable choice with great consequences for the place he envisioned as an artist.
The feeling of lack of commitment often clashed in the art world. When a former teacher in Rietveld complimented him on 'the Madonna' that the Stedelijk Museum had bought, e.g. The statue does not represent Mary, but is called Worgengel, after the angels of death in the Old Testament; something of a difference from the mother of Jesus. 'When I heard it, I thought: this makes no sense. My work in this context is hardly related to the other works, nor is it understood. ' He prefers to do commissioned work, for private and for religious spaces. Then the framework is tighter, substantive and physical, and that is the challenge. 'In the cathedral, these works of art are there for the community to reflect on when they are here. The image supports the religious experience. '
Frieling is against non-commitment. The idea of ​​'it doesn't matter what the artist does is always right' does not work for him, he said earlier in an interview with Sir. Variegated magazine† He is passionate about art made for a particular place and with a particular intention. In short, art that is understood in that context. He increasingly sees this as a group performance, as the major projects in Haarlem and Amersfoort show. His artistry is therefore at odds with the modern, hyper-individual idea of ​​self-expression. Location, technology, content, creators and customers jointly determine the end result, under his supervision. A practice like in the Middle Ages, with art as a handle to navigate and reflect on life.
Angel brings death and destruction

A halo reminiscent of a nuclear thundercloud, wings like neon lights in a nightclub and a face as stern as it is desperate; Worgengel by Gijs Frieling in Stedelijk Museum Amsterdam refers to the paradox of religious experience. An angel, usually seen as a savior and a heavenly being, proves to be the creator of death and destruction. Frieling is against an overly cheerful interpretation of religion as the happy message of only hope and love: 'There is also something at stake. I appreciate the possibility that there is something to think about spiritual matters and that it all does not matter. '