The word high water refuge, or HVP in birdwatchers' jargon, makes many hearts beat faster. These are the places where sometimes many thousands of birds sit out on the high tide until they can once again look for food at low tide on the tidal surfaces.
With so many birds gathered, these are interesting but also vulnerable places. One cyclist, a hiker with a stray dog, a wader or a kitesurfer can just disturb the birds' much-needed rest. Therefore, in the Wij & Wadvogels project, by five different site management bodies, the University of Groningen, The Fieldwork Company, Waddenvereniging and Vogelbescherming Nederland, great attention is paid to these resting places.
bird food
For this research, biologist Eelke Folmer from the consulting firm Ecospace first examined all potential resting places for a dozen waders, from knots to oysters. In addition, he looked at the regular counts of these species by Sovon Bird Research and also at measurements of the 'bird feed'. Folmer: "Since 2008, the Royal Dutch Institute for Marine Research, NIOZ, at Texel, has measured in great detail where the benthic animals are in the mud bottom. In addition to the so-called SIBES project, Wageningen Havforskning also has a good overview of all mussel and mussel banks. Based on all this information about potential bird food, we divided the Wadden Sea into forty separate areas and compared the wading bird counts in Sovon Bird Research. Where do we see more birds than you might expect based on the average, and where are there fewer? The important question then was: why are there fewer birds somewhere than one might expect?
Find bottlenecks
Biologist Nina Fieten from the consulting firm Altenburg en Wymenga subsequently went with this analysis of over- or under-occupied resting places for waders. She asked all nature managers along the Wadden Coast about possible bottlenecks. Fieten: "At Westhoek, for example an HVP northeast of Harlingen along the Frisian coast, it turns out that there is disturbance from hikers. But there can also be a lot of disruption to an external HVP, such as the Engelsmanplaat. For example, surfers come there to 'rest a bit', but in doing so they can disturb a lot of birds, "says Fieten.
High and low priority
Based on the problems at the various resting places and also with the trends observed from the Sovon counts (increasing or decreasing a resting place in the number of birds?), Fieten identified the HVPs with a high or a lower priority for protectors. "But be careful," she warns. "A low priority certainly does not mean that you should not be aware of it. On the shores of Balgzand, for example, it now appears to be going roughly with the rest of the twelve wading bird species studied. But there are plans to build a bike path outside the dikes. As a wadvogel protector, you have to stay on top of it. "
Starting points
Ingrid Aaldijk, project manager for Wij & Wadvogels, is very pleased with this analysis. "We now have concrete starting points for each area to take action." Aaldijk would like to emphasize that the goal is not to close off the Wadden Sea as much as possible to recreational users. "It is important that people can enjoy this iconic nature. So you also want to facilitate tourism and let people marvel at the beauty. But of course you want to do that in a way that does not disturb the birds! "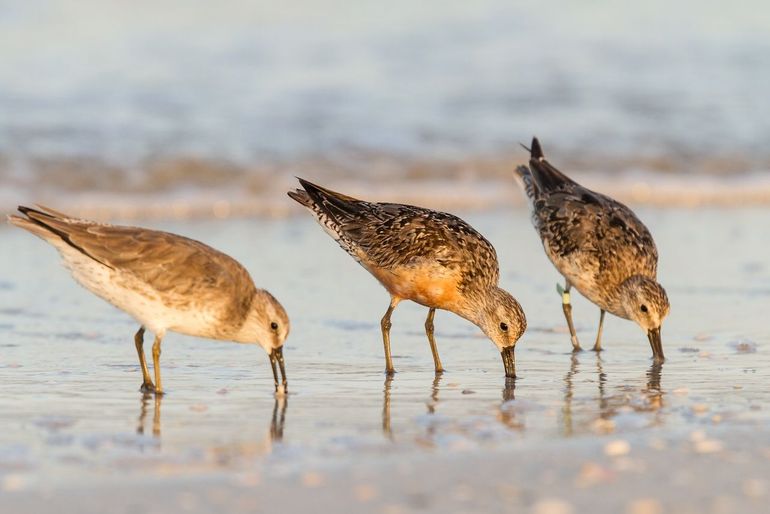 Dynamic zoning
One of the initiatives that the Wij & Wadvogels project is working on is so-called dynamic zoning. Aaldijk: "With a HVP as vulnerable as Westhoek, you want to keep holidaymakers away, especially at high tide. At low tide, the waders are not so easily disturbed when looking for food on the wadden sea three hundred meters away. Targeted communication is therefore necessary. †
Aaldijk also wants to continue talking to the leaders of the high-priority HVPs, where the birds are most under pressure. "You may be able to adjust the HVP with measures such as removing overgrowth so that predators have less chance."
Rest for birds and space for humans
Within the Wij & Wadvogels project, the saying that there must be room for people is still used. "But rest for the ten to twelve million waders that use this area each year is a top priority. I am glad that with this report in hand, we can now make concrete improvements. "
Text: Bird protection Holland
Photos: Hans Peeters (main photo: beach damage on Terschelling); Simon Wiedijk, Bird Photo Gallery; Shutterstock