He wanted to make a flower weapon. Artist Erik van Lieshout saw it all for himself. From the Belvedere watchtower in the Oranjewoud royal forest you would be pampered with a mosaic of flowers, laid out on the meadows below the tower. Good idea: such a kitschy weapon fits well with the noble history of this place in Friesland. The word alone is so good. Flower coat of arms: beauty and power in one.
It turned out differently, one can understand on his chaotic film Flower weaponone of the highlights of the outdoor exhibition paradise† The present owners of the meadows – no longer noble but rich – did not want to lend their land out to it. Moreover, the flowers would still be eaten by wild deer.
Is it really that paradise in the 'idyllic Oranjewoud', where the outdoor exhibition can be seen this summer? Flower weapon does not indicate. Here, too, you will find power relations and clashes between man and nature. Yet it seems so quiet and peaceful when you arrive at the starting point of the exhibition via a beautiful beech alley. Birds chirp that it's a delight, the smell of freshly cut grass sticks in your nose and stately white villas twinkle against you.
Country house

Oranjewoud, near Heerenveen, was built in the 17th century as a country house by Albertine Agnes van Nassau, a descendant of the Oranje family. In the late 18th century, it was partially destroyed and later largely restored. Wealthy families now live, and the country estates are rented out as party places, among other things. During the day paradise For a hundred days, the forest and the stately estates form the stage for installations, videos, sculptures and a virtual reality film.
'It's as if time stands still here,' says Hans den Hartog Jager, artistic director of paradise† 'Outside this park, the world burns in every possible way, but when you walk in this paradisiacal environment, you do not notice it.' The fifteen artists from home and abroad whom he invited to make a work of art† Each of them reacted in their own way to the tension between paradise and the turbulent reality with its opposites and power relations.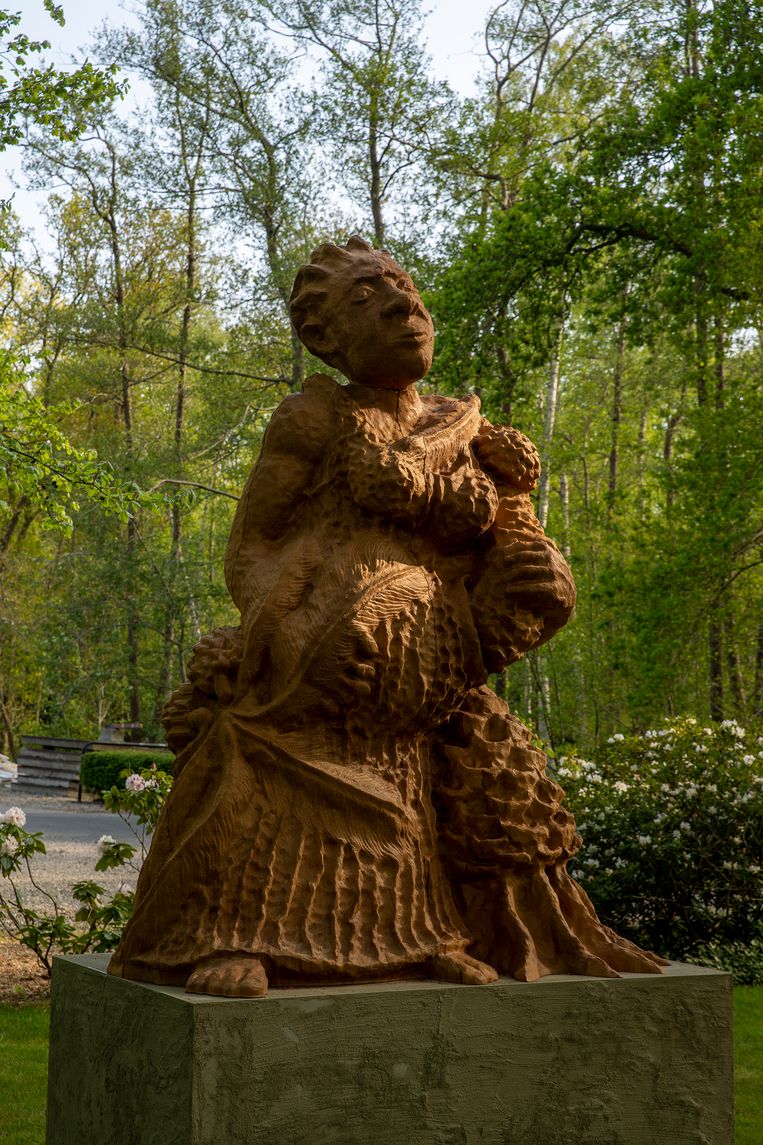 A visit to paradise means effort for body and mind. For the body, because you can spend an entire afternoon walking or cycling (shared bikes) to the different locations. And for the mind, because sometimes it's nice to find the link between the artwork, the theme, and the environment. For example, the mahogany statue of a plantation worker, made by Athanas Kindendie of the Congolese sculptor collective CATPC, is clumsily lost on a meadow. You understand the link made here: the wealth of a place like Oranjewoud is associated with a history of colonialism and exploitation elsewhere. However, the line is just too thin.
deer problem

The works of art that respond directly to the environment are more successful. This is how Marianna Simnett proved herself for her sculpture The return of the crew inspired by the 'deer problem' in Oranjewoud. Opposite the deer park in a neoclassical mansion rises her 'monster deer', a three-headed ghoul made of deer bone casts. Deer are ultimate paradise animals, graceful and harmless. On the other hand, in Oranjewoud, where wild deer (about three hundred) pose a traffic hazard, they are also seen as a pest.
The province of Friesland therefore decided that about two hundred deer should be shot. Is it true that humans create themselves as 'stewards' of nature? Simnett's monster clearly does not mean that. It seems to rush straight towards the mansion, ready to avenge its resemblance and disturb the spotted idyll.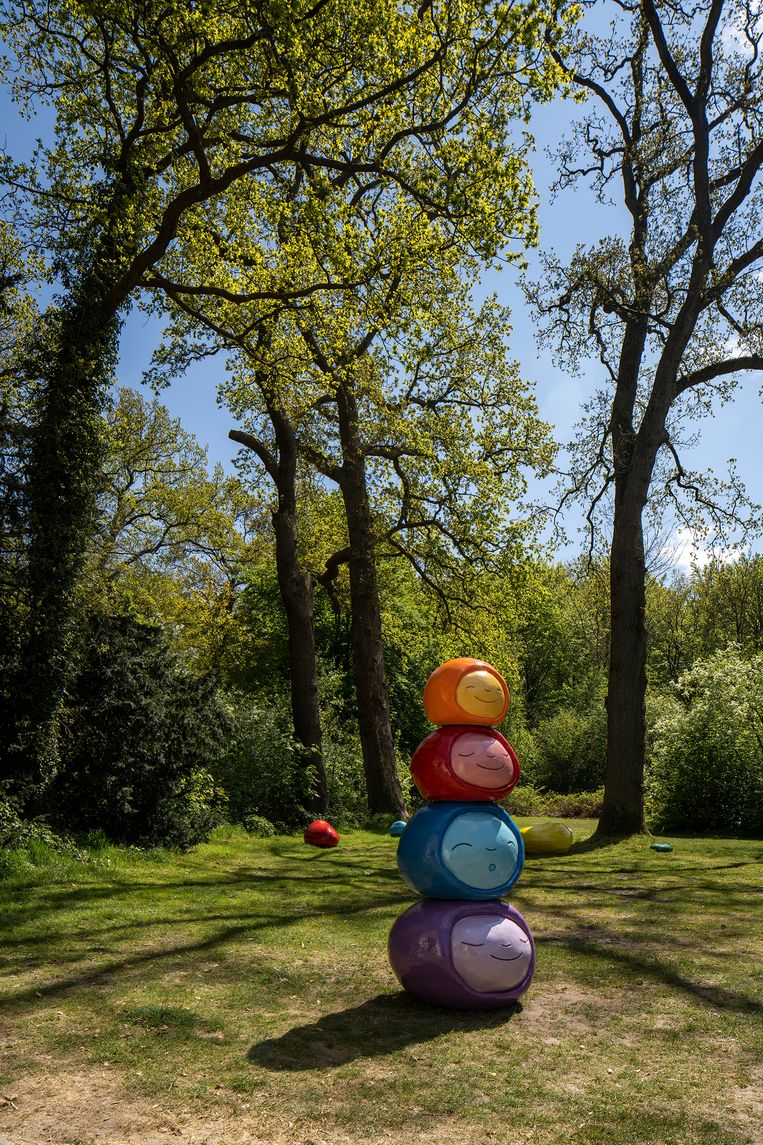 In the courtyard a little further ahead you will find a world that is shamelessly idyllic and friendly with Isa van Lier. On a lawn, a pile of shiny ceramic heads in candy colors smiles at you. In the barn next door you enter a cool, white temple through an egg-shaped opening. Tucked away in niches and set up on altars, there are small sculptures, also in candy colors. This time the resistance comes from within: When you see so much sweetness, you naturally start arguing. Surrendering to a paradise state is not easy. But if you manage to escape the resistance, you get pretty close in this colorful oasis.
Erik van Lieshout's flower coat of arms was finally made. Not in Oranjewoud, but on a lawn over an underground car park in Heerenveen, a nice last stop on the track. Of course, bringing a piece of paradise to the city is also possible. Perhaps the people who live around such a field deserve this flower splendor much more than the meadows of Oranjewoud.
paradise, to 14 August (Thursday to Sunday, 10.00-17.00), Oranjewoud. The outdoor exhibition is a part of Arcadiaa hundred-day cultural program in the province of Friesland.