Mous is the name, an abbreviation of Moustapha. He likes to play with it, the self-made photographer who was born in 1983 in the town of Trougout in the Temsamane region. He named the website with his portfolio Mousmous.com, the exhibition that opens Friday at Amsterdam's Photography Museum Foam, was titledl Blessings from Mousganistan† Where is that country? Somewhere in the photographer's head. He figured it out when he was MIA in the song Freedun heard singing about the People's Republic of Swaggerstan† He thought it was such a find that he invented Mousganistan for himself. He already used the name as the title of his first solo exhibition in 2019 in the East Flemish city of Sint Niklaas, where he grew up. The windows read: 'All Moroccans return to Turkey', inspired by a 2014 quote from a demonstrator in Nijmegen, who called on all Moroccans to return to Istanbul. Typical Lamrabat to reveal that oil stupidity, but: gentle and with humor. Put a cross instead of a dot.
Still, it was not an analog exhibition that caught the attention of the Foam team. It was through his presence on Instagram that he noticed a colleague of curator Claartje van Dijk, with his work on immigration, diversity, racism, women's rights and religion. With its 158,000 followers, Lamrabat already has a good fan base. It's in his bio Always Al Hamdulilah, which means 'always glory to God'. Below are more than 500 carefully stylized and instructed photos and magazine covers that splash out of the screen, no matter how small the screen is.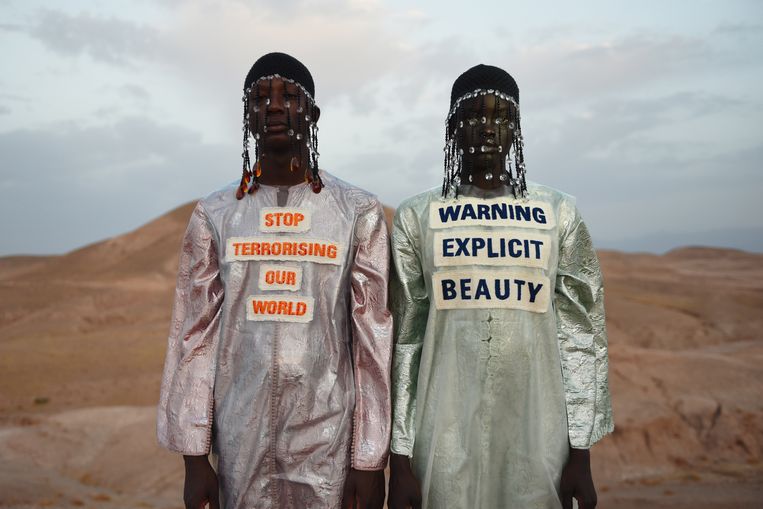 'Lamrabat stretches the boundaries of his field. In addition to examining the visual language, he also questions the medium of photography ', says curator Van Dijk a week before the opening of the Foam coffee bar. 'One sees more often that photographers are starting their progress on Instagram these days. And his work is of such a quality that once it's on your retina, you can not get it off. It's so unique. He creates a new visual language by combining elements from different cultures. Veiled women with capitalist model logos make the images recognizable and accessible to all possible viewers. He argues with it: what is normal? And for whom? Mous works from a pure utopian vision. He will connect, build bridges. That people treat each other with respect '.
What does that connection look like in practice? Women in niqab with big hearts or vignettes from the LA Lakers and Chicago Bulls on. Model Kofi von Ohene in a djellaba with Chanel logos. The Sudanese top model Athiec Geng with a bright yellow fez and McDonald's-M as an earring. A grinning, black-haired woman with Minnie Mouse ears. A man with a slice of watermelon in the shape of the Nike logo.
The Nike logo is common anyway, just like the one at McDonald's where Lamrabat worked as a teenager. At the time, he was obsessed with brands and logos. Not that he even wore designer clothes, you get tooted. His illiterates came over from the Rif Mountains when Mous was 2 years old and with nine children they had no money for such jokes. Father Lamrabat worked from half past three in the morning at the Stanislas Cock linen factory in Lokeren, his sons cutting Nike logos from magazines at home and sewing them on their hats. In the Studio Brussels podcast Tajine speaks by Hakim Chatar Lamrabat tells appetizingly about the boredom of his parental home, which stimulated his imagination and creativity. How a ceiling with a couple of old mattresses turned into a karate hall, how they weaved everything themselves together roarmess they came across. 'We had no toys,' says Lamrabat without being nervous about it, 'but we had each other. That's basically what I still am: a child who gets bored and plays with all the qualities at hand. And somehow people like it†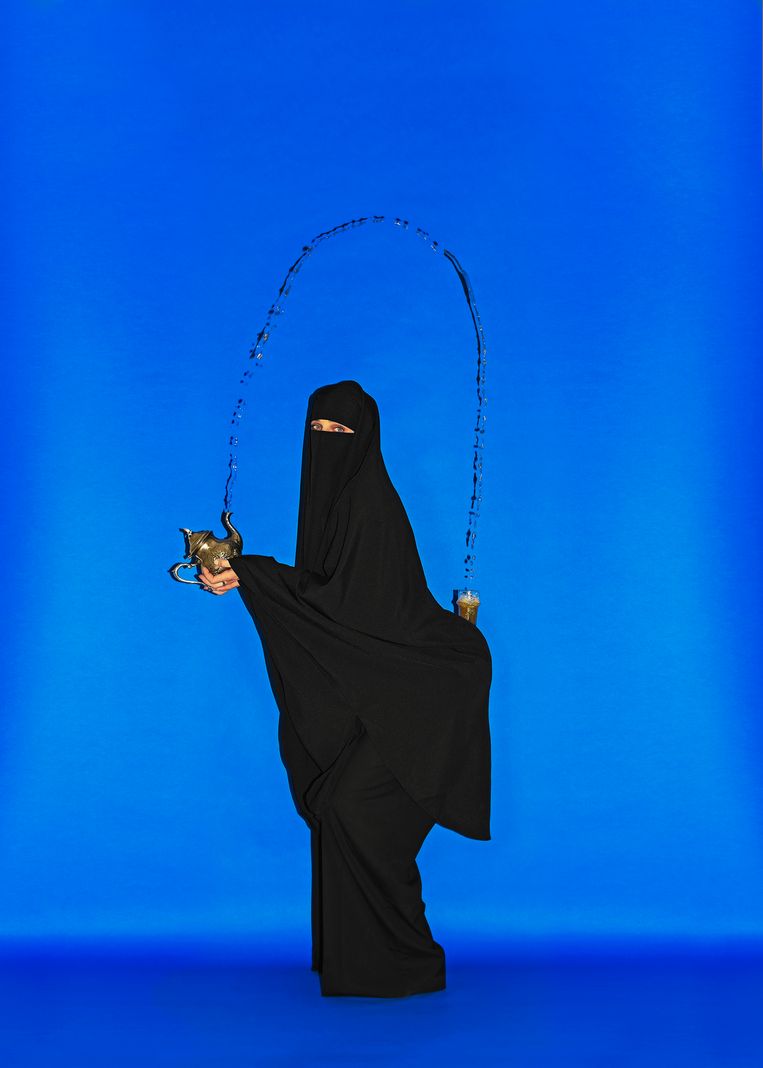 He reluctantly went to the lowest level of administrative vocational training where he said he was among the shit. Subsequently, because his parents did not see the art academy as a springboard to a respectable job, he followed the Belgian teacher training and got an internship as a master Mous. And then the Academy of Fine Arts in Ghent, in the direction of interior design. When Lamrabat saw a documentary about the French photo artist JR, he realized: I want something like that too. The next day he bought a used camera in Antwerp.
It took years after graduating before he became the celebrated creative he is today, with international clients such as. fashion and GQ† He assisted a photographer in Sint Niklaas, photographing family and friends and mixing traditional clothing with cheerful qualities, solely on emotion. He did assignments for Belgian media such as The default magazine and The morning and ran into stylist Lisa Lapauw during a job. It clicked so well that together they created their own print magazine in 2013: Crust, where they could show their own creations. That magazine was stored after three issues, which were distributed worldwide in a circulation of 2,000, so far. Lapauw and Lamrabat remained partners in life and work.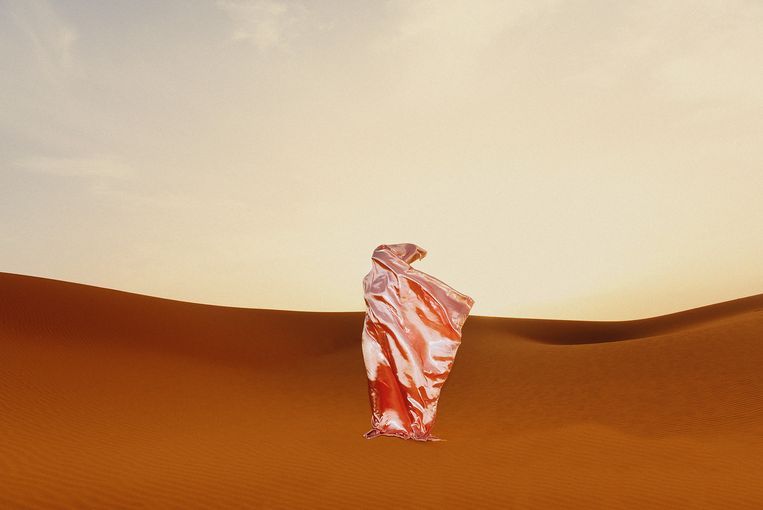 A major step forward in the spring of 2020 was a work fair from the Photo Museum (Fomu) in Antwerp to help creatives who lost their income due to the pandemic. Lamrabat decided to spend the scholarship money on a photo trip to Morocco because the light there was nicer and warmer than in wintry Belgium and the sky infinitely bluer. He shot a large portion of the images now hanging in Foam there, with his handy 'semi-professional' Nikon, a reporting flash and a reflection screen.
'It should be about the pictures, not the material', says Lamrabat just before the opening, when he is in Amsterdam to set up the exhibition, wearing a hoodie with 'insjallah' on it and a wall-to-wall smile. 'That was exactly how Helmut Newton thought about it. Why brag about your camera? I prefer to let my work speak for itself. ' Showing off and attracting attention is still not something for Lamrabat. "My mother taught me that showing your wealth and success can give you 'the eye': the jealousy of others that can curse you for it. Bad for your karma. '
Mother Lamrabat sees more than natural size from the pink wall in the garden room, her portrait hanging immediately after the entrance on the left. She wears a salmon-pink djellaba, a white veil and plastic carnival glasses with fingers that can be seen through the fingers. 'Because she would not be too recognizable in the picture,' laughs Lamrabat, 'but rather hide it a little.'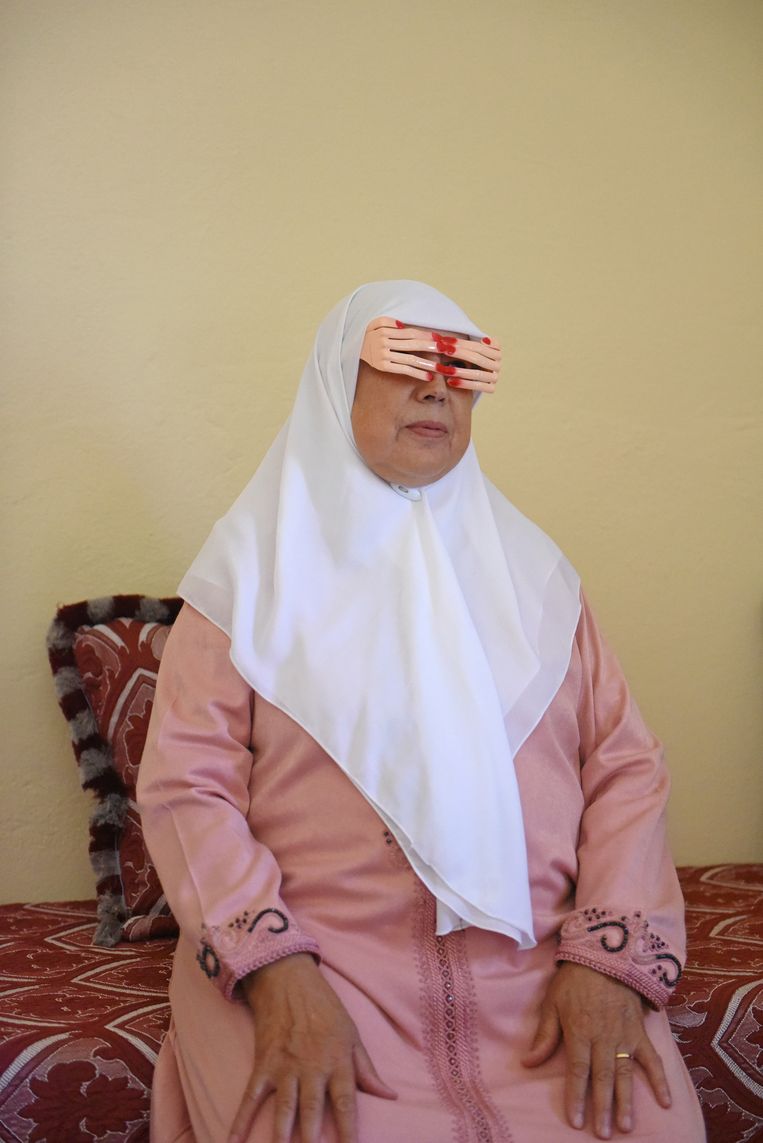 Mous' mother will definitely be present at the opening. Dad protested something, for nowadays he does not even leave Sint Niklaas for nephews and nieces' weddings. He believes that Amsterdam is extremely remote. "But father," said his son, "if you think this exhibition is more important to me than my own wedding would be, then you will not come yourself then?" Only then did Dad understand the importance of the Amsterdam exhibition. There is a good chance, Lamrabat junior believes that his father will leave Sint Niklaas this time after all.
Blessings from MousganistanFoam, up to 16/10
On stocking feet

In the first room of the exhibition Blessings from Mousganistan is pink carpet. Visitors are asked to take off their shoes. Idea from the photographer, because he has to do with his parents. It gives a feeling of home and a relaxed attitude. Other surprises include vacuum-sealed work with embossed logos on it and six photos with lens-shaped prints. The goal: to encourage the viewer to look at everything (literally, but also figuratively) from a different angle and with a fresh eye.