During Night University, the auditorium of the Cobbenhagen Building was entirely dedicated to the E. du Perron award ceremony and lecture. The search for an identity, whether to set boundaries or not, and the importance of a good story formed the evening's common thread. Emeritus Professor of European Studies Paul Scheffer spoke about old and new wars and Europe's values. The winner of E. the Perron Prize is Sinan Çankaya. He was allowed to collect the prize money – 10,000 euros – for his book My countless identities.
How can you really understand Europe's values? Not when you lack imagination, says Paul Scheffer in his E. du Perron lecture. According to the professor emeritus, every European experiences the European continent differently. Its own history and trauma are at the root of this, and these lead to a different understanding of European values.
Take, for example, World War II: one of the low points in European history. World War II has left deep wounds throughout Europe (and beyond). But it is important to realize that not all countries have the same wounds, Scheffer says. For Poland, for example, it was not the Germans but the Russians who invaded the country first. The country was divided into two parts, where on the one hand the Russians and the Germans held the dominion. The way Poland relates to this very point in history is thus very different from a country like the Netherlands.
This also applies to the importance of a national border, Scheffer explains. The Dutch national borders have often been significant in the last century. This is less obvious to Poland, as this country has often had to move its borders. With this knowledge in mind, according to Scheffer, it is therefore wrong to claim that Dutch manners are the benchmark for other European countries.
Scheffer emphasizes the importance of thinking outside one's imagination and appeals to empathy: learn to put yourself in a different time, a different place and a different culture. This is necessary to maintain the collective European attention in an event that has a huge impact on one European country: "It is only logical that Zelensky is already desperately urging Europe not to forget Ukraine. By continuing to tell the story of Ukraine he is fighting against oblivion. "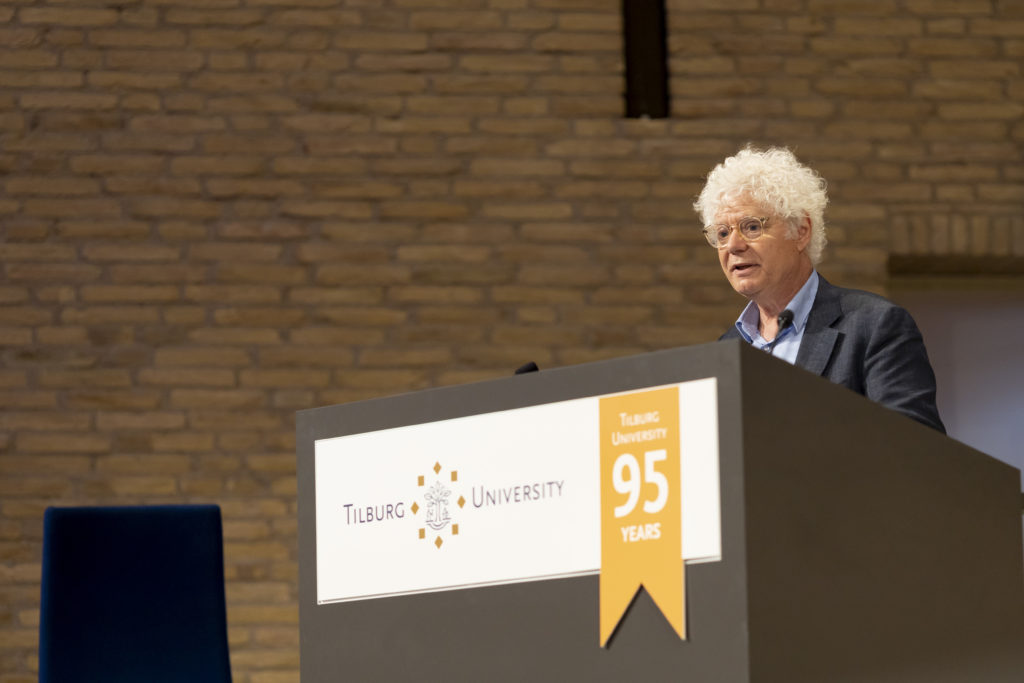 E. du Perron Prize
One who also tells an important story is the winner of E. du Perron Prize: Sinan Çankaya. The jury praised his debut novel My countless identities to invite the reader to self-reflection. Çankaya tells the story of a migrant who never migrated. As the son of Turkish migrant workers, but himself born in Nijmegen, he has been accused as the 'Turk' all his life. Çankaya quotes from his own work in his victory speech a painful but recognizable dialogue:
"'Where are you from?' "Fra Nijmegen." 'No seriously!' "From Nijmegen, seriously." "No, but you know what I mean, don't you?" 'None.' 'You do not look like you have been pulled out of the North Dutch clay, so to speak.' "I can not hide it, with my black hair, brown eyes and slightly tanned skin I am a departure from the ordinary Dutchman. Countless confrontations like this left many cracks and sometimes big cracks in my self-image."
When you deviate from the 'normal', you are always defined by people around you. They put their perception of an appropriate identity on your forehead. Something that Çankaya – the main character in his own book – struggles with enormously. He also shares the pain of a 'different kind of migration', namely the pain of social progress. Unlike his parents, Çankaya completed a university degree and later even obtained a doctorate: "There is an alienation and melancholy that you experience towards people from your old neighborhood and relatives because you no longer really understand each other," he says. .
The question of who he is, who he belongs to, and who he may belong to, forms a minefield for himself and for the reader. Because as councilor for education Marcelle Hendrickx from Tilburg municipality aptly put it: "The jury has my countless identities read with stomach ache and immense admiration. With shame and with happiness. The book will haunt you for a long time. "
Appeal to empathy
The importance of putting oneself in the other's place turned out to be the main theme of the evening. One can and should not determine the other's identity and values. The audience left the room with the message of daring to think outside their own imagination. The toned man is just a Dutchman, but above all himself. And Europe's strength does not lie in its values alone Netherlands. Spoken word artist Danielle Zawadi's words resounded long after: "Here we speak a language that wants to give a promise out of every sentence. Give each other hands first, then embrace each other in each other's arms. This brings the promises a little closer to the heart. The governing body. "