In addition to a lot of partying with dozens of performances, dance inaugurations and DJs in several places in the city, with SINKSEN22 there is also room for the modest and hopeful enjoyment of a classical concert or an exhibition: this a few iconic places in the city: de Vonke, Broeltoren 1 and Carmel Monastery.
29 exhibitions will be shown during the Sinksen weekend. We selected three.
Her The photo collective PxL exhibits in the nunnery of the Carmelites. "Usually the gates to the Carmelite monastery on the large circle are hermetically sealed. An exception is made during the festivities. The remaining sisters open their doors to our exhibition 'Playtime'", says chairman Jozef Lievens from the Kortrijk Photo collective PxL. "Also a unique opportunity to visit this particular location." The 'Playtime' exhibition can be seen on 4, 5, 6, 11 and 12 June in the Karmelietessenkloosteret at Grote Kring 4 in Kortrijk from kl. 14.00 to 18.00. There is free admission.
On June 4 and 5, 11 photographers will show their graduation work in De Vonke in Heule. After a great training course to become a photographer at CVO Scala West-Vlaanderen, 11 students are allowed to present their thesis. They do this under the name Photo Exhibition FTGRF. It stands for both photographer and photography. For example, Lode Waerlop, powered by nature, shows a series of images about fossil fuels. "We do not think about the impact it has on our environment," Lode says. "I show pictures that are based on real situations. They got a humorous cartoon feel from me. There is always a click and people often laugh, "says Greet De Meyer. A Vanhaute wondered what process a vegetable goes through before it is on your plate at home. "In 'From field to table' I show the process from harvest in the field to delivery to the factory. From production to packaging and from transport to shop."
Wim Van Craen believes that when you are young, it is nice to be able to dream and fantasize. "Suppose you get the chance to really stand in your imagination, I wonder." With 'Last time', Jan Verhulst wants to show how fast time can go. "You see your children grow up, but many parents realize too late that they have enjoyed it too little and that it went so fast. To reflect on this, I have tried to summarize this in a nice series of pictures. The message is to enjoy yourself. " Ellen Van Overschelde shows 'The disorder'. "The imperfect body, the pain…. Often it is not always clear and visible because a person with a condition can also live a completely normal life. With this project, I want to take the viewer into my story that health is oh so important. " In addition, the group of 11 students who became photographers consists of Anja Decaluwe, Valerie Ostyn. Stefanie Tack, Benny Decoste and Dimitri Dias. The artworks can be seen on 4 and 5 June from 10.00 to 17.00 in the De Vonke Meeting Center on Lagaeplein in Heule.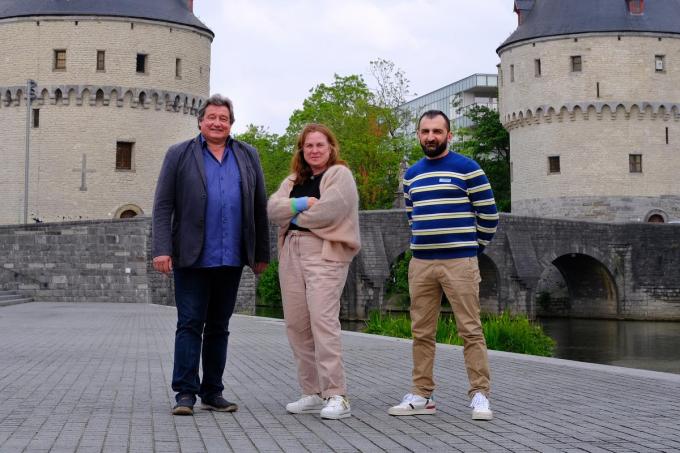 The bridge tower has always been Kortrijk's image. Over the years, they have remained an established name along Leie. Now with the renewed Rental Banks, they are more modern than ever and the place to be. "Now that the gloomy pandemic period is over, it's time to party again. Like a hundred left in the roaring twenties, it's time to meet, enjoy, be hopeful positive again, "say Philip Moerman and Nathalie Pontegnies. Philip Moerman shows his sculptures in the exhibition REVIVE. Nathalie Pontegnies shows glass sculptures and mixed media and Sarkis Baghramyan's photographs. "You will see old, but especially very new visual work. There is also an art event in favor of Ukraine. " The exhibition can be seen on 4, 5 and 6 June from 9 am to 6 pm.
council basement
During SINKSEN22, Ondergrond vzw together with photographer and curator Stefaan Temmerman arranges the photo exhibition 'Muziek beroert' by local photo talent with a heart and passion for music. An exhibition with band photos, concert photos, a brilliant audience, close-ups of the vibrating big drums, an abandoned concert hall, touring life, crazy fans, the rehearsal room and more, because 'Music moves'! In the music bar you can chat about the works and the music. The exhibition can be seen on 4, 5 and 6 June from 1 pm to 6 pm.
Our Lady Church
Pentecost on June 6 brings it Kortrijk Vocal Ensemble The Speres, and A Capella concert in Onze-Lieve-Vrouwekerk. A mysterious program built around the music of Arvo Pärt, Kurt Bikkembergs and Ola Gjeilo, where the connection to the early vocal tradition, the Gregorian chant, is never far away. Three living composers who perform very often in their own region, Estonia, Flanders and Norway and far beyond. The Gregorian chant is, of course, universal. The works are presented in a varied arrangement, so that the sound of each work comes into its own. Kortrijk Vocal Ensemble, conducted by Wim Verdonck, together with countertenor Pieter Depraetere guarantees a short but intense vocal program.
The concerts can be listened to at 14.30, 16.00 and 17.30. There is free admission.