Xavier Hufkens came up with a very special gift for the 35th anniversary of his gallery in Elsense Sint-Jorisstraat: a remarkable extension, signed by Robbrecht & Daem. "I do this for my artists, but also to embark on a new adventure for myself."
I do not say it that often, but now I am proud, "says Hufkens, as he leads me up the narrow stairs of the new extension, a minimalist concrete construction that seamlessly connects with the mansion from the nineteenth century, where gallery Xavier Hufkens. has been for three decades. is located.
He is especially fond of the light. Architect Paul Robbrecht, with whom Hufkens has previously collaborated, will create four exhibition spaces – one above the other – where daylight enters in a different way each time. Hufkens: "This offers an incredible number of possibilities."
The extension will triple the exhibition space. Do you still need so much extra physical space in times of increasing digitalization of the art market?
Xavier Hufkens: It is true that the digitalisation of the art market has accelerated due to the corona crisis. We have also made beautiful digital exhibitions, for example with films by Tracey Emin. Everyone could keep coming to the gallery, from their bed or sofa.
But in the end, art remains a physical experience, and space is needed for that. Seeing art on a screen may be okay when it comes to movies, but when it comes to sculpture or painting, you need to be physically in front of it. I do not want to look at a Picasso through a screen.
Speaking of digitization: the non-fungible tokens or NFTs have also shaken the art market. Are you participating?
Hufkens: I do not believe it. It's not art, it's a security, a title of a digital thing, totally uninteresting. I also do not think it will be a keeper.
You wanted a special architecture for the new building. Is it today the private initiatives that create architectural delights in Brussels?
Hufkens: It is true that there is a bit of great government architecture here. People always say that there is no money for it, but I rather think that people are not serious about it, there are small ambitions and also a tendency to pull it all down a bit, instead of lifting the city.
Due to the corona, there were no physical art fairs for a long time. Do you need to capture the high pace of global stock markets, or have you changed your mind during the pandemic?
Hufkens: We used to hold about ten fairs a year. It is important to meet collectors and discover a new audience. A Korean or Californian collector is not just boarding a plane just for my gallery.
During the lockdown, we certainly thought it would also work with thirty percent fewer exchanges. It would be better for the environment and also for ourselves. All those exchanges are grueling.
But so far not much has come out of that intention. I have just returned from the Frieze trade fair in New York, in three weeks it's Art Basel, in September we are in Seoul, in October in Paris for the new trade fair Paris +, so in Shanghai and at the end of this year is there will be Miami. So we are constantly on the move again. Fear of missing out maybe.
Is the art market fully operational again after the pandemic?
Hufkens: We gradually digest Corona. Now, not far from here, there is war and hence economic insecurity. It does not benefit anyone, not even the art trade. But I've been working since 1987, so I've been through some crises.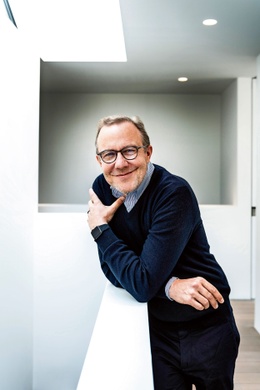 You have been traveling a famous course for 35 years. How did you come to open a gallery at that time?
Hufkens: I grew up in Hasselt. My parents were not collectors, but they took me to museums now and then, which I liked. Ever since I was sixteen, I have wanted to be an art dealer in Brussels. Art was the only way for me to understand the world.
I opened my first gallery when I was 22. Five years later I moved here. Then I opened two more branches in the area, in the Rivoli building and in Van Eyckstraat.
With the renovation and expansion of the main gallery, I wanted to embark on a new adventure for myself. I'm 57, there are people who think about bulging at that age. I feel 25 and want to push the accelerator down.
Have you never thought about expanding in another city or another country?
Hufkens: None. Some other galleries do, but I have a great need for personal contact, with the visitors, with the artists, with my team. If you have ten galleries scattered around the world, you are no longer present at your own openings. Besides, I really like Brussels.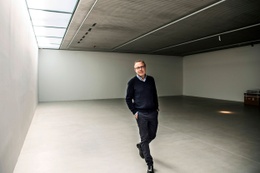 How do you start when you are 22? Did you have money or a network?
Hufkens: The opening was not easy. You start with nothing. I rented the secret annex to a small industrial building in Saint-Gilles. The owner was Mr. Verschueren, of the brasserie of the same name. I paid 12,000 Belgian francs, about 300 euros, for three hundred square meters. My grandmother had given me some money for the rent.
I did not have a network. My first artist was the British sculptor Antony Gormley, then barely known, now a big star. I'm still working with him, in November he has his tenth exhibition with us.
How do you view your job as a gallery owner? What is your motivation?
Hufkens: My motivation is to show good art, to introduce artists and give them the opportunity to develop. Nicolas Party, now a global star in New York, I discovered here in Brussels.
I consider it a privilege to accompany these artists, e.g. one like Walter Swennen. I have known his art since 1987, but it took me years to work with him.
Isn't it easy to get artists?
Hufkens: Sometimes yes, sometimes not. The competition is fierce.
I first asked Christopher Wool, who is now the first to exhibit in the renovated gallery, in 1996. Only now does he have the answer. It took me 26 years to convince him.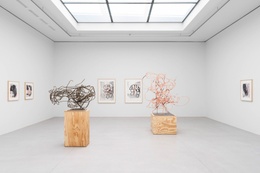 Today, you mainly represent established artists and stars such as Tracey Emin, Daniel Buren and the late Louise Bourgeois. Are there still beginners in your barn?
Hufkens: Our latest addition is a young artist from Mozambique, Cassi Namoda. So I'm definitely open to new talent.
But many of my aspiring artists have evolved into established ones over the years. You start with young people and they get older. I'm getting older. You have a certain loyalty to your artists.
The formation of your group of artists is a very slow process. I have worked for 35 years and have about forty artists under my care, there are very few new ones a year.
My intention is to expand the group, eventually with about twenty artists. That's why I've expanded the gallery. I want young people to be among them. But I am not going to choose young people because they are young, they have to be young and good.
And salable?
Hufkens: I never think about that when I choose. When you do, you make the wrong choices. As a gallery owner, you have to be convinced inwardly. And do not think about the reactions of the public. In the meantime, I have been trained to face headwinds. I've been doing exhibitions for years where people said, 'Aaargh, this is bad.' If you are convinced of yourself, the rest follows.
But a gallery can only survive if it is sold. It is also a trade.
Hufkens: Of course I'm not naive. A gallery has a dual function: you can come here to see good art for free five days a week. But if you want, you can also buy something. And I have two hats: I select and mentor artists, and I sell their works. I love doing it. Giving an artist the opportunity to work further because one has placed one of his works gives it a great satisfaction.
Where are your customers?
Hufkens: Everywhere, in Belgium and Europe, but also in Asia and America.
Do you think it is important to know where the works end up, who buys them?
Hufkens: Incredibly important. I always try to sell to someone I feel close to. I must have the impression that the person will love the work and take care of it so that he or she does not immediately turn it over (sell it on, ed.).
Is selling to a museum the ultimate recognition for an artist?
Hufkens:If you can sell the work of a young artist to a museum, it's really special. Or if you have it donated by the artist because museums do not always have the funds.
Does Brussels or Belgium have a typical collector's culture that is different from the French or English?
Hufkens: Absolutely, collecting is risky here, people are looking for early work by young artists. It is fantastic.
There are many collectors, artists and galleries in Brussels, which is an important art fair. Yet Brussels, as a center of contemporary art, is surpassed by cities such as Paris, London and Berlin. What is Brussels missing?
Hufkens: Brussels is relatively small. I think we do it incredibly well in terms of the size of the city. Of course, everything could be better. It's good that Wiels is here and Kanal is coming soon, but those institutions really need to have the resources to function optimally. And yes, a real contemporary art museum with its own collection would certainly also be a step forward.
The renovated Xavier Hufkens Gallery on Sint-Jorisstraat 6 in Ixelles just opened on June 2, 2022 with an exhibition by Christopher Wool.