All major Leiden museums in Leiden once again took part in this fourteenth Museum Night, complemented by performances and workshops, it will be a mix of art, culture and science. Again this year there was a crowded program with something for everyone. Because I wanted to photograph / film as much as possible, it became a race against time. Take a look at all the museums, performances and speed lectures. If you want to take it easy, you can sit back and watch the video and photo slideshow below. The opening of Museumsnatten 2022 was at Beestenmarkt.
After the opening, various bands continued to play on the big stage all evening.
There was a greenhouse on the Beestenmarkt where Corpus let us take a look at the operating room of the future.
Fast forward to Ethnology, where I almost ran into Miss Cartier's arms.
In addition to the normal collection, there were also various extra programs, eg you could learn the Haka outside and follow a speed lecture about the Mayans inside.
The Nightly Escapades performed in the garden.
Museum Boerhaave is a really nice do-it-yourself museum where you could do all sorts of scientific tricks.
Enter the world of a visually impaired person.
Of course you can also play a game.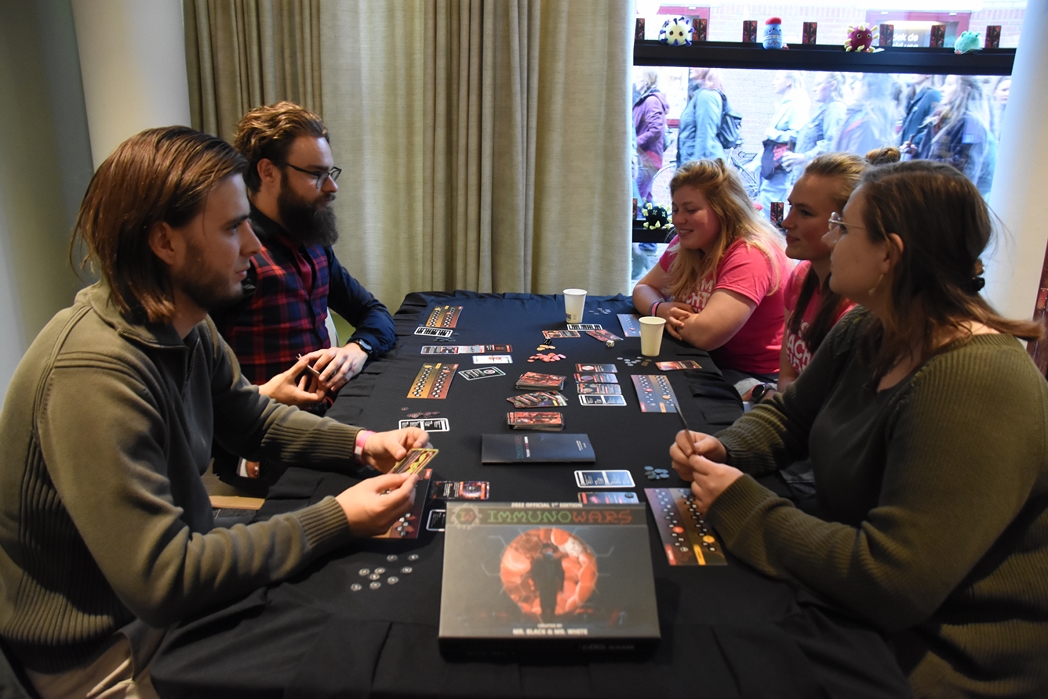 Time to sit down, I did in the anatomical theater.
I think we have too many seagulls in the city, so I enjoyed watching a seagull's dissection 🙂
Unfortunately, I did not have time for this speed lecture.
Quickly on to Tøjhallen, where many departments were given tours or given explanations.
In Tøjhallen you can also see the famous painting, where Mayor Van der Werf offers his arm to the hungry Leiden population during the Spanish siege in 1574. Theater Domino played Leiden's siege and relief in the entrance to Tøjhallen in ten minutes.
Via Beestenmarkt towards the museums at Rapenburg.
Japan Museum Het Sieboldhuis was also clearly very popular.
Those who did not want to go all out could also board one of Leidse Rederij's sluices, which sails past most museums.
You also did not have to be bored on the street, and there was plenty to see or hear.
At the Rijksmuseum Antiquities, I stopped for a moment at Phoenix.
I've seen them before and also in other creations, but I still like them.
There was also plenty to do in the Hortus and Academy building at the University.
Naturalis explained the origin of, among other things, a number of bones and skulls in the Academy building.
Auke Florian gave a speed lecture on waterfowl nests in the city.
Sometimes it's a laugh and things do not go as you intended with your press band. With my press belt, I did not have to stand in line because I made quick visits to catch everything. At Hortus, a group of people were waiting at one of the tropical greenhouses, I flew around it with my bracelet and heard the girl at the entrance say something, but did not get through for a while. Suddenly I was all alone in a coal-dark greenhouse, I did not really understand. There was light upstairs so thought there must be life there.
There was certainly life, the floor teeming with cockroaches. I thought that was enough and quickly went outside again.
On the way back I met a group. It turned out that there were UV-guided tours in the coal-dark greenhouse. Suddenly it dawned on me what the girl at the entrance said, the UV trip starts in five minutes. Well yes, I still would not have had time for it, and this stick insect looks good in reality in the UV light, but less in the picture 🙂
Melle performed in the garden, enjoying his always beautiful performance for a few minutes.
Time was running out, but I still wanted to visit Heritage Leiden.
There were also guided tours here after dark, and graphologists told you all about your handwriting. There was also a Rembrandt photo boot, where you could have your picture taken as a medieval resident in Leiden.
In an emergency to Molen de Valk to experience one of Museumsnatten's last performances.
Pfffff I had visited almost all locations in a few hours and still saw only a fraction of the entire program. Now it's time to really take my time to look and listen somewhere for the first time tonight. I do not regret having saved this Mick Stender performance in the end.
Are you curious about what you missed, you can take a walk through the video.
Have been there but also missed a lot, luckily we still have the pictures