The national small owl working group STONE annually examines the breeding biology of incoming small owls. Prey research in the southeastern Achterhoek already shows that owls have trouble finding field mice and wood mice, which are important staple foods for the young. Small blow to the arm: Not all fry have information from the young phase yet. There are many more shrews among the prey remains than usual, while these are usually not popular with small owls. There are also several small songbirds to like. The unusual prey conditions show that small owls do their best to make up for the lack of mice. Despite this dietary adjustment, it is difficult to find enough food. The coupling size in the research area in the southeastern Achterhoek is historically low at about 3.5 eggs per coupling, and a relatively large number of dead pups are found. While in other years a follow-up coupling is sometimes attempted after a failed coupling, the first signs this year indicate that the owls do not often try this.
Church owls give up breeding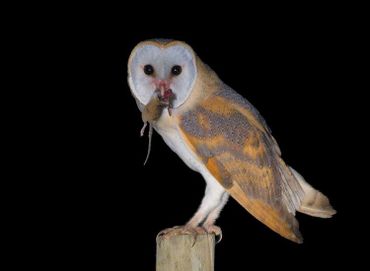 The little owl is quite generalistic and can also use other food sources than mice. The barn owl, on the other hand, is a real mouse specialist and is less able to switch to other prey species. Nesting boxes for the barn owl are rarely checked in early spring due to the species' sensitivity to disturbances in the egg phase. So the observations we have of nests so far are still sporadic and primarily based on nests pointed at by a camera. The coupling size in these nests appears to be on the low side, and some nests have simply been abandoned by the breeding female because the male did not bring enough food.
Also other mouse eaters in trouble?
The rugging season is already pretty much over, and the first reports from the field about it are disappointing. Particularly striking is the low hive population reported from several regions: it appears that many barn owls have not even started breeding this year. To illustrate this a report from the Vogelwerkgroep Noordwest-Achterhoek: In 98 suspended barn owl boxes, the number of ringed young can be counted on two hands, while in most years dozens of owls are ringed. Not even a single sun owl was found in the nest boxes of Vogelwerkgroep Zutphen.
In addition to owls, a number of hunting birds of prey in the daytime are also dependent on mice. Especially for kestrel, buzzard and harrier, mice are an important part of the diet, and bad mouse years often lead to disappointing breeding results. We have to wait and see until we get more nesting data from the birds of prey before we can check if this rule also applies this year.
Where have the mice gone?
Peaks and troughs for mouse populations are in principle part of the mouse's natural cycle. By utilizing favorable conditions such as mast years (forest mice) and good weather conditions in winter and spring (field mice), the number of mice can peak considerably for some years. In other years, however, conditions are disappointing and the mice are having a hard time. The lack of acorns and beech nuts in the autumn of 2021 will have been an important factor: it made it difficult for forest mice in particular to gather enough food despite the mild winter. The cycle of the feral mouse is harder to understand, but it is possible that many mussel dens were flooded in the extremely wet February.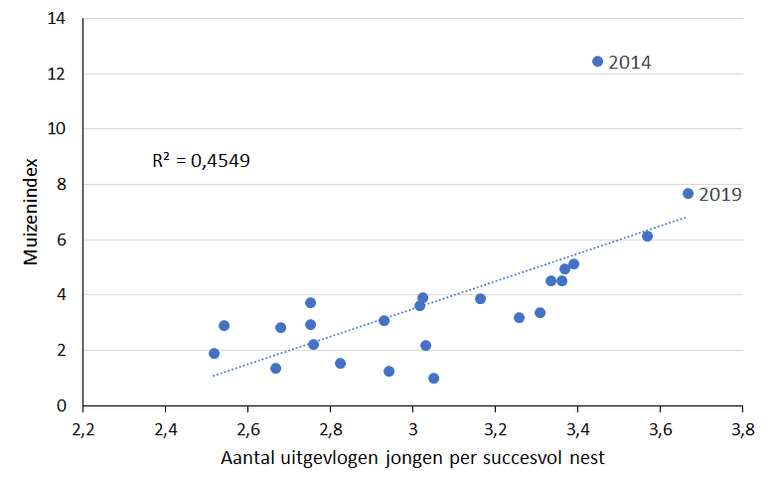 In the long term
One disappointing breeding season does not have to be bad for birds of prey and owls in the long run. The mouse populations fluctuate naturally, and new peaks help the mouse eaters again. However, in today's very intensively managed agricultural land, there is less room for mice, and mouse tops are therefore rarer these days. Lack of mice appears to play a role in the long-term decline of some mouse specialists, such as the kestrel and the long-eared owl. Although some mouse peaks have been observed in recent years, they have not yet led to structural increases in these mouse eaters. It is therefore a matter of awaiting these species to see if and when the mouse peaks become more frequent again.
Nest research conducted by working groups
This valuable research into coupling sizes, laying start, and breeding success is conducted by dedicated bird work groups, and the data is collected in Meetnet Nest Maps. Thanks to this data, collected by thousands of volunteers, we can annually track the breeding performance of owls and birds of prey, including at national and regional level, to keep our finger on the pulse of these stocks.
Many thanks to Ronald van Harxen and Pascal Stroeken from STONE (Steenuilenoverleg Nederland) and Mary Mombarg from SKWN (Stichting Kerkuilenwerkgroep Nederland), Vogelwerkgroep Noordwest-Achterhoek and Vogelwerkgroep Zutphen for sharing messages and data from the field.
Text: Bernice Goffin, Surveillance Network Coordinator Nest Card at Sovon
Photos: Harvey van Diek (main photo: sunbathing little owl); Joaquim Coelho
Graphics: Ronald van Harxen and Pascal Stroeken, STONE