I have now been back from Venice for about three weeks, and although there are a lot of good new works on display at the Biennale, the Marlene Dumas exhibition in Palazzo Grassi in particular continues to haunt me. I'm ashamed of that too. Because hey, Dumas has been one of the most acclaimed painters in the world for about thirty (forty?) And then her exhibition also takes place in one of the palaces of the multi-billionaire François Pinault.
What establishment do you want it to be?
It made me think: what are we going to do with the establishment these days? At first glance, the answer is clear, even in Venice: let it go. You can see this, for example, in the most talked about country pavilions in the Giardini: America is (for the first time) represented by a female color artist, Simone Leigh, who almost eagerly transformed the classicist pavilion into a semi-African enclave. In France, Zineb Sedira shows the complex relationship to the postcolonial Algerian diaspora, and Poland presents a stunning tapestry installation by Malgorzata Mirga-Tas, dealing with the history of the Polish Roma. Change, innovation, the art world likes it, because innovation is one of the few characteristics of art, where content and market eagerly fall into each other's arms.
Radical pause
The desire for innovation can also be seen in the main exhibition The milk of dreams, curated by High Line and New Museum curator Cecilia Alemani. Her statement is clear: she put together an exhibition without a single white western man. All the work shown is by women, transgender, a single colored man. It is a radical break with the past, undeniably, which fits very well with the art world's desire to be "socially relevant" and reaffirm its own status as a precursor to new developments – if the middle-aged white man is banned everywhere, then especially in art. We do it really differently.
Also read the review of the main exhibition: Why the sex doll heralds the end of time

But: how does it look 'different'? That question started to gnaw, especially because I noticed that I The milk of dreams found a good cozy exhibition – reassuringly cozy, one might say. It was nice, it was nice, but it did not exactly appeal to one of the most fascinating aspects of artistic innovation: that one has to be extra careful when art is uncomfortable, gives discomfort when one feels disgust. The idea behind it is the belief (which I share) that art is best when it shows things you as a viewer do not know: new images, new ideas that reveal new perspectives and emotions – new worlds that give you wealth and complexity to experience life. But there is always the question of how much innovation the viewer can handle.
Something new is nice and stimulating. But if it becomes really new, uncomfortable, confrontational, then even the so-called progressive art lover often proves to be surprisingly conservative: the new need only seems to have no connection with the world we know, floating around in a vacuum-drawn world of ideas , who have little to do with it, have to do with their own lives or their own experiences, and they drop out. That balance is uncertain: Innovation that catches on always takes small steps, both in art and in society. Or it's a revolution.
That is also the remarkable thing about The milk of dreams: Alemani's concept sounds revolutionary, the resulting exhibition is reassuringly recognizable – too reassuring. The art of the non-white-western men that Alemani presents turns out to be different, but not very much. This is mainly due to the fact that Alemani remarkably often returns to known mechanisms of its revolution. First of all, she finds many of her 'new' artists in areas that are not yet at the center of Western art attention, such as Haiti, Ethiopia and Colombia – a development that has been going on for years at major international exhibitions, and which is commendable in itself if it were not for the fact that the attention paid to the exhibited 'exotic' artists rarely lasts. Or take her idea of ​​taking surrealism as the basis of her concept (The milk of dreams is a book by the surrealist Leonora Carrington): it is surrealism, which is very much a movement that turns away from any social development and looks inward.
Particularly striking, however, is the return to the craft: the innovation Alemani in The milk of dreams is remarkably often performed by weaving, sewing, lering, quilting, tufting artists. There's nothing wrong with that, because it produces works by great artists like Gabriel Chaile, Emma Talbot, Candice Lin, Tau Lewis, Mire Lee, Igshaan Adams and Ali Cherri. But that craft is also uncomfortable: as if 'new' artists can only be directed to the center of attention by taking a step back and making them familiar – see, the revolution is not so bad, is it not very recognizable? Which even makes you wonder if something is changing: are the new influences changing the system, or is the system changing the new influences? Germany's revolution is wrapped in so much security that it's tight: If Germany wants to show that the art of many sections of the population has erroneously received too little attention, then should it not also show art from the peoples who are really in favor of a different system?
Sex and violence
That was exactly why the Marlene Dumas exhibition touched me. As I said: everything about this exhibition screams establishment, but then Dumas himself manages to break through that expectation. This overview is not a reassuring parade of biggest hits for the art tourist no recognizable images for avid collectors, nothing 'Evil is banal' or 'Neighbor', but a harsh, confrontational, twisted exhibition where Dumas let themes like love, sex, violence and death collide. hard and let them flow into each other – preferably in combinations that emphasize the discomfort.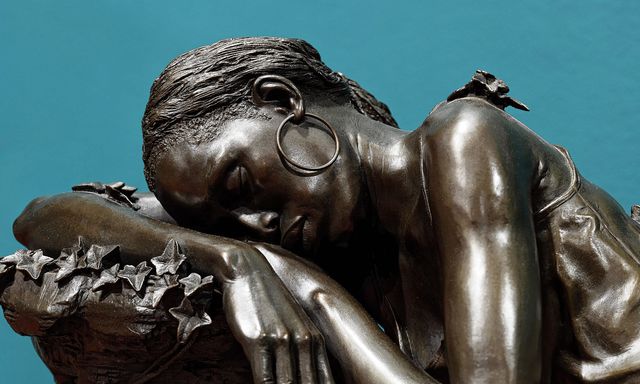 Also read: The Feminine, Floating Venice Biennale has soft borders

the amazing Big Men for example, a proud gallery of portraits of famous gay men (who often had to deny their homosexuality), or the relentless works of oppression of the Palestinians. But I also watched for minutes Girl with head (1992), a small (25 x 30 cm), almost intimate canvas with a naked girl on it, painted in sober black-gray-yellow, soft face, raised legs. It would almost be a mild picture if the girl in her lap did not hold her head. That head is restless, roughly painted in contrasting black-white-blue, the eyes are wide open, as if the head barely realizes that it is no longer attached to a body. Everything is good about this canvas, but especially the way Dumas manages to collide with so many apparent contradictions in such a small space – and yet it remains a whole, an image.
This is even more true of the last blow of the exhibition: the recent painting unknown to me Person (2020). At first glance, it is one of those canvases that one can easily get past: a puddle of gray-pink paint, from which a face with difficulty emerges with closed eyes, so watery and indefinable that your gaze can hardly find a hold in it. The accompanying text says that the canvas is based on 'a photograph of a copy of a mask Rodin made of a grieving face for his famous Hell's gate followed by: 'Dumas painted this portrait of a mask during a period of anxiety in his own life† That addition is actually superfluous, the longer you look, the more on Person grief, doubt and powerlessness merge into each other. It is a canvas that vibrates, floats, cries and thus leaves a deep impression: the mask has lost its control, and Dumas lets go of control of her paint to such an extent that it undermines her authority as a painter. As if she were with Person wants to deny his own existence, his own interest, his own strength. So much vulnerability. So much doubt – and that in the heart of the establishment. At the peak of his career. Incredibly powerful.
In this way, Dumas' penetrating show that even as an older artist you can break with existing trends. Like the artists in Alemani's The milk of dreams† The only difference is that Dumas' intervention is different from that of the young people: this is not a revolution from the outside, but from within. It's almost even more radical, precisely because you as a spectator do not expect this, and there is a lot of the outside world at this stage of Dumas' career, which has many ideas and interests in her. Compare this exhibition with the Venice presentations of other canons like Anish Kapoor, Bruce Nauman and Georg Baselitz: How good they sometimes look in relation to Dumas, whose only goal is to consolidate their style, their market, their power. Dumas breaks down.
In this way, her exhibition is also a prayer to think in other patterns: revolution and change do not have to come from new, from young, from different. It's important, of course, but Dumas shows that it's just as exciting when an established artist (she hates being called that, I guess) is rowing against the current. Different risks, different effects – but at the heart of power.