Ichtegem presents a refreshing art event this summer. From the art route in which local artists such as Irénée Duriez and Mia Moreaux have participated for years, the new SPOOR Art Festival is now growing: Along Groene 62, in churches, meadows and gardens, art in its various guises finds a place. Francis Vanhee and Cédric Cuvereau have grown up together in the municipality and are now involved in this cultural project with a high connection factor.
Irénée Duriez is 72 and far from rest. The artist from Ichtegem, who cast and drew countless female bodies in bronze, does not feel like it at all. 20 years ago, in collaboration with the local council of Ichtegem, he invited artists from the region to meet each other in his sculpture garden in the municipality. From that initiative grew an annual visit to the artists 'studios and from there a real art route, along which more and more visitors indulged in Duriez, but also of Mia Moreaux, Katy De Bock, Dirk Santens and others' works.
A fixed value on the summer agenda in our province and an ideal breeding ground for further development. This is what Francis Vanhee and Cédric Cuvereau, both raised in Ichtegem, thought during an evening of bird-picking in Ghent, where they both live today. Francis settled there as a photographer and artist, Cédric still commutes daily to Ichtegem, where he is the coordinator of culture, heritage, events and tourism in the municipal council.
We want to make visible places that had become 'invisible' over the years
"We discussed that there is still potential in the existing art route. Ichtegem has many more beautiful, green places that could be involved in an art event. In addition, we thought it would be interesting to bring other artists – from the region, but also from further afield – to our village and ask them to be inspired by those places, "says Cédric. In a renewed art festival, they want to connect established cultural values ​​with new talent. "We want to gather different interpretations of what art is or can be, because we believe that they can only reinforce each other. And in an accessible way, without judgments or prejudices ", says Francis. "We hope to stimulate visitors to discover lesser-known works and be open to it."
In addition to the work of established artists, which as before will be exhibited in about ten studios and gardens, and the group exhibitions on site, the festival will have a third part, ART 62. De Groene 62, the old railway bed between kl. Oostende and Torhout, which have been transformed into a car-free axis for walkers and cyclists – and which run straight through Ichtegem – form the axis along which ART 62 takes place. The festival name SPOOR also refers to the old railway line, both Ichtegem and the sub-municipality Eernegem had their own train station on that line at the time, "but it is also reminiscent of the figurativetrack that this project will be left behind by showing art in the public space, "explains Vanhee, curator of ART 62.
Looking over the wall
And the new event is slowly taking shape. The new SPOOR Art Festival can be visited in August. While we wait, Francis and Cédric take us to places where the event will take place. In the beautiful garden, where he exhibits some of his monumental sculptures, we meet Irénée Duriez. Smaller sculptures can be seen in his exhibition space and in his drawing room, and he recently opened a museum there, dedicated to his oeuvre from 1964 to 2000. Irénée sees the renewed art festival as a great opportunity to give new talents a chance.
"I have always loved helping budding artists with advice and assistance, and I appreciate other art disciplines. Everyone expresses themselves in their own way and it must be respected. I'm very curious about the outcome of this project and I hope it will really appeal to an even wider audience. "
For why should not a lover of Duriez's works also take a look at what will soon be seen along Groene 62, in the church in Bekegem or the old town hall in Ichtegem? Or why should someone who swears by contemporary art not look past Duriez? Francis Vanhee is not deterred by imaginary boundaries. Not in his own work or in the choice of artists for SPOOR. "We've made a selection of names that we think deserve a broader platform, which is not always obvious today."
Art along the green 62
And so an installation by Colin H. Van Eeckhout, singer for the metal band Amenra, but also artist, is set up along the Groene 62 route, which crosses the Ichtegem. He stacks straw bales in a giant chest. There is the portrait of Benny E. Eddo, by Torhout photographer Cato Crevits. In her work, she looks for people with a story, and the charismatic Bennys was the one who struck her. The remains of a World War II bunker are being painted by Joren Van Acker; he makes large drawings with charcoal, which he draws inspiration for in archive images. From Ichtegem's archives, he selected a photo of a memorial procession for Richard Depoorter, a local cyclist who died in an accident during the Tour of Switzerland in 1948. "In this way, we will also make visible places that had become 'invisible' over the years. Many here know the bunker as a place where they came to play in their youth, or where they regularly cycle past without thinking about it. attention."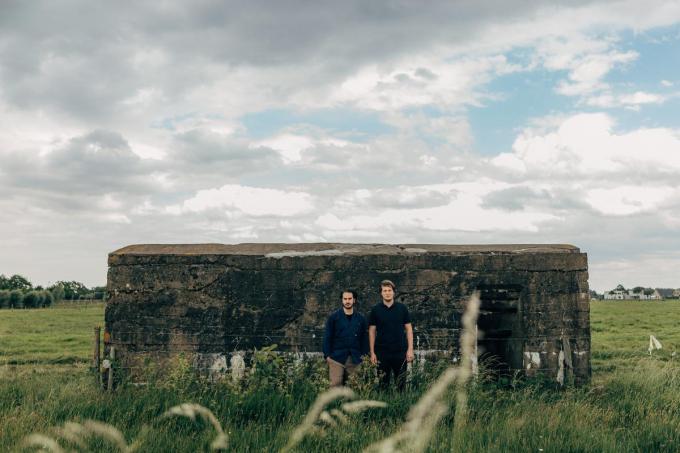 In addition to the work of Francis Vanhee, the newly opened Stationsput Landscape Park will also house pottery by Marina Roggeman: On one of the ponds in the park, which was dug to generate steam for the train station and is now full of fish, lively figures in ceramic swimming. Finally, in the churches of Bekegem and Eernegem and the old town hall of Ichtegem, several artists play with local themes.
All this and more will be there to experience during the SPOOR Art Festival in August, although Francis and Cédric already dream of: "That way we will merge all kinds of culture here, and take all residents on a beautiful journey of discovery." In Ichtegem will be this and next summer the sky border†
All info about SPOOR Art Festival, participants and locations at www.ichtem.be
The information brochure is available from the Administrative Center Eernegem, the Ichtegem libraries or the participating artists.
The art festival is an initiative of the local government in Ichtegem in collaboration with Ginter, Westtoer and the province of West Flanders.
Francis Vanhee: art that touches
Francis Vanhee (27), curator of ART 62, grew up in Eernegem. During his photography studies at KASK in Ghent, he experimented with hybrid forms of photography and painting. By processing his images with acrylic paint, varnish, wax, plastic and clay, he creates an unusual, often disturbing dynamic. His work questions our spirit of the times without prejudice. "I am fascinated by the imperfect, and that is also reflected in what I do myself. Some find my work scary or downright disgusting, others find solace in it. Everything is allowed for me, I want to evoke emotions in the first place ", he explains his art. "For me, making art is a necessity. I come from a dark period where I did not find my place anywhere. In the meantime, I feel good again, but I need to be able to express myself in this way to keep feeling happy. " He works as a photographer for this magazine KW Weekend, and previously also for De Morgen. From 2017 to 2019, he was a house photographer for Ancienne Belgique. His artistic work is represented by Antwerp NQ Gallery, which is arranging a solo exhibition of his work in 2023. Francis Vanhee is also making his own work for ART 62. In the newly opened Stationsput landscape park along Groene 62, he made a work of the two oldest inhabitants in the municipality: she is 100, he is 99. "The idea came to me after I saw the interpretation that Kris Martin made of Van Eycks' Adam and Eve. I want to expand it in my own way: Adam and Eve are not young people to me as they are usually portrayed. These two elders may also be Adam and Eve, a kind of patron saint of the church. It differs from my previous work because I do not make the characters here unrecognizable and genderless, but also connected again because I have always liked to go back to Greek mythology and saint figures and grow the image. "