Those who were fortunate enough to visit Camiel Van Breedam's home in Aartselaar enjoyed a special experience. All rooms are crammed, but extremely orderly, with works by his hand and by his admired colleagues. There are many books in between. His workshop is an even larger curiosity, a recycling museum, where all sorts of found materials are neatly arranged, sorted by type, to one day be processed into a work of art.
Gert Junes from the Art Partout Gallery has been fascinated by Camiel Van Breedam since 1988, whom he got to know as a teacher in the product development department in Antwerp. Ten years later, he began collecting on his work. Only now, after repeated insistence, did he persuade Van Breedam to arrange an exhibition in his gallery, provided it did not become a classic presentation.
The exhibition became a kind of reconstruction of Van Breedam's house, a marvel with a hundred works of art on walls and cupboards, half by the artist himself, the other half by colleagues he admired and from whom he was inspired. This includes modernist books and magazines with intriguing covers.
Plumber
"Once you start collecting, it does not stop. You fall victim to your interests, "says Van Breedam, who as a child was fascinated by the enormous amount of materials that his father kept as a plumber in Boom. As a starting artist, he began experimenting with zinc, lead and putty slats, which he saw there and eagerly began to save himself. Added to this was a passion for beautiful and inspiring books, which he sought in antique bookstores. He liked to exchange work with colleagues and tried from admired predecessors to buy something that excited him.
At Art Partout, it all comes together. Collages by Paul Joostens and engravings by Lyonel Feininger, Oskar Schlemmer and Oscar Jespers as well as assemblages by Raf Buedts, Guy Maclot and especially Remo Martini are on display.
"Friendship with Remo Martini has been more important to me than G58 membership. In Antwerp I had few friends, and my participation in the G58 exhibitions in Hessenhuis was due only to art critic Marc Callewaert. I had already discovered the abstraction of the G58 myself, but its introduction to the Brussels art scene made me aware of the possibilities of surrealism. Martini stimulated me to make objects and boxes, "says Van Breedam.
A crucial exhibition was Optional return in 1964 in the pioneering gallery bookstore Saint-Laurent in Brussels. Together with Remo Martini, Annie Debie, José Goemaere and debutant Marcel Broodthaers, Van Breedam got a room to show collections of recycled material. A tribute to the late Paul Joostens provided a historical setting. I Art Partout, Optional return partially reconstructed with several works that also hung there in 1964.
tribute
The exhibition in Art Partout, which has the title Greetings to was not conceived chronologically, but it covers Van Breedam's entire career. The red thread is the tribute stone to admired artists, beginning with a drawing by Paul Klee from 1957, made when he was still taught by Octave Landuyt at the plastics education in Ghent, to newer trade fair attractions, which he recreated with putty slats, such as. a tribute to the carousels that Edgard Tytgat liked to paint.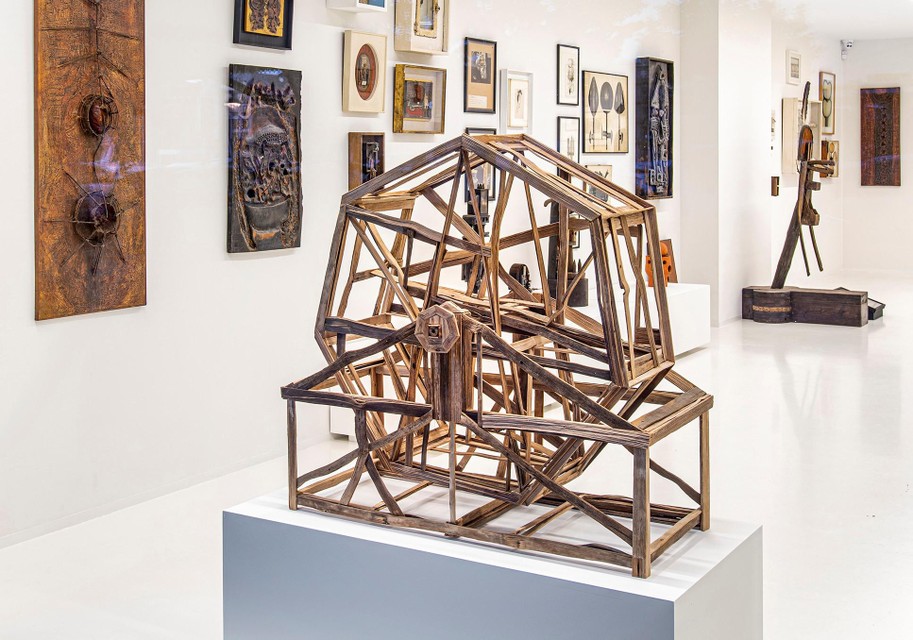 Greetings to can be seen all summer until September 15 and runs in parallel with the presentation of forty book collages by Camiel Van Breedam in the Nottebohm room of the Heritage Library. Unfortunately, the latter exhibition can only be seen during regular tours and the tickets were sold out in a week. It is still possible to visit the Cultural Heritage Library freely during Museum Night on 6 August, Culture Weekend on 27 and 28 August and Open Monuments Day on 11 September.
artpartout.be and consciencebibliotheek.be