Culture

Peter Rutgers brings Johan and Jan Waamelink to life
By Mark Ebbers
EIBERGEN / GROENLO – Two Groenlo house and decoration painters also turned out to be more than deserving painters, but their work seemed to have disappeared over time. Peter Rutgers (79) from Eibergen thought they deserved more recognition. He immersed himself in the history of Johan Waamelink (1896-1983) and Jan Waamelink (1925-2013), researched their works, talked to people who knew the painters and collected what he calls 'supporting evidence'. It culminated in a book that is now in its final stages.

Johannes Bernardus (Johan) Waamelink. Photo: own collection
Waamelinks came closer to Rutgers through his wife Inge Wielens. Her mother was Truus Waamelink, a younger sister of Jan and the youngest daughter of Johan. At a party to celebrate Inge's 60th birthday last year, the idea for a book about his wife's uncle and grandfather arose.
It was the start of months of research for Peter: "What else do you know, and what paintings are still in Inge's family, with cousins? What other people have known the painters and perhaps have paintings or know where works are? Many phone calls and visits followed. "
Grandfather Johan turned out to have been a sharp man, stubborn and emotional
The months of searching and talking gave him a lot: he tracked down dozens of works by Johan and Jan and got an idea of ​​what it was like for people and how their lives went. Especially with his in-laws, photo albums and other material came to the surface, which managed to bring Waamelinks to life with the retrieved memories. "Grandfather Johan turned out to have been a sharp man, stubborn and emotional. There was no one around it: his less beautiful sides were also discussed in his prayer card. "
Marianne Mulder-Wamelink from Groenlo is the daughter of Jan and the niece of Inge. She assumes that her grandfather's restlessness, that emotionality, may stem from his desire to have been a painter altogether. Instead of doing it on the side of being a house and decoration painter.
42 works found
From 1924 Johan Waamelink had a painting company on Beltrumsestraat in Groenlo, since 1933 on the site where Albert Heijn is now located. In 1920, Johan – from Keijenborg – started working as a painting assistant at the Groenlo painting company Wicherink, owned by the grandfather of the current Groenlo painter Bert Wicherink.
Through questions on social media, Peter learned even more about the painting father and son. Via the Facebook page Ij bunt 'n real Grolsen als … a Marga Geerdink, daughter of the former Groenlo blacksmith Jan Geerdink, told that Waamelinks also made paintings as payment. In this way, a painting by Johan may also have ended up with the Gunnewijk family – opposite the former Van Waamelink painting company.
The network has expanded further in recent months. Paintings appeared not only in Groenlo, but also in Keijenborg, Hengelo Gelderland and Zelhem, and also outside Achterhoek throughout the Netherlands, in Zevenaar, Ommen, Alkmaar and Breda. Two paintings by Johan even turned out to have ended up abroad: one in Belgium and one in Germany. The (preliminary) final position is 27 works by Johan and 15 by Jan, mostly paintings but also a few stained glass windows, all in private ownership. In the paintings, it is striking that they painted both on wood and on canvas.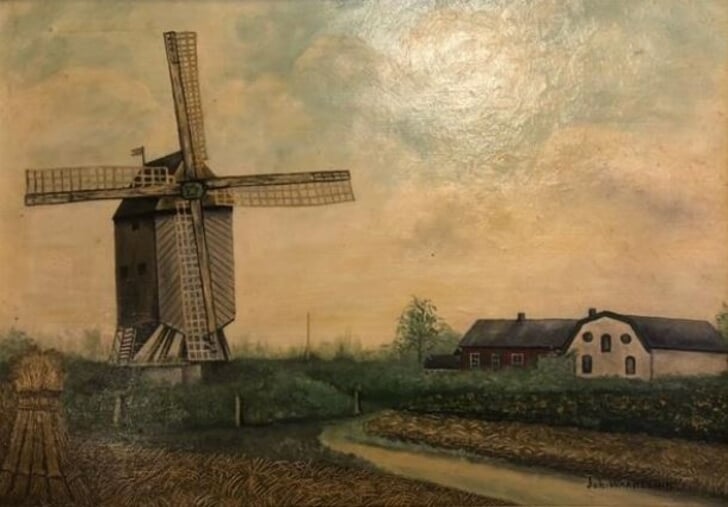 Den Gamle Kaste in Keijenborg. Johan Waamelink. Photo: own collection
Johan was the better painter
Through his research and writing of his book, Peter Rutger's father and son Waamelink got to know each other better and formed an opinion about their personalities and their pictorial qualities. "I knew Jan, my wife's uncle, personally, but he never talked about his paintings; I have not seen her grandfather Johan. Through conversations and interviews, especially within my wife's family, I have of course learned more, but one must be careful not to psychologize. "
He sees clear differences between father Johan and son Jan, in their personalities and in their painting: "Johan was the youngest in the family where he grew up, Jan was the oldest, he felt more responsible, was calmer. As a painter, I really appreciate his father, he painted beautiful landscapes and farms in Groenlo and the surrounding area. " Johan and Jan were not the only painters in the family, several descendants have also made paintings or still do, some of their works have also ended up in the book.
Missing situations come back to life
Waamelinks are part of cultural history
What does Peter think is the significance of his forthcoming book? "It's the first inventory of the paintings of the two. I do not know if I have been able to trace them all, but many. By the way, they were all untitled, I give them titles in my book. I, it's great that there were also house and decorative painters in Groenlo who also turned out to be painters. in Beeld site, the information from Grønlo Archaeological Association, Bygården and Bymuseet The paintings of both Waamelink also show historic Groenlo and its surroundings.Disappeared situations come 'back to life', not only in Groenlo, by the way, they also painted elsewhere in Achterhoek . "
In the book, which is in the final phase, all the works found by Johan and Jan Waamelink are printed, in addition to many other pictures. Rutgers wants to add Waamelinks to a (still) short list: "In the early twentieth century it was more common for house painters to paint art as well. Beltrum knew his Jan te Loeke, Zelhem his Frans Storm, Bredevoort his Gerard Wensink and "Eibergen's Herman Abbink. These painters have been written about before and their works have been exhibited. My research and book make it clear that Groenlo can also join the list of places with forgotten houses and painters."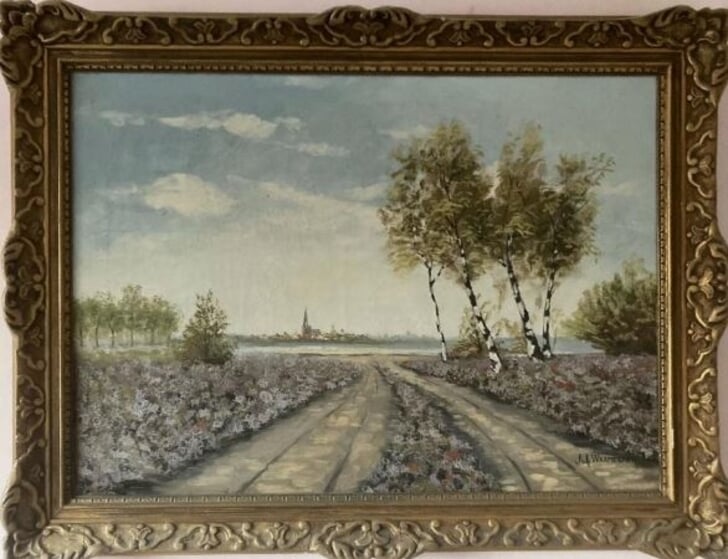 View of Groenlo. Johan Waamelink. Photo: own collection
Bibliography
As an educator and public administrator, Rutgers has always been interested in anthropology and history, in orientation to the past. Especially in social history, in people. This led to various books: in 2013, the biography of Eiberg's mayor, Frans Cappetti, in 2018, a book about the priest-poet Willem Sluiter and in 2021 the anniversary book for the folkloristic dance group De Plaggenmeijers from Rekken. And now comes the Groenlo painters Waalink.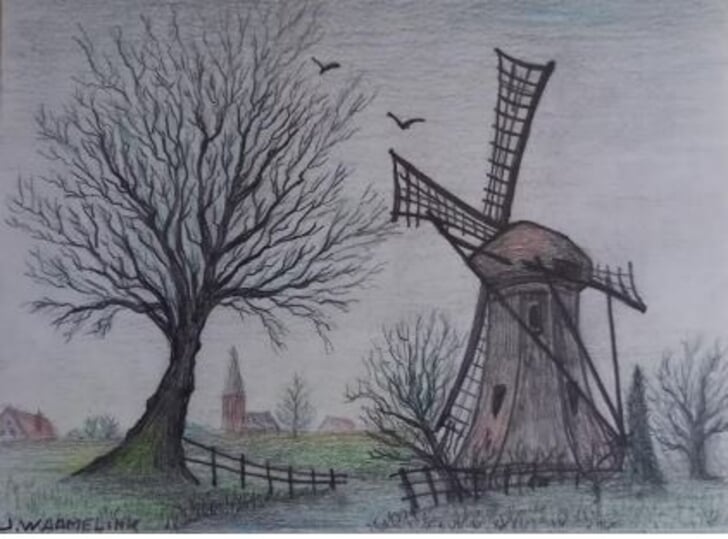 View of church, mill and house. Jan Waamelink. Photo: own collection
calls
Anyone with information on or perhaps even work by Johan or Jan Waamelink is most welcome to contact Peter Rutgers: email address eprutgers@gmail.com or phone 0545-286991. It can still provide relevant material for the upcoming book.