"What is happening now at Documenta in Kassel is not anti-Semitism, but Islamophobia," says Australian artist Richard Bell (1953). He is in Eindhoven a few days until the opening of Cross-connection: Richard Bell in the Van Abbe Museum. It is his first solo exhibition in Europe, albeit on a small scale. In addition to a few paintings, the exhibition also includes a film in which he tells about the lack of rights for the Aborigines from the ruins of his childhood home in Charleville, Queensland. His message underscores that he stands on the remains of the house that the government has demolished without offering the family an alternative.
If you want to see more of Bell's works, you can go to Documenta 15, where paintings and a sculpture can be seen in the Fridericianum. He also placed an 'Aboriginal Embassy' on the main square in Kassel. In that tent, conversations are held and films are shown about how the rights of Aboriginal people have always been violated.
After Eindhoven he returns to Kassel and will stay there "as long as I am allowed". The fear stemming from this is due to the fact that it has been suggested in German media that this Documenta edition should be closed because the whole event would be anti-Semitic.
Dictatorship
That last week the meter-sized triptych The Justice of the People The unrest has not been removed from the Indonesian underground collective Taring Padi – about the victims of the dictatorship under President Suharto, on which an Israeli soldier with a pig's head is depicted. Chancellor Olaf Scholz has announced that he will not be visiting Documenta for the first time in thirty years. Requests were made for the resignation of Documenta's management from various quarters. What of the mirror It does not go far enough: Politicians' heads must also roll in Berlin – Minister of State Culture Claudia Roth's departure is only logical, according to the weekly magazine: "Inviting the Indonesian art collective ruangrupa must have consequences at the highest level. . "
Also read: What makes this Documenta so different, so revolutionary?

This edition of Documenta is about the perspective of the Southern Hemisphere and the Middle East, the disadvantages of capitalism, power and racism. The power of the collective plays a greater role than the individual 'genius'. It is skewed that this Documenta arouses so much resistance. Richard Bell: "If this Indonesian collective had not been asked to put together Documenta, we would not have been able to show our work. Western curators never invited us. The reactions that are now coming say a lot about Germany. Worldwide, many works are racist, anti-Asian, misogynistic. They are tolerated everywhere and no one takes offense. If you reason from anti-Semitism, you should also mention misogyny and racism. And if you are consistent, you should also remove these works from museums. But that is not possible, because then it will be very empty in some museums. "
Bell works from the art collective ProppaNow, founded in 2004, in Brisbane, Australia. "We focus on Aboriginal rights. None of us have land rights. Australia is an Aboriginal country, it has always been and always will be. That's what my work is about."
Bell's work contains clear political messages. His paintings depict protesters holding protest signs with slogans such as 'We Want Land, Not Handouts' or 'I Am a Man'. He discusses (land) rights for the Aborigines and the consequences of capitalism at both the geopolitical level, but also in the art market. The latter can be found, for example, in the work with the slogan: 'Aboriginal Art, It's a White Thing'. He thus states that Aboriginal art is eagerly sold but still accessed from a European perspective, and that Aboriginal artists have no self-determination over it. "As a greedy artist, Western art willingly devours all the victims who come its way," Bell wrote in his essay Bell's theorem†
That art collectives are central to Documenta is extremely important to him. "The collective is the basis of art, both past and present. Take the Impressionists: they were also a collective. That in the West there is generally little attention to the collective is due to the fact that artists are capitalists. Capitalism requires a more individual approach. In a collective, it is about greater interests and about conveying a message. "
It was all about the message to Bell right from the start when he became an artist. "I started as an activist, but art was a means of saying things without being arrested. You can push boundaries with art. This is also what happens at Documenta: There you can experience what it is like to work as part of a collective. The art is not only focused on the visual, but also on participation. "
Capitalist pig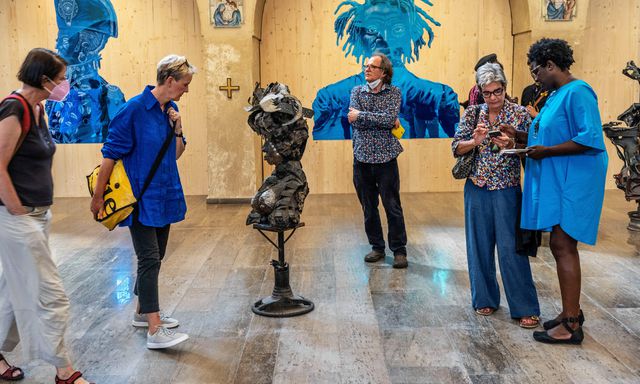 Also read: 9 tips: What not to miss on Documenta 15?

The reactions to Documenta not only concern him, but he also finds them typical: "We can often identify with art. We see a world we are used to, or friends, family, community in the arts. When I look at American or European art, it does not apply to me. I can not recognize myself in the depicted. At Documenta, conversely, visitors must be prepared to see and experience things they do not recognize, they must use their imagination. What happens to the visitor is what we have always done all these years: to relate to art that does not correspond to our experience. "
Bell offers some Western help on Documenta. A work of art emphatically refers to the 1917 urinal attributed to Marcel Duchamp and signed R. Mutt. Bell signed his urinal with R. Bell and added balloons to it. One of them is a pig. "This balloon urinal shows Western art: inflated, exaggerated and shiny, with the pig representing the capitalist pig driving the art market."
Bell's 2002 essay has since been updated, but he has not become much more optimistic. There have been changes when it comes to Aboriginal rights in Australia, but whether they are for the better is the question Bell is asking. There is little hope that Australia's Aborigines will ever regain control of much of their culture. †there is no hope', he completed his essay in 2002. In the updated version for Van Abbemuseum, he makes a small adjustment:'hope less. do more† For example, he points out that art can lead to change: "If I did not believe in it, I would not make art," he says with a laugh. "It just takes time. Change doesn't just happen. We can wait, we are Aborigines, we know how to wait."
Cross-connection: Richard Bell is until 4/9 in Van Abbemuseum in Eindhoven. The documentary lasts until 25/9.