Hundreds of works on paper that he made during a long journey through Asia were found in the painter Joris Ghekiere's estate, and they shed a completely different light on people and artists. From this weekend exhibited in Ostend.
Joris Ghekiere (1955-2016) traveled through the world and art, in search of a formal language and himself. During his lifetime, he exhibited his often monumental paintings in, among others, De Garage in Mechelen and in SMAK in Ghent: figurative work that sometimes balanced on the border of abstraction and was not as easily 'readable' as the current young generation. by figurative painters. . Ghekiers liked to experiment with harsh, fluorescent and usually unpleasant colors, zoom threateningly into details, damage the image or mask its meaning. As if he was afraid that too much meaning would distract the viewer from the painting and the paint.
In one of his last interviews, he said, 'I create a little branding for the viewer.' In doing so, he referred to the burning of the sea, which can be a landmark or offer something to hold on to.
A very different Ghekiere appears in the little-known works on paper that he made during his months-long travels: hundreds of sketches, drawings, watercolors, gouaches and collages created between the early 1980s and his far too early died in 2016.
'During his life he seldom showed these works, mostly to friends and close ones. That was his well-kept secret, "says Liesje Vandenbroeck, curator of the exhibition Joris Ghekiere. Traveling on paper and Mu.ZEE Ostend.
'When I first visited his studio in Klein-Willebroek, it seemed as if Joris had been gone for a while. After his death, everything had remained untouched, "she says. Vandenbroeck initially wanted to show a series of paintings in the non-commercial 'exhibition gallery' Edition Populaire, which she runs in Borgerhout with her husband, the artist Philip Aguirre. Until she saw the little-known work on paper. 'On the table in Joris' studio lay a stack of works – paintings in gouache and ink on paper – which he had made in India. He had apparently always kept it in a dresser. It is a work that stands alone and is often signed. Just before his death, Joris had another photographer document it, showing how important it was to him. That is why in 2018, at Edition Populaire, we showed not only a few paintings, but also five unknown works on paper. '
The interest of the Mu.ZEE curators was immediately aroused. In 2019, a selection has been made for an exhibition that should normally have taken place at the beginning of 2020. Two years later, the time has come. 'We show a selection of the 170 surprising works that Joris made on his long fourteen-month journey through Asia,' says Vandenbroeck. 'During that journey, you see him change as an artist and as a person.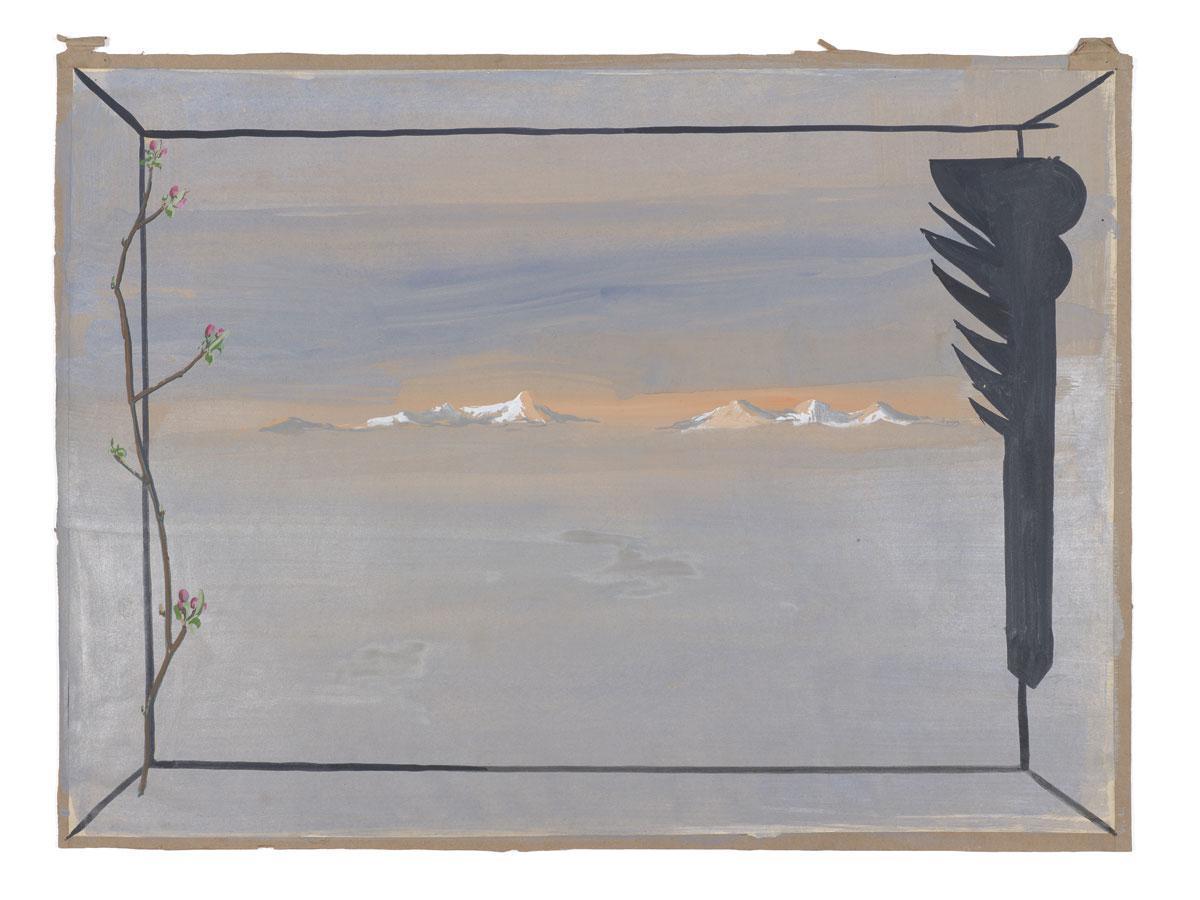 "Traveling has been important to Joris from an early age. In 1988 he had moved to Turkey and then to Russia. Then he described himself as a desert wanderer dazzled by the sand in his eyes. He traveled simply, with a minimum of luggage and would always immerse himself in culture and nature. He traveled again on August 1, 1990 without a plan. Inge Henneman, whom he had just met, traveled with. That trip was a test of the young couple. But they passed it with brilliance: they later married and have two sons. '
On that trip, in 1990 and 1991, they successively visited the Philippines, China, Pakistan, India, Japan and Thailand. Ghekiere carefully stored the often large works he made along the way, in a tube, a kind of case, and sent them home each time after he had stayed somewhere for a long time. It suggests that for him it was more than quick sketches or travel notes. "He worked on the beach and even turned hotel rooms into studios," says Vandenbroeck. "He had to settle for the materials he could buy locally. But he was clearly the passionate artist who always had to work.
'In his notes he speaks of going into freedom: he wants freedom in time and space, no pressure, no deadlines. The vastness of the landscape and the power of a volcano, but also religion and even political propaganda inspire him. He has made a series of drawings on Mao Zedong posters, which he bought in China. He sent these works secretly for fear that someone would regard his intervention as 'blasphemy'. (laughs)
'You see him change on that journey as an artist: the colors become more intense and brighter, while before that he worked very dark. It seems that along the way he is creating a reservoir of images that will later return in his paintings: motifs and symbols, without their religious significance, silhouettes of temples, the circle, the funnel and the horn. Will he say anything to the world with a ring horn? Or listen or watch with that horn? He also took enlarged pictures of circles he drew in the sand with wreckage: a kind of temporary country art which was washed away by the sea.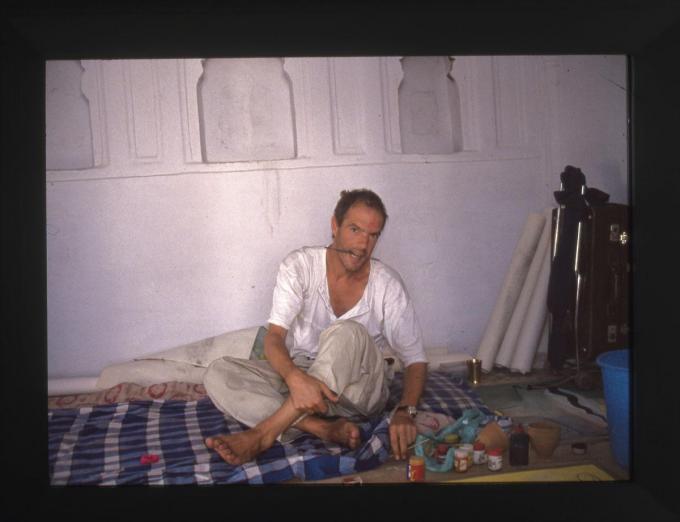 'In Jaipur, India, he was for several days in apprenticeship with a famous miniaturist, where he saw drawings of Krishna fighting against the water snake Kaliya. He deals with this subject in his own way along with the symbolism of the sun and the moon.
'We can not explain very many things, but I like the mystery that dwells in his work. Nor will everything have been clear to the artist himself. For example, in India he is probably making a work of a man with antlers on his head. He seems to be attacking his mirror image. Is it a self-portrait? Is it an inner struggle? The antler and the deer also appear later in his paintings. Against the background of that work, tanks advance while a globe rests on a turntable. Is this the world that keeps spinning? We must not forget that the first Gulf War has just begun: on August 2, 1990, Iraq invaded Kuwait. But there is also room for the budding love in drawings inspired by Kamasutra. And he makes individual portraits of Inge Henneman.
'What we show in Mu.ZEE is his pictorial travel report. At the same time, you see a searching artist who is inspired by the wide world, and you get to know the person behind the artist. '
Joris Ghekiere. Travel on paper From 2/7 to 27/11 in Mu.ZEE, Ostend. All info: muzee.be
Joris Ghekiere
Born in 1955 in Kortrijk.
Studying at the Academy in Antwerp, then at the National Higher Institute of Fine Arts, also in Antwerp.
is about to stay selected for the group exhibition in 1982 Current image in Antwerp ICC, the following year he can be seen in 7x current art in the yellow hall of Ghent.
In 1999 Luc Tuymans and Narcisse Tordoir select two more works Problems with paint at MuHKA.
Solo he presents his work at the exhibitions California (2011, Garagen, Mechelen) and tomorrow (2015, SMAK, Ghent).
2016the year he dies, there is still the group exhibition Painting after postmodernism In Brussels.
In 2020 Galerie Emergent (Veurne) confronts its work with Raoul De Keyser, Walter Swennen and Luc Tuymans.
He was lecturer to Sint-Lucas Antwerpen.