It's the happiest weekend of the year for Tamar Brüggemann, director of Wonderfeel, the only 'pop festival' for classical music in the Netherlands. "Being able to move freely to classical music in an area you buy a day ticket for is quite unique."
This year, Brüggemann asked all ensembles to include a piece by a female composer in their program under the theme 'The Future is Female'. "From Dudok to the Belinfante Quartet, everyone reacted very enthusiastically." There are also a number of artists from the UK in the 'So British' program line by guest curator Toks Dada.
As a combination of themes, Brüggemann sought out a female composer from the UK for the opening concert. A long search for something festive, of no more than an hour, and which remains in the open air, followed. "Too fragile, with an orchestra, it's just too complicated. It should also suit the afternoon. " Eventually, she ended with Ruth Gipps' Second Symphony. "A true copper feast. Many Britons often have pastoral, beautiful, melodic lines in their music, and that is reflected in her. "
When the program was almost over, war broke out in Ukraine. Brüggemann was in several video calling sessions with colleagues and musicians from the country and decided to invite some. Cellist Denys Karachevtsev, who played in the ruined streets of Kharkov, will perform at Wonderfeel on Saturday.
protest piece

Camiel Jansen is a composer, New Maker of the Grachten Festival and winner of the Wonderfeel Keep an Eye Production Prize. With this award, he won 10,000 euros to invest in his own piece of music. His production starts on Friday The benefits scandal premiered at the festival. A protest piece born of anger. "I always make music from a kind of theatrical angle and from a non-musical story."
He invents music for such a story and tries to give the story sound. Until now, Jansen did not make political concert appearances, but now wanted to change that. "I am so terribly angry that this kind of abuse is just taking place in Holland."
The voices of, among others, Pieter Omtzigt, Mark Rutte and audio fragments of news start live with an ensemble of five woodwinds. In the middle of the stage is a tape recorder and the musicians and Jansen are wearing a completely gray outfit. Jansen is sitting behind a desk, and profile for the public. "In this way, the play also becomes bureaucratic."
The work is an excursion for Jansen. It's more minimal music than he's written so far. He drew inspiration from Different trains from Steve Reich. Reich used audio samples to tell the story of his Jewish relatives on a train journey from Los Angeles to New York. Jansen: "As a European Jew, they would have been on a completely different train. There is a sociopolitical edge to this piece, it is also an abuse and a political theme. "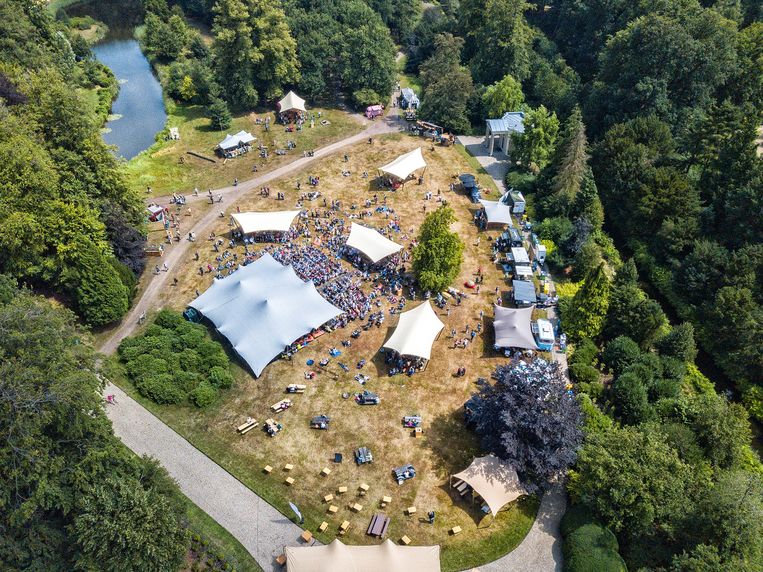 festival thinker

New this year is the festival thinker, an area that Brüggemann is really looking forward to. Author, theater maker and city poet in Amsterdam Marjolijn van Heemstra observes the festival from a distance and talks to the audience. She is also part of the program Twilight by Cappella Amsterdam, who performs choral music by Baltic composers. Van Heemstra talks about the theme of vulnerability, while taking the viewer into the transition from day to night. "We want to stimulate the public a little, but also encourage it. That way, Marjolijn gives them something besides the music, "says Brüggemann.
This edition of Wonderfeel also offers space for its own poetry scene, Closer under the tree, curated by former city poet Gershwin Bonevacia. Brüggemann: "Poetry is an extension of classical music, so it is a logical choice. There are many pictures of festival guests reading in a hammock somewhere between the performances. "
Brüggemann believes it is important that the public enters the summer charged with Wonderfeel and feels happier. "And that we also keep an eye on the world around us. We want to work sustainably. " For example, the entire catering is pescataric, almost all international musicians come by train, and there is a fundraising campaign for linen bags. With this, the festival wants to make merchandise in its own Wonderfeel Atelier next year. The festival's bracelet, which more than a thousand musicians, volunteers and crew wear, is in the colors of the rainbow. "To show that everyone is welcome, no matter who you are."
wonder feelingFriday to Sunday, Buitenplaats Schaep en Burgh, Frans Kampweg 2,'s-Graveland