The Swedish-American artist Claes Oldenburg made great pictures: humorous, but with a serious undertone. He formed a duo with his Dutch wife, Coosje van Bruggen.
They are the simplest things you can imagine. A clothespin, toothbrush, flashlight, trowel or a bowling ball plus similar cones. But then in dimensions that make you dizzy. It's like looking at the world through a magnifying glass. Claes Oldenburg made them all, meters in size, as sculptures in squares and in parks. They adorn many cityscapes, also in the Netherlands. The creator died Monday at his home in Manhattan at the age of 93.
It all started with a joke. Diplomat's son Oldenburg, born in Stockholm, student of art history, theater and literature at two academies in Chicago, eventually moved to New York, opened a store in his studio in 1961. Not just any store, but one with lingerie and a display case filled with pies, burgers, lasagna lumps and meat – made from painted plaster.
It was the early heyday of pop art. The movement that would take huge flight, especially in the United States. Understandably, as a movement that opposes or at least makes use of – the excesses of the post-war consumer society. Thanks to the increasing prosperity and the emergence of household appliances, ready meals and new leisure activities.
Oldenburg was doing well then. Although he originally painted traditional landscapes in America, he saw around him how art changed. And how much it adapted more and more with the social development he saw in the work of Robert Rauschenberg, Andy Warhol, Jasper Johns and Roy Lichtenstein. Oldenburg found its choice of subject in it and its audience. Because everyone could identify with his work.
In the beginning, in the late fifties, Oldenburg was not yet able to find its niche. He experimented with performances and happenings, theatrical forms that were on the rise. And he started thinking about a series 'soft objects' (which he was later to perform). Objects from which the air appeared to have escaped, such as a collapsed drum kit, a half-blown toilet, light switches and toasters that have been 'melted', an emptied typewriter.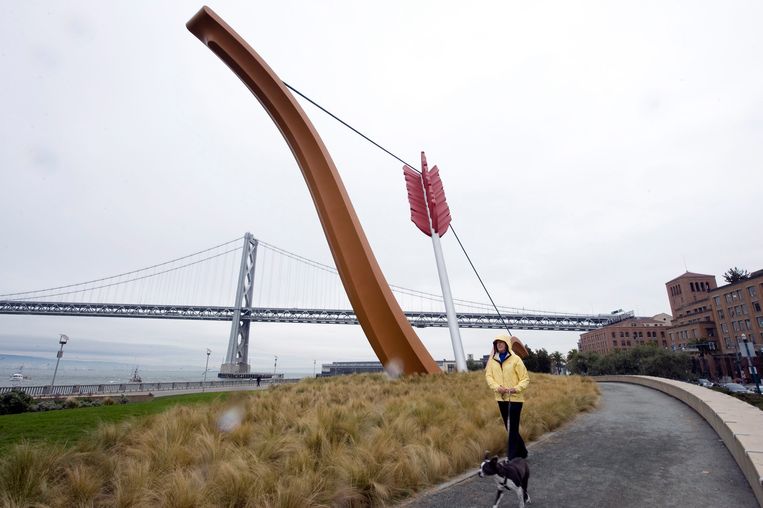 It was only with the large-scale paintings, which until the 1970s were largely only available on paper, that his art took off tremendously. And his image of the smiley face in the art world. Of course, there was also a serious undertone to his hi-hi-ha-ha work. 'I admire humor', said Oldenburg in one of his many interviews, but humor was not the only motivation behind his oeuvre.
He took as his point of departure that art does not actually belong in a museum at all, but must be visible and accessible to a large public outside. In 1961, he even published a manifesto on his ideas, in which he advocated art that is 'politically-erotic-mysterious' and 'does nothing but sit on the ass of a museum'.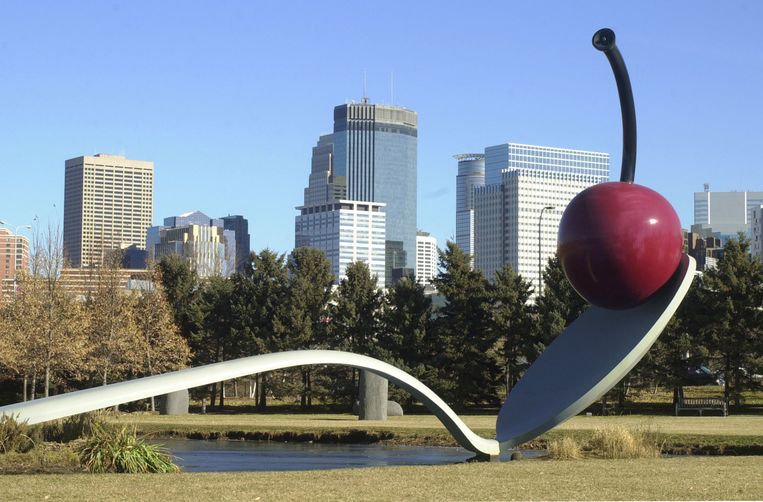 The sometimes gigantic proportions of his sculptures lend themselves well to an architectural variant. Such as the entrance to the advertising agency Chiat \ Days' headquarters in Los Angeles, which is shaped like a robust, fifteen meter high, dark gray binoculars.
From the 1970s, he formed an artist duo with his second, Dutch wife, Coosje van Bruggen (died in 2009). The connection is also the reason why some of his pictures can be seen in Holland. Such as. The trowel in Museum Kröller Müller's garden, Screwbow at Museum Boijmans Van Beuningen or the 'flying' bowling set at John F. Kennedylaan in Eindhoven.