"Do you like musicals?" tonight's energetic presenter Yahmani Blackman asks every guest who joins her. Surprisingly, most people reluctantly admit that they do not like musicals, except Hamilton, the wildly successful, permanently sold out musical with hip hop and rap, written by Lin-Manuel Miranda, which can now be admired at Disney + because it is one of the best. Dancer and actor Erwin Kiene even forces all his friends to watch that show, and he has actually "always loved musicals, but in secret."
But further? Amazingly enough, in the place where the musical is to be renewed, there is hardly an artist who fully expresses his love for musicals. Yes, almost everyone has seen a musical ('Mary Poppins','Singing in the rain','Lions King'and very often'Hamilton'), but there is also anxiety and shame in considering their work as potentially musical material. Blackman, himself an actor and theater teacher: "I hear it more often, what is it?"
Welcome to The Lounge of Musicalmakers, the musical development house in DelaMar West, close to the A10. The Lounge is an evening held six times a year where young instructors bring in performers who show what they're doing and are then interviewed. What happens here is a kind of revue, a café song or colorful evening: a wonderful eclectic presentation of dance, song and acting talent. Director Priscilla Vaudelle (39), creator of musicals bims, composed this version (mid-July) of The Lounge and took rappers, krumpers (krumping is an acrobatic hip-hop dance form, ed.), singers and spoken word artists. This is the future of the musical, casually put together on a summer night.
But the shame for musicals, it's a 'thing' as it will be discussed more often this evening. One connects musically with something childish, the other thinks so corny. Another calls musically predictable and artificial. Or: 'in musicals, they always suddenly start singing at the highest moment'.
gap with the stage

What Saskia Selen (39) and Stephen Liebman (38) have in mind are: new energy, new people, a breath of fresh air through the musical land. There are fanatical music lovers in the room, but also a boy who has only seen his group 8 musical. Since the beginning of 2022, Liebman and Selen have formed the leadership of Musicalmakers, the new initiative to innovate, refresh and make musicals in the Netherlands more diverse.
You will also never hear them sing their love of musicals without hesitation. They love it, but they are not 'out of that world'. Liebman worked for years as a director and supervisor of young talents at the high-profile theater Frascati, Selen has her organization and consulting firm Studio Selen, and she enters the cultural world as Alice in Wonderland.
"There's a huge gap between stage and musical," Liebman says. "And it's unnecessary, because musical is the most visited form of theater and could be a good connection between the general public and the high theater audience." But, he admits, the Dutch musical is hungry for an impulse. "It's often the same stories that are told, with little social relevance."
And that's why Liebman and Selena are here now. They're going to try new forms – why not rap and hip-hop instead of fancy pop songs, or a musical with only one actor instead of ten? And possibly, if successful, give an extra boost to the commercial circuit. Although both immediately mention a disclaimer: it's not about them, it's about the creators they can welcome to the development house.
That attitude is clearly visible under The Lounge. Selena is the hostess (Liebman has the corona), but leaves all the credit to Priscilla Vaudelle. In any case, Vaudelle is one of their great assets, as is Job Greuter (who is responsible for the successful production A kind of Odyssey earlier this year), actor and dancer Daan Wijnands, theater maker Saman Amini and theater and film director Eva Line de Boer. Because if anyone can change the musical from the inside out with a whole bunch of new talent, it's them.
No pressure.
go on your mouth

Vaudelle already made bimswith its production company Lost Project, in collaboration with Frascati. bims is an ode to Bijlmer, with hip hop, song, rap and games, written by composer Alvin Lewis and songwriter Glen Faria. It's the first part of a musical series – she would not call it a musical yet, but in fact it was already a bit. And it was a hit: the series was completely sold out at the premiere and repeat.
Vaudelle: "I did not expect that bims would be such a success. There seems to be a huge need for new stories in the musical. " She continues to develop at Musicalmakers. The goal is to make a great musical about Bijlmer, a performance that continues to play and will be given as a gift to Amsterdam on the occasion of the city's 750th anniversary in 2025.
So the ambition is there, but practice is unruly, she says. Compared to England or America, Holland has much less of a musical tradition. "There is a lot of talent, but the level is so incredibly high if you want to make a real musical. Normally, professionals make a musical in three months, but we really have to train the talent. "
There is room for that at Musicalmakers, which will be supported with grants until a minimum of 2024. "The subsidized system is there for you to go crazy," Liebman emphasizes.
Triple threat

It is only half a year ago that the engine has started running well at Musicalmakers (which officially started a year and a half ago), because before Liebman and Selen took office, there was corona. Selenium talks to endless parties, Liebman coaches and guides the creators, establishes contacts between the established order in the musical country and young theater makers.
Musicals are a lot of it all. The combination of dance, song and acting, all of which must come straight out in a production, is also known as triple threat named. Actors must have mastered the three disciplines perfectly.
At The Lounge, it is easy to see that the individual disciplines are represented. Erwin Kiene does an impressive crumple dance with Cain van der Donk, singer / songwriter Lot van Oekel can sing beautifully, Lavinia Aronson combines spoken word with acting, Rowènshell Saluna rapper a cappella. But being able to do everything at once is even harder.
Vaudelle: "I can see it, but I do not yet know if it will work." Just wait until December, then next time bims part 2.
[Tekst loopt door onder de foto's]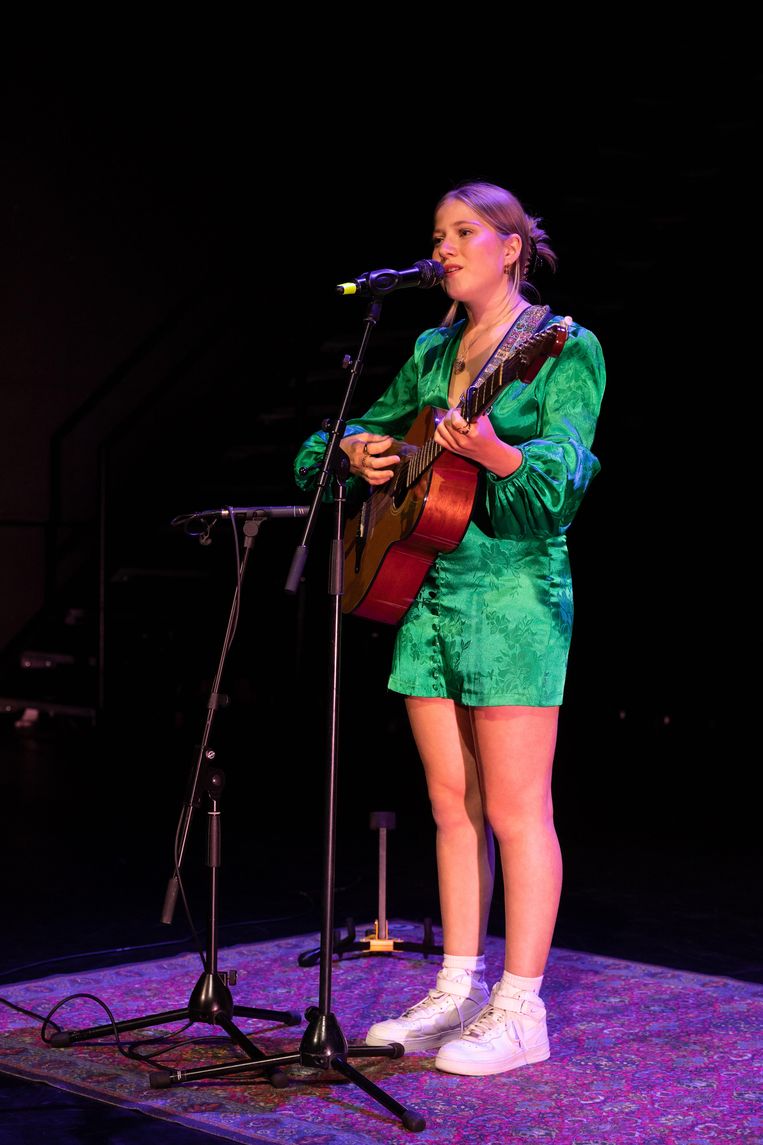 uneven start

For years, the musical world, which is mainly dominated by major commercial actors such as Stage Entertainment, Albert Verlinde Productions and De Graaf & Cornelissen, has been trying to organize innovation. The big musicals are doing well, with tens of thousands of visitors a year, but there are hardly any innovative impulses. This has been tried before with M-Lab in Amsterdam-Noord (from 2007 to 2016, with own theater, under the direction of Koen van Dijk), but with little real success. In the last round of grants (2021-2024), there were suddenly two players fighting for a place as a musical development house: M-Lab and the new Musicalmakers.
The Cultural Council's advisory committee recommended supporting M-Lab, but the council chose Musicalmakers. This led to consternation in the musical land. Musical makers received the grant because, according to the Council, they had the best plan – DeLaMar director Andreas Fleischmann was behind Chafina Bendahmanin of Rose Stories, a group that brings together stories from 'the whole community', thus guaranteeing diversity.
But then there were concerns about Musicalmaker's independence because interim director Andreas Fleischmann had too close ties to the musical great Joop van den Ende. Musicalmakers is also co-financed for 7.5 tonnes by the Van den Ende Foundation, and Van den Ende is again part of DeLaMar. Last year, Fleischmann said of this: "People say 'Joop decides everything', but that is simply not the case. That is why it is nice that we now receive a subsidy, so you have very clear rules. "
The new management has been in place since January 2022 with Stephen Liebman and Saskia Selen. The connection to ROSE Stories has been lost. At the end of last year, the Cultural Council wrote that it would follow the development 'closely'.