His fellow farmers were a bit surprised when Stefan Lemlijn planted a food forest. "At first they thought: it is finished. I just thought: I have to be a farmer again. I was more of a manager, now I'm back with my hands on the ground." The mood among his colleagues is changing, says Lemlijn. "I feel they are becoming more and more curious."
Lemlijn is part of the small group of farmers who are pioneers in food forests. In such a forest, there are higher and lower trees, shrubs and other plants that produce food at different levels, such as nuts, fruits, berries, herbs and roots. The idea is that the forest creates its own ecosystem that becomes more productive over time, with minimal human intervention.
The Netherlands has been experimenting with food forests for some time, but the first small projects came mainly from highly educated city dwellers without land. It seemed more like a hobby than a way to make money.
That must change, says Wouter van Eck, chairman of the Food Forest Foundation. "We must dare to think in hectares." His foundation aims for 'a breakthrough' to large-scale and economically interesting forms of food forests. Van Eck believes that 170,000 hectares of food forest can be added over the next ten years. For comparison: In the Netherlands there are 2.2 million hectares of agricultural land.
Do not spray, plow or sow
Hei15, Lemlijn's company in Sint Geertruid, Limburg, is one of around 25 farms already working on food forests. At one point, his farm produced 1 million kg of milk a year, three generations in the family. In 2020, Lemlijn and his wife Julie decided to take a different approach: nature and agriculture should be much more integrated in all their activities. They continued with a combination of tourism, commercial rental of premises and nature-inclusive farming – including wildlife management, a small farm and the food forest, which covers 5 of their 25 hectares. "The idea triggered me. It's a nice system that can solve all sorts of problems, including nitrogen, in one fell swoop."
If anyone fervently believes in the food forest, it is Wouter van Eck. In addition to all the ecological benefits, according to him, it is also economically very interesting. "It pays well. You don't need to spray, plough, sow or fertilize. Fertility and yield increase every year, this is also the experience in our food forest in Ketelbroek" (Gld, ed.). According to Van Eck, a food forest can provide 15,000 euros per year per hectare after fifteen to twenty years. That is much more than one hectare of silage corn or potato yield.
So why aren't many more farmers doing this? Van Eck: "We are new kid on the block. It is an innovation that appears from the outside, this does not come from the ministry, from Wageningen or from the agri-food sector. It is not taught, you do not see it in the neighbours."
Also read: Looking for dinner in your own food forest?

It is also the importance of pioneers like Lemlijn. "We hope that our project will be an example for colleagues who can come and see. I know how hard it is, because you can't go green when you're red, I used to say. But that doesn't mean that farmers don't know they have to change."
Nuts, berries, apples, wild garlic. It will be a treasure trove of products.

Stefan Lemlijn food forest farmer
Lemlijn expects to be able to produce "a lot of food in a very profitable way". "Nuts, regular pears, nashi pear, the spice layer, berries, apples, wild garlic: it's going to be a treasure trove of products."
Not everyone has such a positive view of the profitability of food forests. One problem is the patience required. It will take at least six years before such a forest really begins to produce.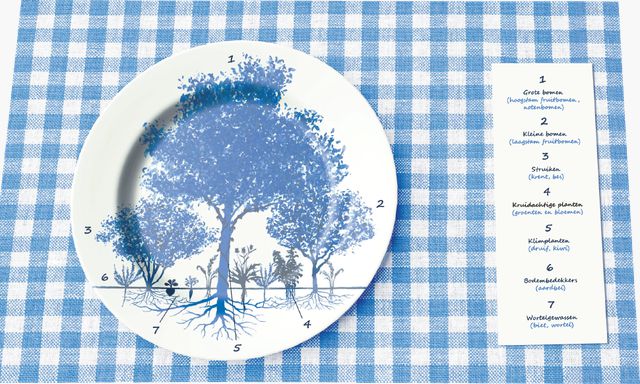 Also read: With permaculture, you turn your backyard into a private food forest

Research from the HAS University of Applied Sciences in the south of the Netherlands shows that the payback period for food forests is too long for an ordinary farmer whose products are only sold at wholesale prices. To shorten this time, for example, it is necessary to acquire other income or sell directly to consumers or restaurants, who pay more. The study was controversial: some people behind a food forest involved in the study thought the conclusions were too negative.
Volunteers
According to lecturer Daan Groot, who focuses on the earning potential of nature-inclusive agriculture at HAS, food forest farmers sometimes do not take certain costs into account. For example, work because they want to work with volunteers. They also think they can get a higher price for their products. He advocates a cautious approach. "There is great interest, also among farmers. There is also a healthy dose of suspicion surrounding the numbers. The nicer it sounds, the more suspicious. So it is more realistic to work with a conservative angle." This applies especially to the start-up period, which can take up to twenty years in total.
"If it was very simple, it would run faster," says Groot. "In the food forest community, there is an idea that the food forests have so much to offer that it must be possible. I think so too, but we have to make arrangements for that."
One possibility to realize food forests faster is the combination with other activities, which Lemlijn does. Another option is to pay food forest farmers for so-called ecosystem services: for example, sequestering carbon, creating nature or reducing nitrogen emissions. It only happens slowly, says Daan Groot.
Also read: He wants to be a different farmer than his father: 'Do you think milk is a good product?'

However, the professor sees opportunities to expand the food forest area, for example by using part of the nitrogen funds for this. Van Eck also hopes for a more active role for the government. The House of Representatives passed three proposals in 2021 calling for support for such initiatives; he says little has been done about it. To remind the ministers, his foundation recently sent a note to The Hague. With an invitation to come and look in a food forest.
A version of this article also appeared in the newspaper on 22 July 2022