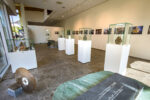 Until July 4, the second exhibition as part of the Hommage Hofleverancier series was on view in Zinder's showroom.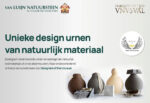 A project in which four Tiel companies, which are allowed to use the term supplier to the royal house, together with artists connect art with the company's production or products. Craftsmanship and tradition are linked to innovation and current developments such as sustainability. Van Luijn showed the result of the collaboration with artists Eric Klarenbeek and Maartje Dros, together known as Designers Of the Unusual, at the exhibition: four beautiful urns printed from a natural mixture of grindstone waste and sustainable algae growth polymers. During the opening, it was announced that the urns had been nominated for the urn category in the Dutch Funeral Awards.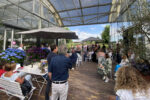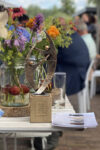 On Saturday 2 July, the award ceremony in Appeltern's gardens was a surprising result for Van Luijn and Designers Of te Unusual: The award went to the urns from the natural stone company on Morsestraat in Tiel.
The Dutch Funeral Awards are highly regarded in the funeral industry. It is logical that Michiel van Luijn, director-owner of Van Luijn natural stone, immediately received numerous congratulations and questions from all over the country. As a follow-up to our previous publication (https://detielenaar.nl/nieuws/2022/06/tielse-hofleveranciers-verbinding-kunst-met-actuele-ontwikkelingen-en-commercie), this was a reason for Tielenaar to visit the company .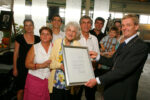 Michiel van Luijn took over the family business from his father Gerard in 2020 and is the fourth director-owner of the business, which came into the hands of the family in 1906. His grandfather's sketchbook with numerous funerary monuments is still on the literature table and is still used regularly. Michiel is visibly satisfied with the price. "Having been awarded the title of supplier to the supplier, it is another crown in our work".
Sustainability is a top priority
Michel continues: "We want corporate social responsibility. Sustainability and energy savings are high on the agenda. For example, we work with an electric forklift and truck, there are solar panels on the roof of our industrial hall and we heat the industrial premises with a heat pump. When it comes to social goals, we are happy to make our knowledge and business opportunities available.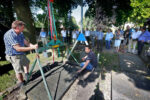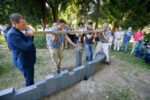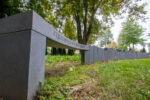 For example, we are closely involved in the restoration and maintenance of the historic cemetery 'Ter Navolging'. I really appreciate the way a team of volunteers has renovated and restored this historic cemetery through a lot of creativity and effort with some expert help. It is now one of Tiel's gems.
Sustainable business operations also mean that we are economical with the use of materials and that recycling is essential. Examples are not only the now developed urns. We try as far as possible to give grave covers a new life when the grave is cleared. There are plenty of possibilities for that. For example, think of a table or kitchen worktop, a garden statue, bookends or garden furniture to name a few. People find it very valuable when the tombstone of their loved one gets a new life in their own home or garden. Michiel expects that much more is possible when it comes to recycling hard stone materials.
the urns
The urns developed by us in collaboration with Designers Of the Unusual are a special but also beautiful product. They are works of art. We keep production and sales in our own hands. This allows us to add a personal touch such as a suitable text and name in direct contact with the customer. Shape adjustments are also possible. The urn is too beautiful to hide invisibly in an urn gallery. But it deserves a visible place as an appropriate place in the house.
Crafts and art
After graduating in business economics, Michiel attended the Hochschüle Fur Künste in Bremen, Germany. He has greatly benefited from this last study when designing and shaping his company's products. With small suggestions, you can often make the customer's idea more attractive or make it fit better with the environment where it will be placed. The collaboration with Eric Klarenbeek and Maartje Dros does not come out of the blue. I work a lot with artists. This collaboration leads to a constant challenge. They regularly use our equipment and often let us make a matching pedestal for a piece of art. If desired, we also execute their designs in stone for them. Throughout the Netherlands, you will find works of art made in our workshop in public spaces, but also in buildings. Despite the fact that the number of funerals is sharply decreasing, it is still an important part of our business to do funerary work or memorial monuments." As a member of the Natural Stone Platform under the Cultural Heritage Agency in the Netherlands, Michiel is also involved in the preservation of Dutch monuments.