General

OLDEBERKOOP Wil Leurs' garden has a wide variety of plants and flowers. And it attracts insects and birds. Lots of birds. "About twenty species breed there." Wil keeps a close eye on life in his garden. In writing, but also with photos. His work can be seen during the Open Stal art manifestation that started last weekend.
12 years ago, Wil Leurs (58) moved from Ankeveen (close to Hilversum) to Oldeberkoop because of a job at Wetterskip Fryslân. He specializes in aquatic plants and freshwater algae. "Algae are a good indicator of water quality because they react immediately when the water environment changes." Nature has always fascinated him. As a schoolboy, he was very attentive to sports, but all the more to nature. "After school I always went to Ankeveense Plassen to see dragonflies, butterflies and especially birds."
When he bought a detached house on the outskirts of Oldeberkoop, he noticed that his garden had virtually no breeding birds. Some house sparrows, starlings and a gray flycatcher. Not anymore. The garden seemed beautiful, with many conifers and hydrangeas. But there was nothing to get for insects. "It was sterile. A green desert." The rose buds only partially opened so that the insects could not reach the nectar, and the hydrangeas did not give nectar. Insects stayed away, and therefore there was no food for birds. So Wil had actually bought a dead garden that was barely alive.
Magnet
Together with his wife, Wil decided to change course and tackle the garden. "A garden should be a magnet for insects. And that only works with plants that attract insects." A good example is the sea buckthorn, a plant that at first glance doesn't have much to offer, but looks can be deceiving. Wil explains in more detail: "It's an organic powerhouse that blooms from April to October and has berries from May. Butterflies, hoverflies and bumble bees are attracted to it."
Out in the garden, Wil shows what else a gardener can do to make a garden attractive to birds. His garden borders meadows that the farmer uses as hay meadows. A thorn hedge works as a 'cattle barrier', but also has another important function. Wil: "I bent the stems of the hedge in such a way that they intertwine. This makes the hedge impenetrable to cats and birds of prey and creates an eldorado for birds." In the middle of the garden is a self-dug pond with a wide range of aquatic plants, but no fish. "I don't want fish in my pond, because fish eat goldfish larvae. The pond is intended for insects." A large compost pile at the back of the garden fulfills its own role. "There are a lot of mice in there, and a grass snake is also sleeping. He often sits in the pond to catch frogs." Cream, the house cat, curiously follows Wil in the garden. He stalks left and right for mice, birds and anything that moves. Wil: "When the young birds are about to fly, we always keep the cats inside at night."
Wil doesn't have to think long about the answer to the question of what the three most concrete actions are to create a bird-friendly garden: "Make your lawn flourish. Don't use fertilizer or cut it." He also recommends using native plants to attract insects, such as clover and ivy, but not hydrangea. Wil: "Don't buy plants from garden centers, but from organic growers. Plants from garden centers are often treated with insecticide to kill all insects." Finally, his last piece of advice. "Cut down all fences and hedges and build thorn hedges." Behind the house and behind the woven thorn hedge, the even green meadows lie quietly. There is not a flower, clover or bird to be seen. A big contrast to Wil's garden. Meanwhile, the house martins frolic and dance in the air above the house. They have found a mighty beautiful place. An oasis in the desert.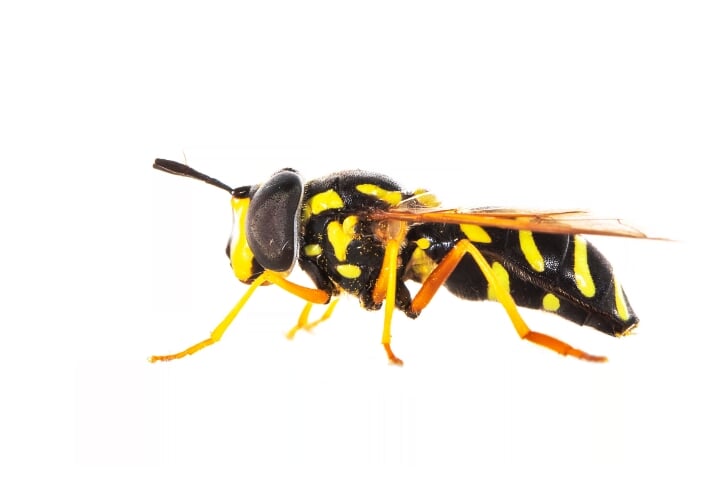 spotted wasp.
Many species
Wil keeps a close eye on everything that grows, blooms, moves and above all flies in his garden. He counted 27 species of butterflies and even 477 species of moths. Besides the birds that breed there, Wil counted 109 species of birds that came to look, eat some berries and so on. Over the years, Wil's garden has thus become the bird magnet he imagined. Wil is also a keen photographer and co-owner of an image bank full of nature photos. He contributed to a book on stinzen plants and 'Butterflies in the Benelux pocket guide', which was published this year. A selection of the pictures Wil made of insects in his own garden can be seen under Open Stal in the garage at Molenhoek 17, location 14.
Open Stable 2022
The 51st edition of Open Stable has the theme: 'Out of the Shadow'. A theme which, according to the organisation, the artists find recognition in and which expresses the desire for light, air and space.
This year, 38 artists are showing their works in approximately twenty locations in and around Oldeberkoop. It can be in a stable on a farm, the church, a gallery, in garages or in gardens. Several artists also found shelter for their work in the former cattle feed factory CAV.
Åben Stal is open daily until 21 August from 13:00 to 18:00. Entrance is 3 euros per person. The tickets are on sale in the kiosk in the center of Oldeberkoop and in the MFA, CAV and Pand 31. The organization also publishes a catalog (5 euros) with information about the route and about the participating artists.
During Open Stal, there is live music every Saturday and Sunday afternoon (from 3.30pm to 6pm) on the stage in the village square.
openstal.nl