"I've always liked it when artists deal with their identity and with society," said art historian Liesbeth Brandt Corstius in a 1994 interview with The green Amsterdammer. "To be honest, it also seems obvious to me. But in many museum or art historical settings it has always been ignored and has only been about inherent beauty."
As director of the Museum of Modern Art in Arnhem, she was a great champion of the position of women artists. Since her appointment in 1982, it has been her policy to select women's work for at least half of all purchases and exhibitions. Meanwhile, the international art world has become more aware of art by women and minorities, but Brandt Corstius was a pioneer within this.
Strict art ideas
Liesbeth Brandt Corstius studied art history at the University of Amsterdam. She was the daughter of the literary Jan Brandt Corstius, co-founder of Humanistisk Forening, and sister of the writer and essayist Hugo Brandt Corstius. In an interview with NRC in 2000 she talked about the social democratic environment she grew up in and the strict art ideas of her parents, who had decorated the parental home according to strict modernist standards. "When I moved to The Hague, I got a conservatory with Art Nouveau mosaic windows. The first time my mother came to visit, she shouted: child, you must live in this! I liked what she had fought against."
From 1967 to 1974 she worked as curator of modern art at the Museum Boijmans Van Beuningen in Rotterdam. She did numerous exhibitions there, exclusively of male artists – "but I never noticed that", she would later say. It was only when she visited the international Biennale des jeunes artistes de Paris in the mid-1970s with her friend Josine de Bruyn Kops, then director of the Stedelijk Museum Gouda, that she had not seen any female artists among all the young artists. "Did we actually know female artists ourselves, we wondered. None. We had studied art history and worked in the art world, but couldn't name one."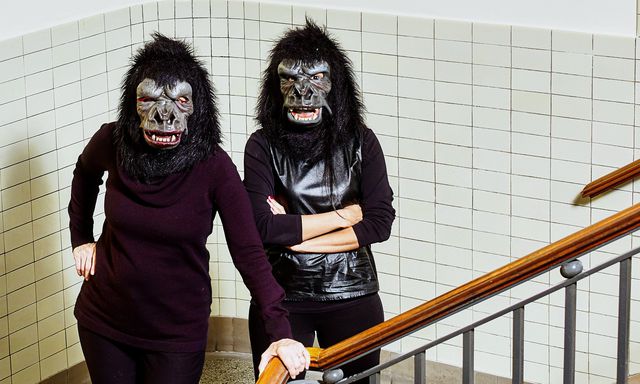 Also read this interview with the Guerilla girls: 'One woman and one black person does not solve the problem'

So the two wrote an appeal in a feminist magazine in 1976, along with writer Ella Reitsma to the side: 'Are there female artists in the Netherlands?' About two thousand women registered by letter. This was the background for the foundation, in 1978, of Kvinder i Billedkunstfonden (SVBK), which set up national working groups and organized exhibitions. For example, Brandt Corstius presented the exhibitions Feminist Art International (1979) and The art of motherhood (1981) together, where they showed works by then unknown artists such as Nancy Spero and Miriam Cahn.
Wrong picture
In 1982 she succeeded Pierre Jansen as director of the Museum of Modern Art Arnhem, now Museum Arnhem, and from her position she was able to offer opportunities to women artists who were unable to gain a foothold in other museums. She early bought works by artists such as Marlene Dumas, Charlotte Mutsaers, Irene Fortuyn, Rebecca Horn and Lydia Schouten. At first she openly professed her belief in positive discrimination, but she stopped when the museum began to have a bad image. The collection was derisively characterized by critics as 'fifty percent art and fifty percent women'. "In the 1990s, I continued the policy, but I no longer shouted it from the rooftops," said Brandt Corstius at the beginning of this year. de Volkskrant. "Feminism had a dirty connotation."
From 1996 she was involved in the expansion of the museum. The extension was opened in 2000 and Brandt Corstius retired. After her retirement, she became associated with the television program art canuntil it was closed in 2005.
On March 8, 1994, she received the Aletta Jacobs Award for her commitment to women artists.