On a study visit atExperience art during the holiday season. Artists from the neighborhood open their doors to readers of BN DeStem. In this case, as a real city palace in Bergen op Zoom, because it suits the work better and no people can be received in his small workshop. Today: metal artist and gunsmith Gotscha Lagidse from Roosendaal.
His art is not everyday food. Born in Tbilisi, Georgia, the craftsman makes complete scale armor, chain mail, helmets, gold-plated swords, steel daggers and knives, and jewelry made of silver, steel, and iron. Commissions come from military museums, governments, wealthy businessmen and art collectors. The life story of 57-year-old Gotscha Lagidse, who lives in a terraced house alone in Roosendaal, deserves a book and a film.
"I don't know anyone in Georgia, nor in the Netherlands, who does what I do. As a child I was already interested in castles. In Georgia you will find many locks on top of mountains. There have been many battles throughout history. I studied well and had a talent for drawing, mathematics and physics. My father had a good job which gave me a good education. That school organized field trips to historical sites. In addition, I had a teacher with a large collection of swords and chain mail. I wanted that too when I was 14."
Of course, he had no money for that. "But maybe I could make a chainmail like that myself. Factory workers in those days burned old car tires to warm themselves. Steel from those tires was left. I gathered it, twisted it into long threads, cut it, flattened it and started knitting with it. After a month and a half I had my first chain mail. Then came a helmet and the rest."
Gotscha Lagidse went to university. He got married during his studies. "I needed money for it. I went to a free market with my homemade helmets and received an unprecedented amount for it. So there was money to be made with my talent. I then made a complete armor. After an article about this in the Georgian newspaper Akhalgazrda Komunisti, I got important tasks. To Zurab Tsereteli, a great artist from Georgia, I was allowed to make two letters, and with the number of rubles I received for it, I was able to buy it most expensive Lada and still had money to spare."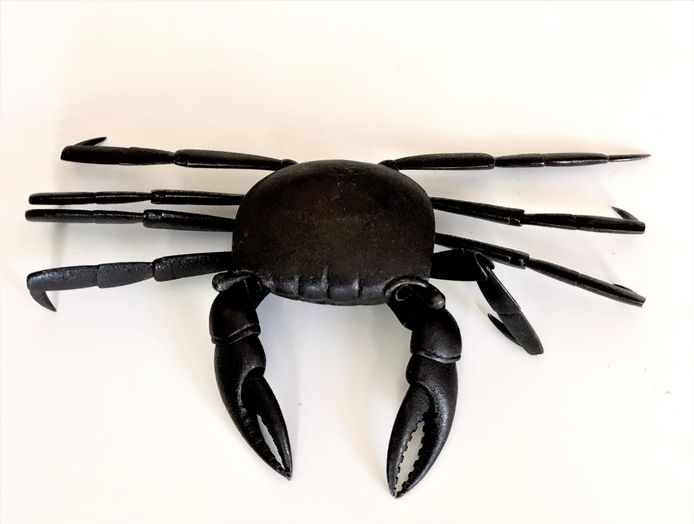 Georgia was declared independent in 1991. It was not without struggle. Lagide joined the army. "I am now a war veteran. My ideals were broken at that time. I no longer felt at home in my own country. In 1995 I emigrated to the Netherlands after a series of assignments from Dutch museums. I received a letter from the Secretary of State for Education, Culture and science that my stay here served a significant Dutch cultural interest. I am proud of that."
On the occasion of 400 years of the Peace of Münster, he was allowed to make a copy of Prince Maurits armor from the 17th century. "Before that, the Kunsthistorisches Museum in Vienna gave me the opportunity to take apart the original armor and measure it. In total I worked on it for two and a half thousand hours. After this the orders continued to follow, varying from armor and swords to museums, but above all a lot of restoration work for antique dealers."
He made the sword and helmet for De Zeeridder for the foundation exhibition at the museum in the Stadspaleis Het Markiezenhof. "My work is varied. The images shown here show a detail of a sword made from an alloy of two types of steel. The handle is also made of steel and inlaid with gold and rubies. I made a dovetail and hammered a gold wire into it. The smaller piece of jewelry shown is a crab designed by me, forged from sheet steel. The legs are joined with blind rivets. I worked on it for about two and a half weeks. Patination, oxidation and finishing then took three times longer."
Gotscha Lagidse will show and explain his work on Sunday 14 August (11:00 and 17:00) in the Hofzaal at Het Markiezenhof in Bergen op Zoom, which can be visited for free. More work: gotscha.nl.
And while we're at it
The Markiezenhof is located on the terrace Beursplein in the heart of Bergen op Zoom. Buying a ticket to the permanent collection and temporary exhibition pays off. The exhibition 'I am a young carer' has been set up in collaboration with informal Brabantse Wal. Seven young caregivers, portrayed by photographer Nick Franken, are at the center. Not just their photo, but also their underlying story.
Free unlimited access to Showbytes? There can!
Log in or create an account and don't miss any of the stars.

Yes, I want free unlimited access