For one summer, the editors of Knack Weekend are testing newly published cookbooks. This week: home grown by Kyra de Vreeze, a book that, even more than changing your kitchen, encourages you to change your life.
Short about
We have strayed too far from what food actually is, says naturopath and cookbook author Kyra de Vreeze. IN home grown she explains briefly but carefully where we should actually get our food: from the farmer around the corner, from our own garden (yes, also in the city) or along the road. According to de Vreeze, local and seasonal food is the key to a vital life and connection with nature.
tested
Before you get to the recipes in Homegrown, you have to plow through 107 pages of information about our (current and ideal) food system. After all, it is the big questions that make Kyra de Vreeze write, when in 2020, lockdown after lockdown, it suddenly becomes painfully clear how vulnerable our world food system is. How would I feed my family if I couldn't shop for a week or a month? (…) Suddenly there was an urge that I had not experienced so strongly before: this MUST (and can!) be different. I had to work with the basics, with the ground under my feet, to realize changes in my own everyday life, bottom-up.'
What follows is a mix of practical tips and more spiritual guidelines. While I certainly share de Vreeze's opinion that being more preoccupied with food can give meaning to life, I find it difficult to continue reading without prejudice when people are described as 'energetic clouds of atoms' who know how to regularly eat land absorb electrons that vibrate at different frequencies. For someone like me, that kind of passage feels a bit like contamination of her nonetheless interesting larger message: food connects everything and everyone, so it only makes sense that we should give it a more important role, be more grateful for it and production should re-incorporate them into our daily lives. I read through the glittering clouds and take what doesn't meet too much internal resistance, I put the rest aside. I haven't seen the light yet, that much is clear. Quick to the recipes.
There are about sixty, and there are also a number of very specific recipes, such as the one for vanilla extract. Therefore, Homegrown cannot be considered a classic cookbook that you leaf through when you have a fridge full of food, but a head without inspiration. From flower syrup to sunflower parmesan: feel free to take the recipes as examples of how de Vreeze puts his theory into practice, which you can build on to your heart's content with the products you have available at home. For this test, I decide to stock up my pantry. One evening I make a load of seed crackers, granola from the pan and a bread pudding.
stale bread cake
Here and there it is noticeable in the recipes that it is a Dutch book: in the Curaçao recipe for bread pudding, for example, beet sugar is mentioned, a term that is hardly used here. Here and there there is also extra time-consuming work, which sometimes makes the recipes unnecessarily complicated. For example, I am instructed here to soak currants and aniseed in part of the buttermilk, blend it a day later and then add another part of the buttermilk. This could have been made simpler by soaking everything in the total amount of buttermilk. Additionally, Vreeze jumps from that milk mixture to the bread and then back to the milk mixture. That, combined with the class for this nightly baking session, makes me realize afterwards that I did certain things quite differently than I intended.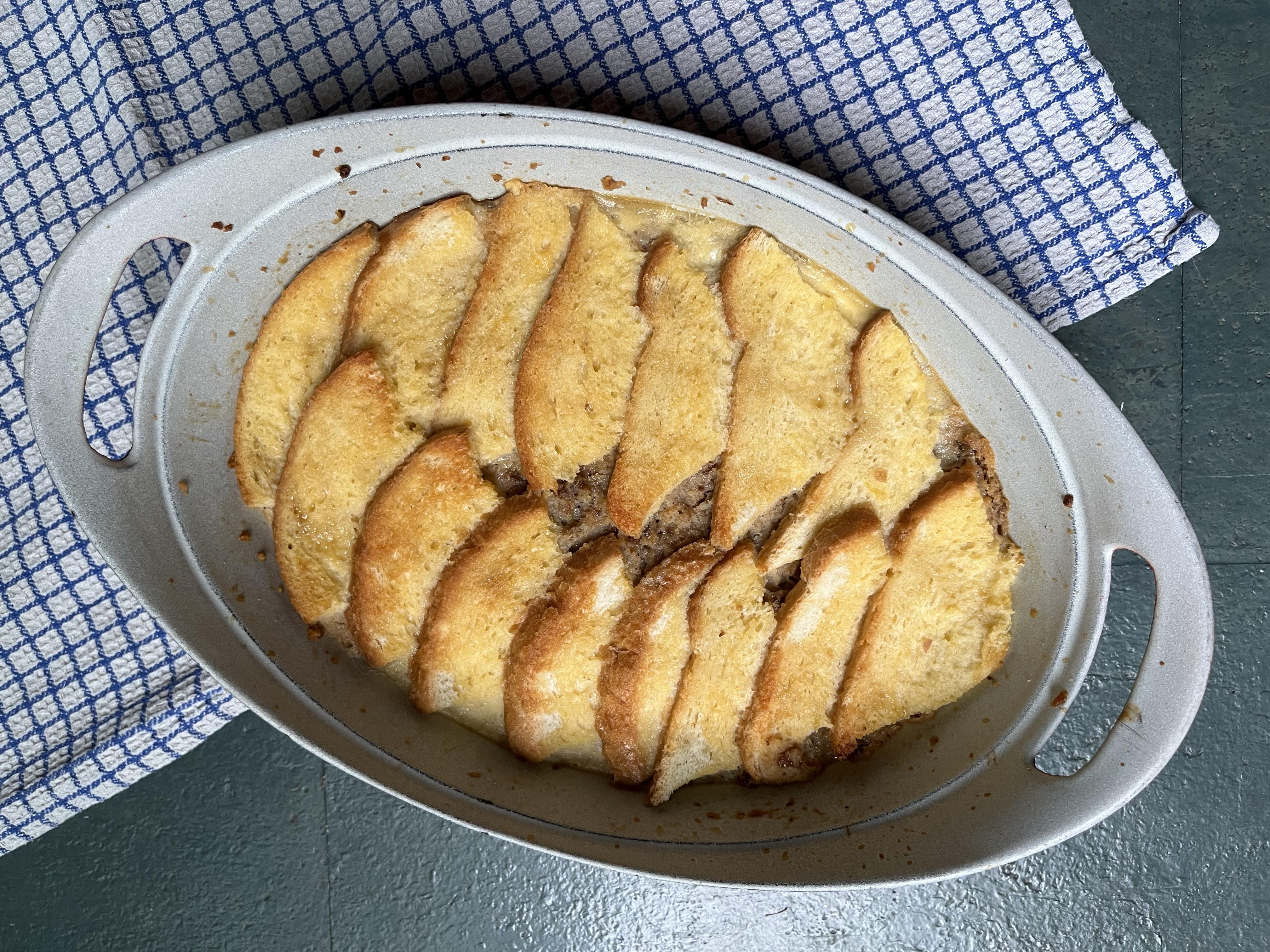 The sweat of fear (or was it the heat wave?) breaks out when I read that I have to place the baking pan with the cake in a large dish of boiling water before I have to put it all in my oven by the shoulder. height. Until now, I've always let this way of making pudding pass me by, but look: there was no damage, and the stale bread cake is deliciously creamy the next day. Although the whole thing doesn't taste like I'm used to from bread pudding due to the addition of anine, another piece is necessary. I am anxious to see if my result looks as it should, because the book does not contain a photo to rely on. Unfortunately, this is the case for at least half of the recipes – a shame for those who like to be visually tempted.
Linseed-hazelnut-garlic biscuits
When I recently gave up ultra-processed foods for a month along with nine others, I made at least one batch of crackers every week. I did this more or less by feel, which means that following a recipe requires concentration. I resist the temptation to sprinkle some coarse salt over the mixture after spreading the dough or be a little more generous with the seasonings. I regret it when I taste it. I adjusted the baking time and oven temperature. Instead of 2.5 hours at 90 degrees, I push my biscuits for half an hour with the old bread cake at 180°C, and then let them dry a little more by leaving them in the cooling oven with the door ajar.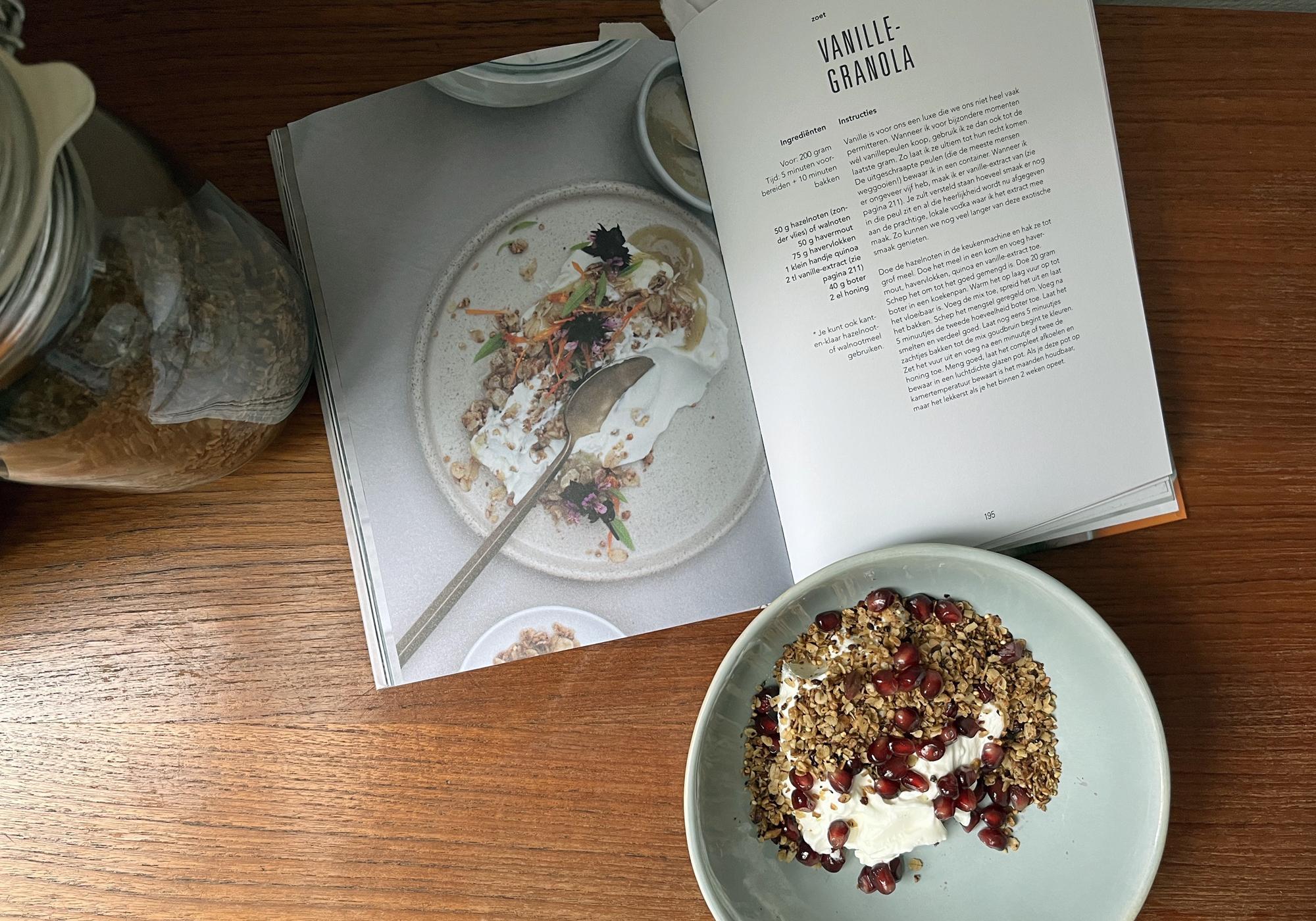 vanilla granola
Granola is already in my mental recipe repertoire, but Vreeze does it completely differently in Homegrown from how I usually shake it up. For example, there is only a little bit of sweetness in it, she uses no protein for the extra crispy bite, and above all: it is baked in the pan instead of in the oven. That combination won't give you the caramelized chunks of baked oatmeal that I like so much, but it still gives me a nice topping on my yogurt in the morning that wouldn't look out of place on a generous dessert or cake. A good alternative recipe for when things need to go faster!
Bouncer: radish leaf soup
Inspired by a passage about food waste, I take all the greens from my fridge to make a fresh soup. The leaves and stems from two bunches of radishes, half a celery, a potato, some stray parsley, a stalk of lemongrass and some sluggish ginger make a brew that tastes good even in a heat wave.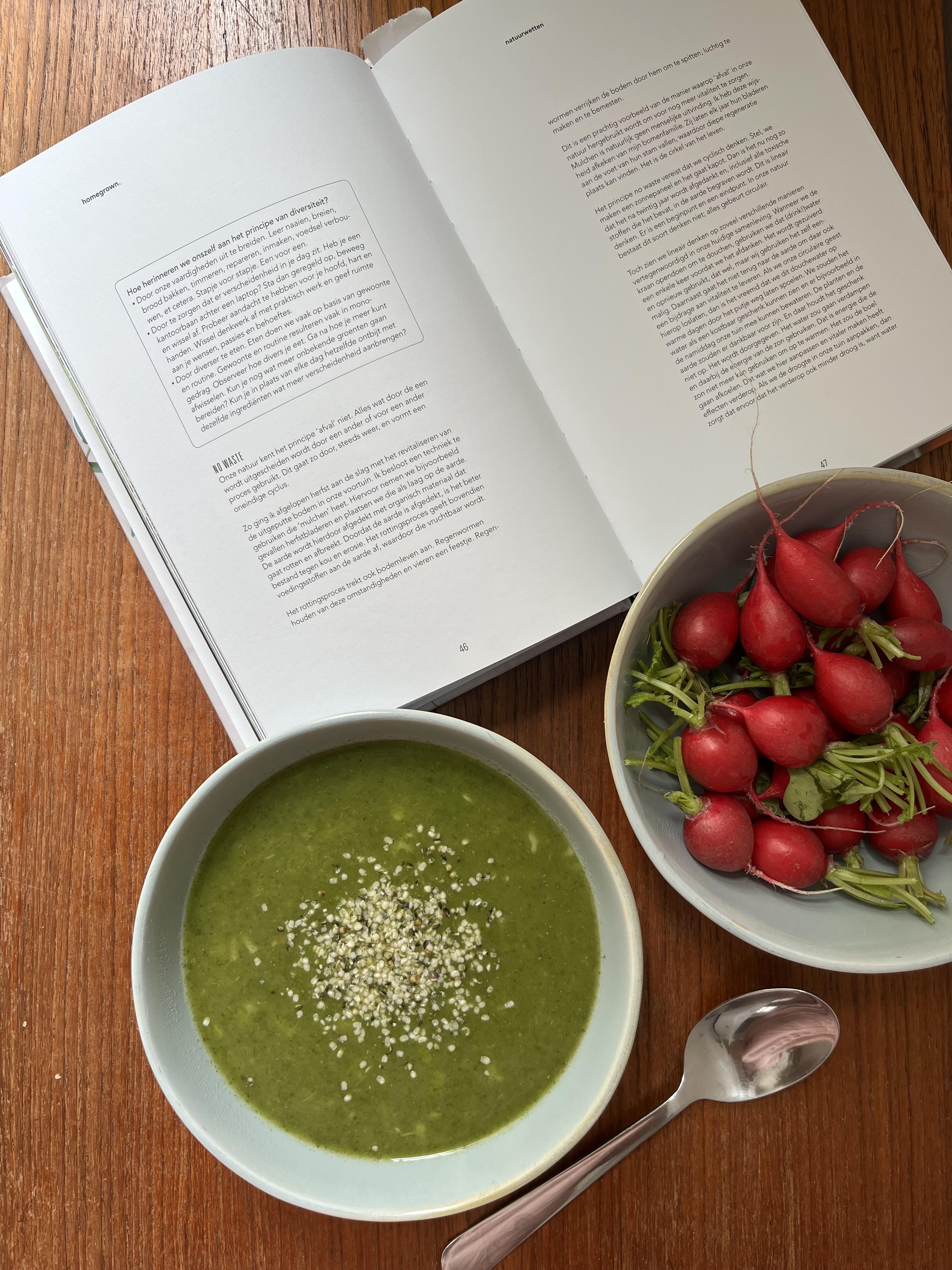 Conclusion
Homegrown provides a great overview of all fronts that can be used to re-establish the connection between us and our food. If you can read through some slightly vague passages, there are many daily lessons to be learned. Recipe-wise, the book takes what's available and uses it to create food that begs to be shared. With a slight sense of exaggeration, one can therefore say that Homegrown is almost a contemporary, but more airy counterpart to the first issue of Vores Kogebog. To achieve the same iconic status, however, there are too few recipes for complete meals (the reader now has to make do with only seven vegetable recipes). Nevertheless, a good reading book for those who want to feel part of the whole again through food.
home grownKyra de Vreeze (Kosmos Forlag).