On a study visit atExperience art during the holiday season. Artists open their doors to readers of BN DeStem. This time autonomous photographer Nick Franken from Bergen op Zoom, with a photo studio in the cultural breeding ground Electron in Breda.
Nick Franken (40) was involved in his father's Pentax and Practica as an 8-year-old child. Later with his Nikon. Photography was his hobby. I had no idea that I would make it my profession again, that realization came gradually. After a multimedia education at the Graphic Lyceum in Rotterdam, I also studied design/photography there. The education I was looking for did not exist. I actually wanted to delve into 3D techniques and special effects."
Nick started photographing skaters. "I skate myself. During my studies I already got positive reactions to my pictures. From 1996 I started working with Photoshop and I started working for Studio Limelight in Utrecht; advertising photography for big brands like Albert Heijn and Unilever. This became followed by a few years of editorial photography at Studio Oostrum in The Hague, for, among other things, medical journals."




Open communication is a condition if you want to include people in the picture as yourself

Nick Franken
,,Then I started for myself, deliberately from my hometown Bergen op Zoom. In a small town it is easier to stand out and make a name from there. I have always done what I liked, but I also dare to think commercially. For the business area, I called in a coach, it has been a great help to me. Having talent is one thing, selling yourself is another."
a bit cheeky
As a photographic artist, Nick is his own art director. "In the beginning, I found it difficult to express myself empathetically. Now my honesty seems to be part of my strength. You can be a bit cheeky as a photographer. Customers appreciate it when you say you know how to do something. There is something for every budget. My specialty: stories with people."
,,Communicating openly is a condition if you want to include people in the picture as yourself. Technology is a tool, but it is built into it. But it's not enough to just capture cute, interesting people in great corporate portraits. Like the painter Jan Steen, I translate a story into a picture. So first you have to think about the story. There you extract elements with which you compose the final image. The picture is the representation of history."
Nick is currently experimenting with artificial intelligence. "Algorithms determine the image. Is it art? Well, if you come up with the story and give the task. I've already seen very special results." For his always special (group) portraits, however, he holds all creative reins in his hands. Creativity is everything you pick up in life. You use everything you see, hear, smell and experience in your story. That's why Electron is such a great place for cross-pollination. It's a focal point, a springboard, because I dare to think internationally."
happy guy
The portrait here shows Berry Jaspers from The Hague. "I saw him in clips and wondered what kind of person was behind those tattoos. With what feelings? I made an appointment and talked to him for half a day. You get to know someone and you record it person. I focused on his eyes. They tell the story. Without eyes no soul. People walk in the street in an arc around him, but he's a very happy guy. You can see that here. I always go into a shoot without prejudice . I would do it myself with controversial politicians…"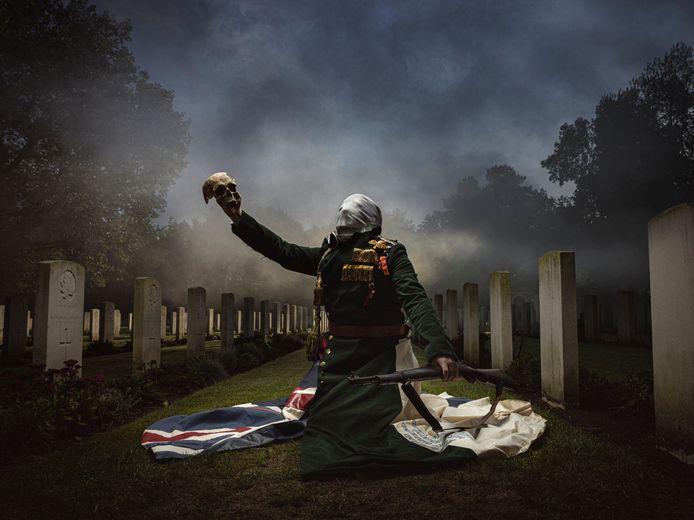 The second picture is called For those who gave their lives. For all the soldiers we forgot. The composition is already completely in my head beforehand. The photo was taken at the Canadian cemetery. Technically speaking: just push through and hold again. Besides, it's one photo, everything was predetermined. I had rented a fog machine and Ward Warmoeskerken designed the costume with the old Canadian flag. Once the shutter button was pressed, out of respect for the people who lie in that cemetery. Then you hope that people will stop and think about what happened, because without them we wouldn't be here.'
Nick Franken, Speelhuislaan 171, Breda. Photo studio visiting on 20 August between 10 a.m. and 2 p.m. Website: nickfranken.com.
Nick Franken's studio is on the right in the cultural breeding ground Electron. At the other end is the currently closed MotMot Gallery, with current work by artists and designers from the region. Tip for later. On the back you will find a first artwork from the Blind Walls Gallery; the museum on the street. More than 100 murals inspired by the stories of Breda. Get on your bike and discover all the hidden places and stories! More info at blindwalls.gallery.
Free unlimited access to Showbytes? There can!
Log in or create an account and don't miss any of the stars.

Yes, I want free unlimited access