The man who donated early music to the Netherlands received an award last December. Not a royal one, he already had one, but a cycling medal on a red-white-blue string. Client J. Nuchelmans (72) from Fysio-Fit practice in Utrecht had persistently pressed him together. In 2021, no less than four thousand kilometers rolled away under his special tricycle.
Cycling gives him ideas, and sometimes they are golden. See what happened in the summer of '76. After a climb that was too hard, he breathed on a wall, somewhere halfway between Santiago de Compostela and Lisbon. Next to him sat Louis Grijp, his friend who unfortunately died too soon. They were students, but enthusiastic students. Back in Utrecht, why shouldn't they start a concert series with the heavenly, forgotten music of the Middle Ages and the Renaissance?
They called their foundation Pratum Musicum, Latin for 'musical meadow'. From programming to setting up posters and the greenhouse: they did everything themselves. In 1981 they organized a lustrum festival. For two whole days you could attend concerts and lectures, an open stage and an early music market. Gheselscap Goet ende Fyn came by, The Medieval Ensemble of London played music. The zero edition of the Early Music Festival, as it turned out.
The Man with the Golden Handle looks out over an inner harbor in Utrecht. In an apartment full of books and CDs, he analyzes then and now. What is early music really? How exciting the first years were. Whether the glory days in the Netherlands are not long gone. And that still with the g that he left behind from a youth in Roermond.
1. The pioneers

He was right on top of it. Gustav Leonhardt and Frans Brüggen were the names of the heroes who believed that everything should be done differently. Bach did not play you on the piano, but on the harpsichord. For Vivaldi, you did not pick up a metal flute, but a flute made of wood. This was called historical performance practice: making music with the instruments and ideas of the time. It became a revolution.
He also played the flute himself. Possibly extended with pronghorn, pomeranian and vocal. During his student days, the boundary was still clear: early music was all music from the Middle Ages, the Renaissance and the Baroque. End point 1750, Bach's death. But that line began to shift—and it moved with it.
The way he looks at it now, young Jan would have found it blasphemous. Early music, he says, is all music that you can no longer ask the composer about, because he is no longer alive. Where you have to find out in a different way how the music might have sounded. Also the 19th century Berlioz, also the 20th century Stravinsky.
2. The glory days

Jan, we need to talk, said Frans de Ruiter after the zero edition. The head of the Holland Festival thought it was fine. He held out pots of money and pointed bureaucratic noses in the right direction. Together they presented the first Early Music Festival in Utrecht in 1982. Not two, but ten whole days. A carpet bombing that still has no equal.
On the street you caught the early music people in no time. It wore sandals and linen bags, trotted in packs from Janskerk to Pieterskerk to Vredenburg. People dreamed themselves away with Musica Antiqua Köln, Sequentia, Emma Kirkby, listened breathlessly to The Consort of Musicke, Huelgas Ensemble and Medieval Strings.
He came up with themes galore. He conjured up forgotten worlds, from the troubadour song of the Middle Ages to the viola da gamba at the Sun King's court. He put the magnifying glass on Heinrich Schütz, the neglected master of the 17th century. He argued for the restoration of the fortepiano, the slender predecessor of the Steinway.
Jan Nuchelmans, 'the Nuchel', grew up to be Mr. Early Music. It's never a sin to cycle to a concert between the sliding doors, because you never knew. Or fly to Zaragoza and Lisbon to scout musicians for the 'Iberian Peninsula' theme.
Painful memory: when he brought these sympathetic Portuguese to Utrecht, he was late for their performance. The door to Geertekerk was already locked, so listen to the radio car. Oops, Mr. Nuchelmans, where did you get that broken leg? He was shocked to hear a countertenor smuggled in to disrupt the Iberian concert.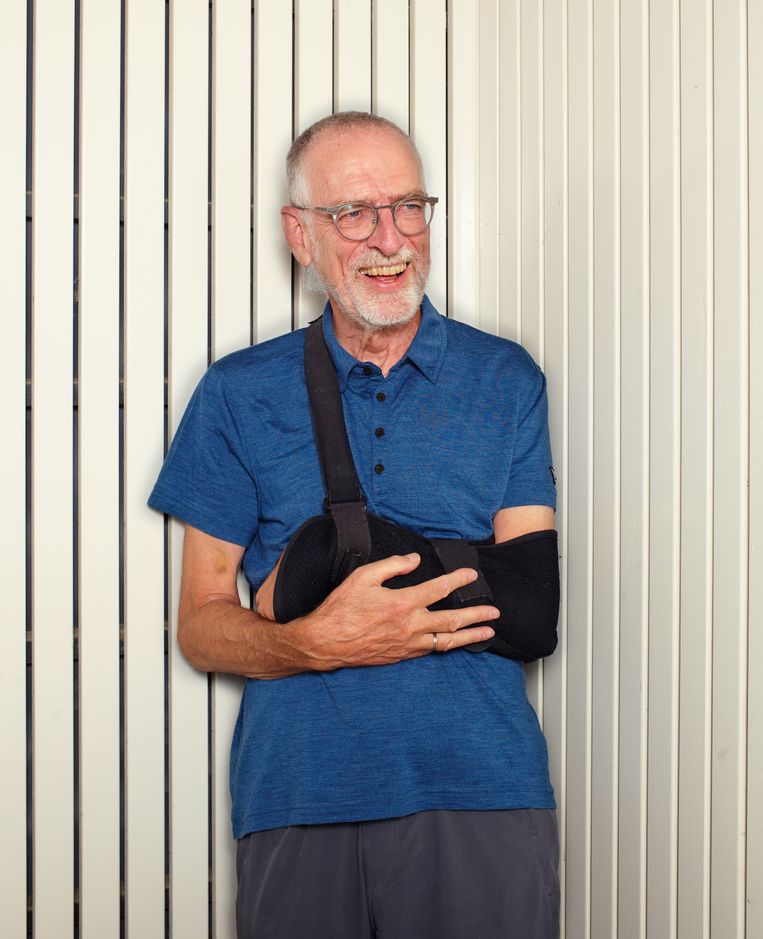 3. The departure

Listen here, negotiate there, get musicians for fifty, sixty, seventy concerts. 'Yutregt' became world famous, but he exhausted himself. During a festival he slept only three or four hours a night. Could you see him crawling under his desk in the afternoon for a nap?
Sometimes there was criticism. The Dutch Combattimento Consort played baroque music on modern instruments. Great club, he thought, but not for his festival. And where were international celebrities like John Eliot Gardiner and Nikolaus Harnoncourt? Dear sirs, he would have had to sacrifice too many young dogs for that.
There were also internal murmurs. Meeting deadlines: not his specialty, no matter how many jobs his wife Ingrid took off his hands. He had a conservatory job on the side, first in Amsterdam, later also in Paris. He had assistants beside him and directors above him. Guys who aspired to more pressing festivals and more youthful audiences, but meanwhile lacked the expertise he had in his little finger alone.
He swallowed, frowned and adjusted. But one day it was done. In 1999 he left the most beautiful job on earth. He no longer feels anger. Or well, barely. Maybe about the British director who let a girlfriend who couldn't play the fortepiano play the fortepiano. He almost cut the fragile keyboard in half, the owner sat and cried in the hall.
4. And now

He looks back on glorious concerts. Of Cantigas de Santa Maria for example, beautiful songs from 13th century Spain. Or Handel's Opera Amadigian, exciting hours under the French conductor Marc Minkowski. But to be fair, the heyday of early music is long gone, at least in the Netherlands. The center of gravity has been sinking towards the south for years, and this can also be seen at this year's festival. Dutch ensembles can be counted on the fingers of one hand. You lack hands for the French.
He must have programmed somewhere if he hadn't had a brain hemorrhage in 2012. The depth of the early music became evident in the hospital. He was difficult to rouse, but recovered his understanding of date and time surprisingly quickly. Only his birthday, which he stubbornly continued to place in 1750, the year of Bach's death.
He'll be listening again soon, guess what. The festival is and will be a burning place. Together with Ingrid, he races from hot to here as usual. Albeit in a lower gear. In the morning for a concert or a lecture, then home to rest, refreshed on to TivoliVredenburg. He now skips the late night concerts.
Admittedly, his view of early music becomes more frayed. He no longer reads non-fiction. And he gets young talents later. The new French baroque violin sensation, what's his name, Théotime Langlois de Swarte, so he hasn't heard it yet.
Has he already told you that he is jealous of Rob Kemps, of Snollebollekes? It is because of his new love, the French chanson. He felt jealous when Kemps told Matthijs van Nieuwkerk on the chanson program how his obsession started in a room in Paris. He himself was there for the first time in 1982. They were still alive then: Barbara, Léo Ferré, Serge Reggiani, musicians whose music and biographies he now devours. Could he still have gone!
Deep down, he is a Pomeranian. Tettering reed instrument, carries the old music with heart and soul. He would do it again. But first he is on his way to a new medal at Fysio-Fit: The four thousand kilometers from last year are already on the counter.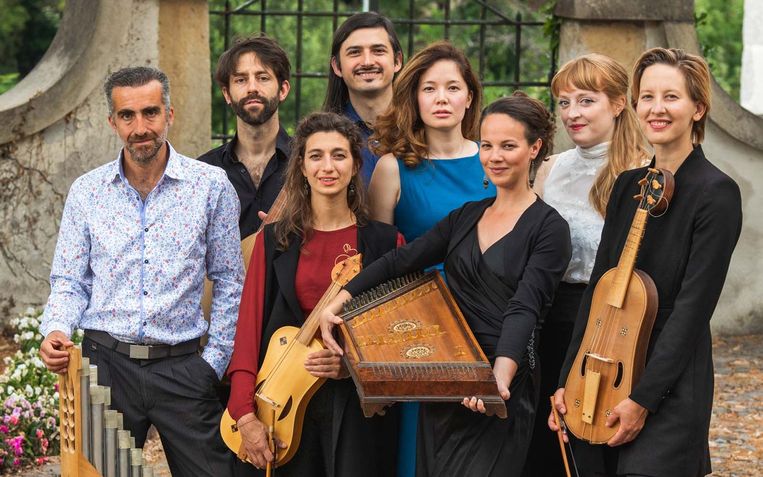 Gallantry

The 41st Early Music Festival in Utrecht runs from 26/8 to 4/9. The gallantry theme has a colorful mix of gigs. Five tips:
1. Sollazzo Ensemble presents songs from the 14th century in a theatrical setting (27/8)
2. Paul Van Nevel focuses on the famous The courtier's bookpolite etiquette anno 1528 (29/8)
3. Alexis Kossenko conducts the festive music played at the wedding of a royal grandson in 1773 (1/9)
4. With dance and music, Hubert Hazebroucq brings Watteau's paintings to life (3/9 and 4/9)
5. The Orchestra of the Eighteenth Century concludes with the sensitive notes of Bach's son Carl Philipp Emanuel (4/9)
A number of concerts will be streamed live via Oudemuziek.nl/emtv and/or broadcast on Radio 4.
Music researcher Jan Nuchelmans

1950 born in Roermond
1969 musicology in Utrecht
1973 co-founder of Camerata Trajectina
1976 co-founder of Pratum Musicum
1982-1999 programmer Utrecht Early Music Festival
1982-2015 teaches music history, Amsterdam and Utrecht
1995-2002 Head of the Early Music Department, Paris Conservatory
2002-2008 artistic director Aqua Musica Festival Amsterdam
2009-2014 artistic director Bach Festival Dordrecht