Like the poignant performance The star houseabout young people who were 'dumped' in the Heerlen orphanage.
The international visual theater festival Cultura Nova brought thousands of people to their feet in Heerlen at the weekend. Stories about the city's resurrection, the differences with German neighbors or about a difficult childhood in a notorious orphanage came to life, both above and below ground. Climbers and dancers spun meters high on a crane, visitors from Heerlen and Aachen smuggled each other's tastes across the border, and youngsters from the former Sterrenhuis dug under the Maankwartier for painful memories. Not everything ran smoothly on Friday, but Sydlimburg proved to be ready for a ten-day stage party on Saturday.
The city
'Where there is fire, there is life. Where there is fire there is smoke, soot and ash. Where there is fire, there is awakening.' This mantra, often repeated by an actress, sounded quite uplifting during the spectacular opening of the 31st edition of the late summer festival. For a moment it seemed like the once brutal Catalans of La Fura dels Baus From the ashesa co-production with Cultura Nova, borrowed from The passion. The young, talented Heerlen actress Zorba Huisman was 'crucified' into a glowing, walking mega-doll, a symbol of Heerlen's soul, which had changed from black gold to gray concrete due to its mining past. 'When is a city born, when does a city die, when does it rise from the ashes?' 'Now!', the creators tried to emphasize with pictures – here the cultural spring is roaring and blooming.
But due to slow progress, From the ashes not on steam. It was neither Zorba's fault nor the eighty brave amateurs who had allowed themselves to be roped into the air by Fura technicians, but From the ashes became a smashed story with blown up pictures. Even the 'shitting wah' that traditionally sounded from the mouths of thousands of Limburgers was silenced by this open-air vision of the transition to Heerlen. Theatrical aerial acrobatics is a profession for professionals, and the Catalans apparently left them at home. Now locally recruited climbers and dancers made a valiant attempt to spin like a 40-headed human spindle several meters high on a crane. An hourglass-with-dancer-in depicted the time, but unintentionally also the syrupy process. Breakdancers with miner's lamps spun a dance that had little to do with cow temples. And a mechanical phoenix spread its luminous wings over the theater square, but refused to burn. Thus the opening was inadvertently stuck in a crippling general.
A day later, the performance moved faster, but the question is whether so much fireworks from a theater roof is still justified in this age of attention to sustainability. Fortunately, Cultura Nova immediately retaliated with great location performances that can be seen until September 4.
The border
A statue of Jesus, arms outstretched, towered over the attentively listening spectators who had gathered for a theatrical walk with headphones on the green Tempsplein, an oasis of peace in the heart of Heerlen. Theater maker Lieke Benders, not coincidentally also the new artistic director of Cultura Nova (see inset), together with writers Joke van Leeuwen, Jibbe Willems and Willi Achten sketched a razor-sharp portrait of the light-sharpening bond between the inhabitants of Heerlen and the inhabitants of Aachen. With a keen eye for detail, they mapped out a fun route from Tempsplein to Ungarnplatz, just over the border. Van Leeuwen's voice-over excelled in subtle irony, raising provocative questions about neoclassical street furniture ('What would the Roman dustbins look like?) and headstones in the form of petrified pillows ('How can you rest softly on them?').
The creators charmingly observed 'a proliferation of ideas' in public space, 'or is it just a lack of it?' The three hours Chitchat flew by, walked, chatted, traveled and looked. The 'Come on, let's go for a walk' running gag turned out to be a real Benders, always directing people's eyes with attention and precision to what threatens to be overlooked. The last scene of Chitchat – 'ice-breaker talk' in Van Leeuwen's vocabulary – took place at tables in front of the picturesque Zoll Museum, located on the desolate border between the Netherlands and Germany.
Where once butter was smuggled into trouser pockets and cigarettes into footballs, Dutch horses now graze German grass without problem. And the 'neighbors' discussed the original origin of names from a particular border region.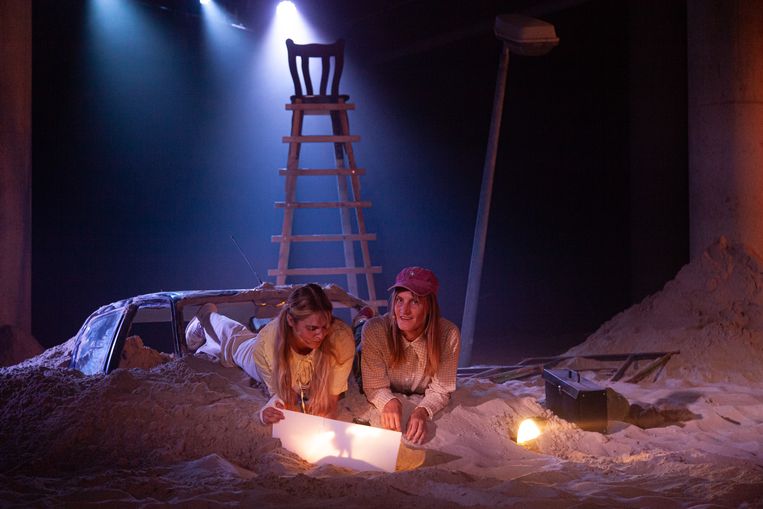 Youth
The Laaglandet from Sittard went underground especially for Cultura Nova. Of The star house (10+), vividly played by four energetic actors, the young director Silke van Kamp took lively possession of the sandy concrete floor under the Maankwartier at Heerlen Station. On the basis of interviews and research, copywriter Annet Bremen wrote a powerful script about painful memories of four young residents of this Heerlen orphanage (1945-1983). By radically choosing the perspective of the youth sheltered there, the never-disappearing feeling of 'being dumped' is given plenty of space to assume all the colors of the seasons: breezy and sunny, but also stormy and dark.
An equally funny and playful yet grim and poignant account of loyalty to failing parents, longing for a home and the need to audition for foster homes. That adults in it The star house caricatured, is just right, because everything takes place through the eyes of Frenkie (a beautifully physical role by Jantien Fick), Mea (a charmingly mischievous Adina Macpherson), Peet (a beautifully angular Scott Rubin Jun Jun) and Summer (a beautiful song). Marie-Mae van Zuilen). In Heerlen, children were for a long time warned not to behave rudely, 'anges bring ich dich noa ut Shterrehoes!'. You can experience how bad the stigma felt when you actually parked there under Cultura Nova under Maankwartier.
From the ashes ★★☆☆☆ by La Fura dels Baus, 26/8, mayor of Grunsvenplein Heerlen.
Chitchat ★★★★☆ van Hoge Fronten and Studio Europa Maastricht, 27/8, Tempsplein Heerlen and Ungarnplatz Aachen. There on 3 and 4/9.
The star house ★★★★☆ through Het Laagland, 27/8 under Maankwartier, Heerlen. There from 30/8 to 4/9.
Until 4/9, Cultura Nova presents 350 performances by 85 companies at various locations in Parkstad and the surrounding area.
Fiedel goes, Lieke comes
Artistic director Fiedel van der Hijden (64) received two awards at the start of his last festival edition for his key role in the cultural sector in Heerlen and his passionate leadership of Cultura Nova for more than thirty years. Governor Emile Roemer named him Limburger of Merit and mayor Roel Wever presented him with the city of Heerlen's medal of honor. As a social worker, Van der Hijden discovered the buzz of abrasive street performances. Once under his leadership, Hakim Traïdia van mimes sesame street arrested in Heerlen when he directed traffic with a water gun. He expanded that buzz into one of the biggest festivals in the Netherlands. Theater maker Lieke Benders (42) will take over from 2023.