Somewhere in a suburb, in an abandoned circus arena, where a single light bulb dangles 'inhospitably' from the back of the tent, two clowns appear who will rehearse their act here, in Cirkus Wittgenstein, for a wonderful book. Clown Jo talking to clown Witt – or are they just exchanging words? Hard to say. This division into two personas is at least a well-known fact in the history of the philosopher Ludwig Wittgenstein, where Jo loosely stands for 'Wittgenstein I' and Witt for 'Wittgenstein II'.
Expect from Wittgenstein's world no continuous narrative with a dramatic tension. Don't actually expect to be able to tie a rope to it. This wacky book full of laughs pushes the boundaries of comprehensibility. But from a great inner urge, just as Wittgenstein felt. The result: seven chapters filled with exciting linguistic discoveries, written by the renowned translator Erik Bindervoet in the form of a theater text (including stage directions). A procession of well-known and lesser-known philosophers pass by Jo and Witt, as well as a talking tree branch, Willempie, a respirator and Tolstoy's beard.
JO: "I was struck dumb, Eng. Witt!"
Well, so does this reviewer. What does this book really aim for? I would like to pick it up anyway, because of the beautiful paper and the many lively color illustrations by Saskia Pfaeltzer. And it depicts in bits and pieces the life of the famous philosopher, who was born in 1889 as the youngest son of a scandalously wealthy family. Wittgenstein was an impossible person: hard, impatient, sometimes merciless. He thought out loud and lectured as if talking to himself. Sometimes the inner dialogue would go silent and he would stare at his palm in a trance for minutes. To overcome his embarrassment at this, he quickly popped into the cinema after class.
WITT: 'I'm just too stupid today! You have a terrible teacher! This is hard as hell!'
JO: 'Think out loud. Be loud.'
Why was this convincing self-centeredness Wittgenstein forgiven? Because he was also sensitive. Because he couldn't stand anyone, not even himself. Because he was seen as the prototype of a genius.
Klovsky

The wonderful life is clownishly intertwined here with his wonderful thinking. Throughout his life, Wittgenstein continued to believe that all philosophical problems were really problems of language – something his jealous rival Karl Popper disagreed with; for Popper there were real philosophical problems, problems that are separate from our language, from our way of understanding reality. But where Wittgenstein I argues that words only mean something if they clearly refer to what is the case in reality (if that doesn't work, it's better to be silent), Wittgenstein II saw language as a collection of shared human practices. That practice is not exact and orderly, but rather fluid and mutating. Language as an instrument to shape your life: usually it works pretty well – and sometimes it doesn't, so a philosopher comes in handy.
WITT: 'I'm not a philosopher of language at all, I'm a philosopher of tools! Language is a tool. No packaging material.'
How striking! For Wittgenstein I, language is actually a wrapper around reality, while Wittgenstein II sees language rather as a recipe for behavior. often enough Wittgenstein's world incomparable, but that doesn't make it rubbish. The biographical and philosophical details are correct to the best of my knowledge, and the list of literature studied is impressively long. This text is really healthy (to put it in Bindervoet's way). He just throws you into the absurd, like a play by Ionesco or Beckett. And it's strangely fitting. Because in familiar territory, language can work quite well if you're intellectually honest, if you're serious about making the assumptions necessary for all that talk, if you really want to understand our situation, if you want to push yourself to the limit , like Wittgenstein, you meet the limits of thought. Be very precise and you will lose traction. Deep seriousness becomes so much fun. Absurd.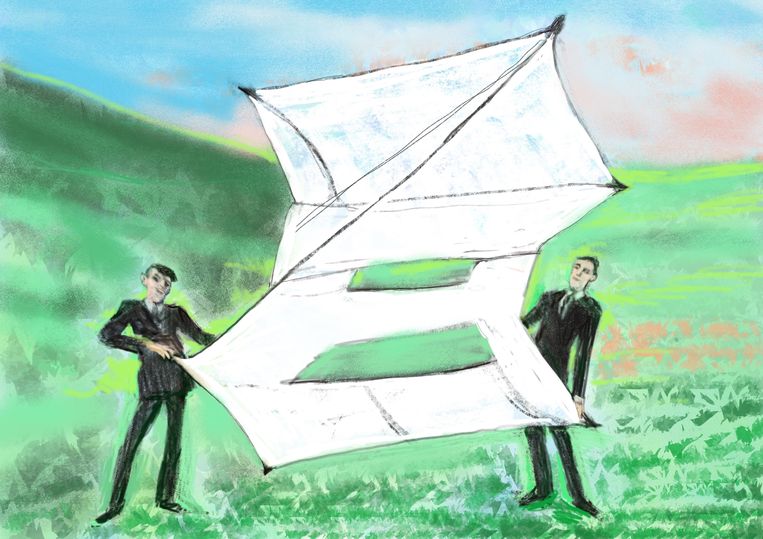 Stop thinking

Like James Joyce (of whom Bindervoet has translated much of his work together with Robbert-Jan Henkes), Wittgenstein was caught up in the modernist desire to capture the essence of existence in language. By not stopping to think, Wittgenstein has brought this strict modernism to an end; he shows the absurd underbelly. And then the deeply serious, tormented philosopher turns around. Don't turn away from the common language, he says from now on. Better give up that pursuit of pure essence, because that's where the fallacy lies.
WITT: To find the meaning of the clapper in the clapper.
Wittgenstein's world is like a successful performance at the theater festival De Parade: disturbing, full of nonsense and often only half-intelligible. But also: joyful, different, invigorating. No idea who this book is really intended for, but thumbs up for the atrocious courage to do something like this.
Erik Bindervoet and Saskia Pfaeltzer: Wittgenstein's world. The World Library; 272 pages; €34.99.