Experience art during the holiday season. Artists open their doors to readers of BN DeStem. They often work just around the corner or, as in this case, in the old town center of Tholen in Zeeland. Today: Marcel van Tienen.
The beautiful corner building on Bakstraat offers plenty of space for visual artist Marcel van Tienen (73). The ground floor looks like a shop. It was. Until 2007 he ran De Dierenspeciaalzaak at this location. "Besides art, I love animals. As a child I had an aviary, a dog, pigeons. I liked going to the sea on my own as a bird watcher. With Rizla's photo album as support."
Van Tienen was born in 1949 in Vlaardingen. After moving to Zuidschermer, Alkmaar, Franeker and Vlissingen, he ended up halfway through elementary school in Bergen op Zoom. "All that moving ensured that I remained so grounded afterwards. I have lived in Tholen since 1978."




The hardest thing about painting is daring to see one's own flaws

Marcel van Tienen
After his graphic design education at St. Joost in Breda, he became a designer at Van Opstal Makelaardij. ,,Until I started to experience that work as a drag. I saw it more as a profession, without an artistic challenge. I learned a lot from it in composition."
Read more under the picture.
When he had the shop, his creativity consisted primarily of making music. He still likes to improvise lyrically on his guitar playing. "My creative heart started beating faster when we built carnival floats with TBC (Thoolse Bouwclub). We drove with them in Oud-Vossemeer and Halsteren. Last but not least, I am still a member of the jury. I got the taste again when I painted in front of a wagon."
Great distinction
In 2009 he returned to study at the Municipal Academy of Antwerp, painting department. He passed in 2015 'with great distinction'. At the invitation of the same art academy, he even obtained his master's degree in 2020. ,,I wanted to develop further. It's hard alone. Taking lessons is stimulating, while giving you enough freedom to develop your own style. My style moved from quite detailed and conventional to what I do now. The figurative gave way to abstract plans. I translate reality more into my own reality."
Read more under the picture.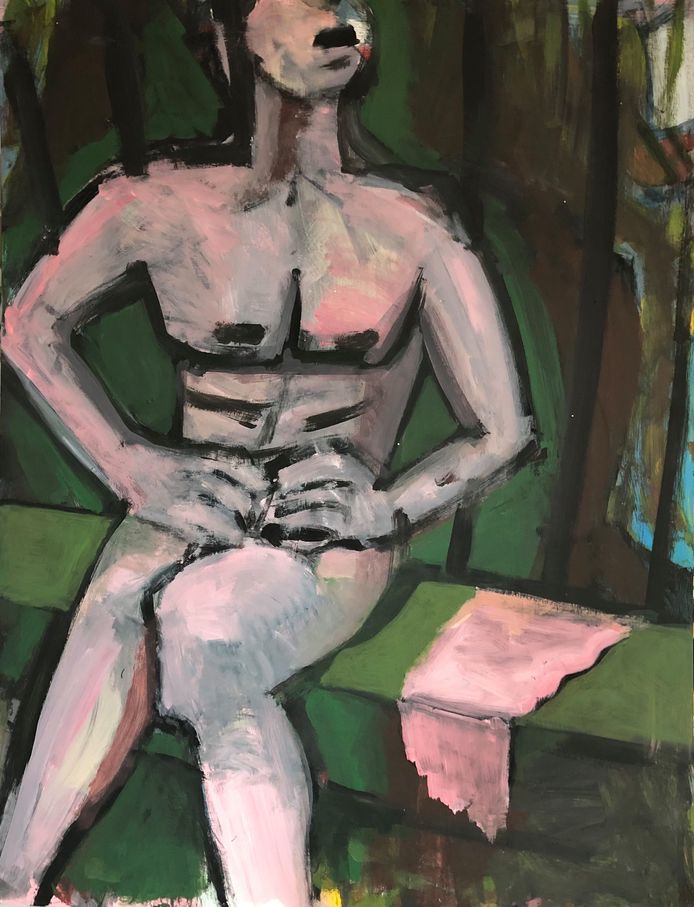 His increasingly exhibited current work is highly respected. For the exhibition Cool water four works were selected in the Bergse Markiezenhof. The jury described it as beautifully contemporary, but also full of references to expressionism from the first decades of the last century.
"Appreciation is nice. Of course I am also influenced by others. I work a lot in Belgium and appreciate the work of Rik Wouter, Rik Slabbinck and Roger Raveel. The German movement De Nieuwe Wilden, from the eighties, is also inspiring. But always to find on new things."
Layer by layer
Van Tienen works in series around specific themes. He replaced oil paint with acrylic because it dries faster. "I work quickly. Much is created layer by layer. It often starts with a charcoal-like sketch. I don't do feasibility studies. It's right to start. If a beautiful piece in a painting doesn't fit into the composition, then that's it: get rid of it. You have to be resolute about that. The hardest thing about painting is daring to see one's own flaws."
He is currently doing many collage-like paintings. The untitled work shown here contains many overpaintings. It is a still life with a stylized figure at the table. Still life is often seen as old-fashioned. They are not if you bring them to this time. The apparent coincidences show well here. There is layering in it, and it is played with perspective."
Read more under the picture.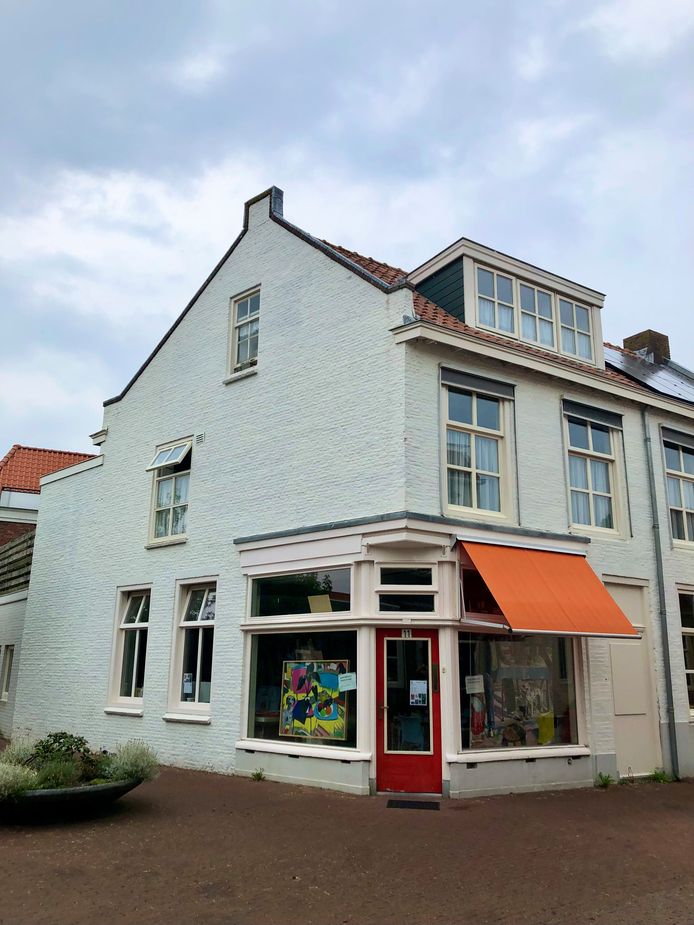 ,,Good job on the other work, the naked man, I think the cloth is the same color as the body. The canvas needed for the composition first had many other colors. I also like the deformations in the man's body. There is actually nothing wrong with the model. But that makes the painting just right for me. There is strength and despair in it. You wonder: what happened? Also important was the last change. I made the color of the bench lighter. It created more depth."
Marcel van Tienen's studio can be visited on 3 and 4 September (11:00 and 17:00) at Bakstraat 11 in Tholen. For more work, visit marcelvantienen.exto.nl.
And if we are there anyway
Besides being a municipality and island, Tholen is also a beautiful Zeeland town, with town rights since 1366. From the air, the outlines of the town walls are still clearly visible. A city walk along the harbor, over the city wall and through the old town, including the old town hall from the 15th century (pictured below) is highly recommended.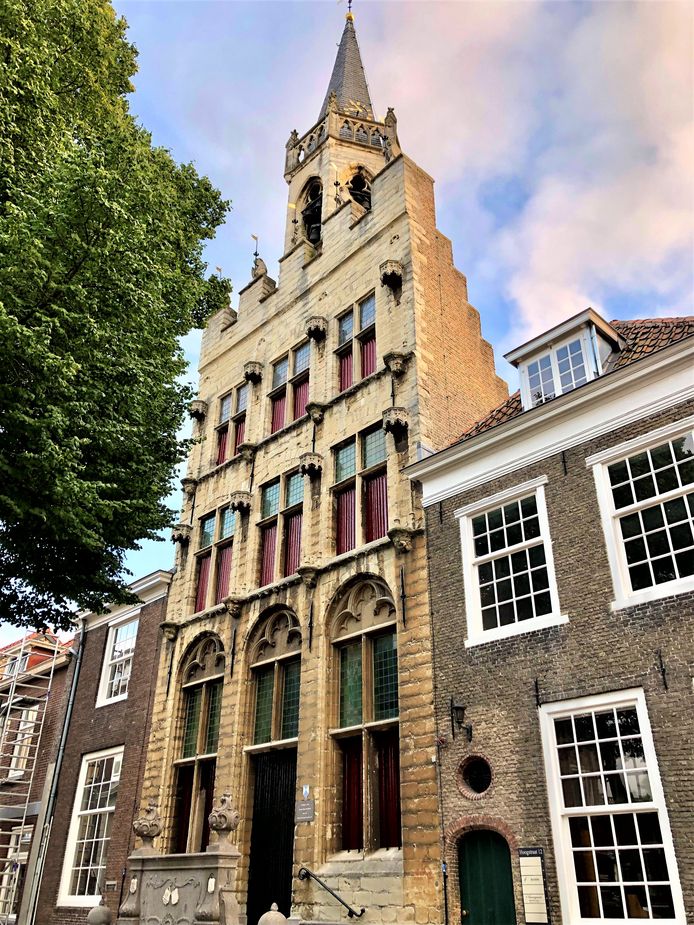 Free unlimited access to Showbytes? There can!
Log in or create an account and don't miss any of the stars.

Yes, I want free unlimited access