In mid-August, Tiel Food Bank moved to their new home in the former Ds. Van 't Hof Mavo on the corner of Medelsestraat/Grotebrugse Grintweg. If all goes well, that will be the last step for now.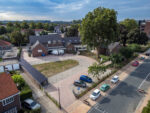 They have had to move several times in Tiel Food Bank's history. The places they were assigned were always temporary. In recent years they were located on Burgemeester Cambier van Nootenlaan, where they also had to leave. Many voluntary organizations run into such a problem. The Social Square Tiel Foundation decided to do something about it and previously bought the former church on Schaepmansstraat, which now houses a number of voluntary organisations. They offered the Food Bank a permanent home in Social Square2, the mavo, where they share the ground floor with the KLESTEO foundation (Tøj- og Legetøjsbanken Tiel en Omstreken), two neighbors who fit perfectly together in terms of goals.
Hybrid store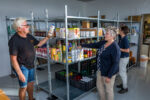 After the move, the 'shop' is finally back at the food bank. In recent years, due to corona, they only had to work with issue packages that were picked up outside. "Very impersonal", says Joke Steigerwald, an enthusiastic volunteer at the foundation for years. In their new building, they again have a store with dry groceries, where customers can choose their groceries themselves. They also receive guidance from the volunteers. "I tell them, for example, to look in the cupboards at home beforehand to see what they need and what they still have in the house," says Joke. Meanwhile, the volunteers Hans and Bernadette are busy putting together packages for the distribution points in the region. "The store is only for Tiel, elsewhere we bring packages that we collect here."
Refrigerate and freeze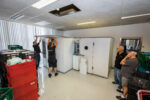 Vegetables, refrigerated goods and frozen goods are not in the store. These are distributed by the volunteers. "It is a hybrid store system, it is well received by our customers," says Joke, "fortunately we have no complaints about the supply from our many suppliers and sponsors," says Joke. "There is plenty of stock and we even give to other food banks." In addition to the shop, they have their own office, canteen, warehouse and a room for processing fruit and vegetables in their building according to the rules from the NVWA (formerly the goods inspection service). They could bring their own large cold room and freezer from the school where they first went. "They were torn down for free and rebuilt by De Wilde Koeling from Tiel, very nice of course." In total, the food bank has an area of ​​around 450 m2. "It's no more than we had at school," says Joke, "it's much more practical here, with a high ceiling we can stack a lot, easy to keep clean and much more durable. The heating works on infrared, which will save a lot on our gas bill."
Energy bills
"Speaking of gas bills, we feel that we are getting more people here, one of the reasons for that is the high energy prices. People with a minimum purchase suddenly have to pay 450 euros a month for gas and electricity. It does not work. At the moment we have about 250 mouths to feed." The foundation now has 37 loyal volunteers. They have received some applications, but due to the move it has not yet been possible to contact interested parties. The move was almost entirely carried out by the volunteers themselves. "Unfortunately, it cut financially," says Joke. "We had to make a number of adaptations to the building, for example foam concrete under the floors. For heavy cooling and also because we have a heavy pallet truck and if there is a pallet on it with the necessary kilos on it, you need a strong floor. We also bought a lighter pallet truck."
Joke is also very satisfied with the contacts with Det Sociale Torv and the other 'residents'. There will be an official opening and an open day, it's just not known when.
Photo album: click on a photo to enlarge
See also: https://detielenaar.nl/nieuws/2022/05/eerste-mijlpaal-voor-sociaal-plein-2-tiel/
and: https://detielenaar.nl/nieuws/2020/10/een-lintje-in-tiel-in-2020-joke-steigerwald/