Geert Hermans has three weeks' holiday, and Myriam has retired exactly one week. It has been tropically hot for days on end. You would expect the couple to enjoy a glass of fresh fruit juice on a garden chair under a large parasol. Nothing is less true.
It may be a holiday, but there is plenty of work to be done at the Winery & Herbs campsite and winery in Schijndel in Brabant. Still, you don't hear the couple complaining. This is what they have always wanted: their own farm with campsite and shop. And many different herbs, flowers, plants and fruits to make your own products.
The two got to know each other at Den Højere Landbrugsskole. Geert Hermans wanted to start his own farm immediately after his studies, but conditions were not favorable in the late eighties. So they both rolled into agricultural expansion.
Many people are no longer used to eating food that is made naturally
Myriam Hermans, owner of Winery & Herbs in Schijndel

Myriam Hermans worked in floriculture in Gelderland, Brabant and Limburg, and her husband was an information officer in fruit growing. She eventually entered secondary horticulture training where she worked for over thirty years. In 2000 she returned to study herbal medicine. When she graduated after four years, she wanted to do more with it. Geert had been growing grapes to make wine for some time.
ahead of time
Twenty years after graduating, they were still writing their business plan. The entrepreneurs wanted to combine education with fruit growing, herb garden, sale of home-made products and campsite. "Now you see it more on farms, but we were way ahead of our time," says Geert Hermans. "We wanted to tell the story behind our food."
They looked for a farm north of Eindhoven and ended up in Schijndel. Unknowingly, they bought a 1952 farmhouse with the most fertile soil in the region, or so say other farmers from the area. 'The clayey sandy soil was as dead as a doornail when we started here,' says Hermans. 'But with a lot of patience and trust, the soil improved and now everything grows.'
It is really remarkably green and fresh. While the whole of Holland has been sighing under the drought and heat of recent months, it is cool under the tall trees and the grasses and herbs between the fruit crops are knee high. Among other things, flax, linseed, smelt and knotweed are grown. "Each of them valuable crops," says Hermans.
Attract earth life
The entrepreneur pulls a lot of meld from the ground and points to the long roots. "These types of plants provide nourishment to the soil. They attract soil life and when they die they release minerals. This keeps the soil healthy. We do not use fertilizers and plant protection products. And we don't irrigate, because we're in the middle of a water protection area where I'm not allowed to dig a well.'
Not at all? Not even in these dry conditions? Hermans shakes his head and smiles affirmatively. "There are only plants here that do well on this soil and under the current climate conditions. What doesn't grow here doesn't belong here'. It sounds so simple. And that's it, assures the entrepreneur. He also tells this to the people he shows around the farm.
During such a walk, they are on the road for a few hours. The stories and the knowledge that Hermans shares make you forget time. In the end, visitors are dazzled by the many facts. Because what he says is not commonplace. Along the way, he picks one wild flower after another, which he distributes and puts in his mouth. 'You can eat more than you think. Many wild plants are packed with vitamins and minerals. People knew that before, but we have gradually lost that knowledge.'
food forest
Ten years ago, Hermans planted half a hectare of food forest on the edge of the building site for biodiversity. A phenomenon that is now increasing. A food forest is an agricultural practice in which trees and shrubs predominate, providing edible products such as fruits and nuts, and edible leaves, flowers and shoots. The method is based on the ecological principles of a natural forest. Think about good pollination, building up soil fertility and natural pest control.
Hermans confirms the benefits of the food forest for his activities. "We don't have to spray against insects, the forest provides wood that we can burn, and it gives me minerals for fertilising. It all looks beautiful too, and it yields beautiful products, such as medlar, a forgotten fruit that resembles a small apple. Last year we made it for the first time with our own recipe, which is very popular with our guests.'
labyrinth wine
The vineyard measures 0.5 hectares and a large part is laid out in the form of a labyrinth. The wine it produces has been dubbed Herman's labyrinth wine. The green corridor system is part of the story the couple would like to tell. 'If you follow the path, you will automatically reach the center and your goal.' The labyrinth is therefore used for workshops.
Companies that meet at Winery & Herbs often walk through the labyrinth as part of their search for a new mission and vision. On Sundays, everyone who has registered can go there at 11.
Hermans is no ordinary wine grower. 'On the one hand, I have planted too few hectares to produce enough wine for the commercial market. On the other hand, I have too many different varieties to supply large quantities of one type of wine. So I only produce for our own sales, in small batches'.
Biodiversity is also the most important starting point in the cultivation of grapes, emphasizes Hermans. 'That's why we only choose original varieties that do well in the Netherlands and don't need plant protection products. During the last ten years it has sometimes caused changes in cultivation.'
There are currently eleven different types of white and red grape varieties. Such as Divona, Solaris, Rondo, Cabernet Cortis and Cabernet Cantor. And also Muscaris and Divico. Sounding names. Hermans says proudly: 'No one has planted the latter yet except me.'
Grapevine thieves
As the entrepreneur talks, he walks the maze and manually steals the vines. 'Tyve is an important part of summer pruning. I remove the shoots from the leaf axils to give the grape bunches sufficient light and heat for optimal growth. It's a lot of work, but I like doing it and it's calming.'
Myriam Hermans makes herbal tea, chutney, jam, juice, liqueur and syrup from the herbs and fruits in the garden. Geert Hermans is from grape breeding and viticulture. They get help from volunteers, a single camping guest and now and then a holiday employee and intern. With their background in information and experience in education, they are a popular learn-to-work company.
The entrepreneurs make all products themselves without additives, about eighty in total. These are for sale in our own shop and local shops in the region. 'People who buy our products for the first time often have to get used to the taste,' says Myriam Hermans.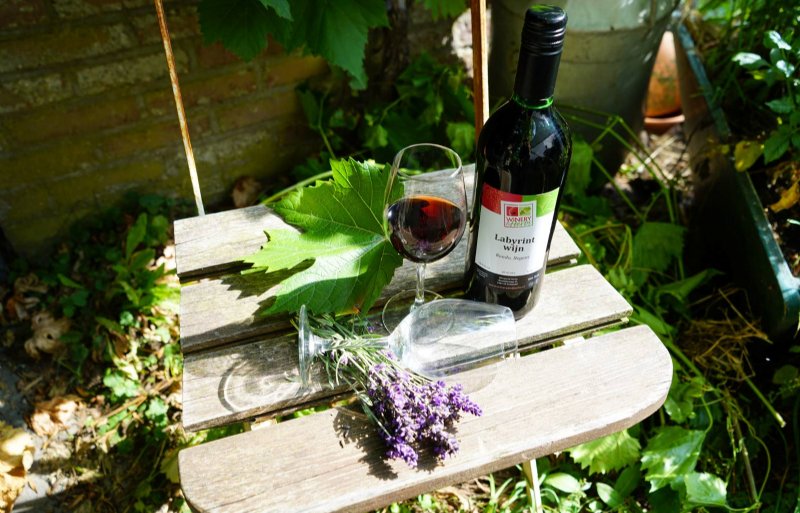 'People are not used to eating food that is made naturally. They buy a fruit wine from rhubarb or medlar less quickly than a wine from grapes. That is why we regularly hold tastings. If people taste consciously, they can usually appreciate our products.'
Twenty years after their search for a farm, there is a full-fledged company. However, something has changed: until recently, Geert and Myriam Hermans were not entirely dependent on the farm's income for their livelihood. They must live off the business for the next twenty years. They also realize that they are getting older and cannot continue to do everything themselves. This includes a new business plan.
'In our new vision, business succession is important. Our children have gone their separate ways. So we have to find lateral participants to whom we can pass on our knowledge.'
Name: Geert and Myriam Hermans (both 60) Place of residence: Schijndel (NB) Company: Vineyard & Herbs Size: 2.5 hectares. Eleven different grape varieties are grown for viticulture on 0.5 hectares. There is also some fruit growing, a herb garden and a campsite with 25 campsites. The herbs, fruits and nuts from the 0.5 hectare food forest are used to make products that are sold in the company's own shop and local shops in the area.