Almost no privacy, not allowed to work, get bad food: Rabia (28) from Yemen is an asylum seeker and experiences it every day. An asylum seeker from the shelter in Assen, where Rabia is also staying, even went on hunger strike for days. He and others want to be transferred as soon as possible. It is a stressful life, says Rabia Subway.
Rabia, whom we refer to only by her first name for reasons of privacy, was born in 1993 in Yemen. He never got to know his grandfather and uncle: they were killed in the same year by Ali Abdullah Saleh's regime. It is also becoming increasingly unsafe for Rabia's parents to live in Yemen. Therefore, they decide in 1997 to flee to Cairo. There, the family starts a new life.
'I am on a death list and can no longer enter Yemen'
Rabia studies medicine, and in his spare time he teaches himself the tricks of the IT profession. But as in other countries in the Middle East, it will also be turbulent in Yemen in 2011. Residents of the country are protesting against the authoritarian rule of Ali Abdullah Saleh. In 2017, Saleh, who has already resigned, is killed by the Houthi rebels. When the rebels shut down the internet, Rabia springs into action. "I brought the Internet back," says the 28-year-old refugee. "But that's why I'm now on a death list and I can no longer enter Yemen."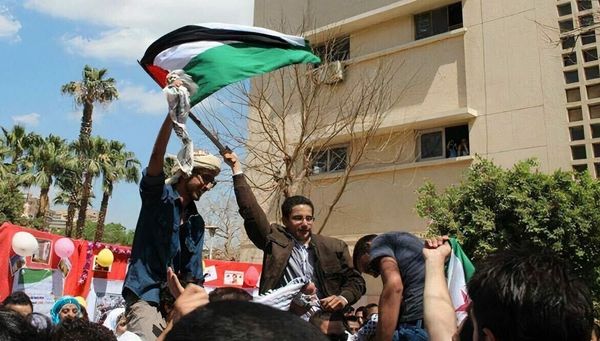 Rabia's actions also affect his work as a doctor. "Because of my political activism, I can no longer work in Egypt. Therefore, I fled to the Netherlands at the end of April to build a new life here."
For months at a temporary crisis center in Assen
Rabia has been at a temporary reception center in Assen since the end of May (you can read more about the temporary reception center here). "This was only going to be for a few weeks, but I've been here for months now," says Rabia. "The conditions are very bad. We live here with 500 refugees in a hall without our own rooms. We have almost no privacy and feel very isolated from the rest of the world. We feel treated like a criminal. The food we get is frozen and usually does not have a food label. So we don't know if it's about the date. Due to all the circumstances, I have now lost almost 12 kilos and I only weigh 45 kilos."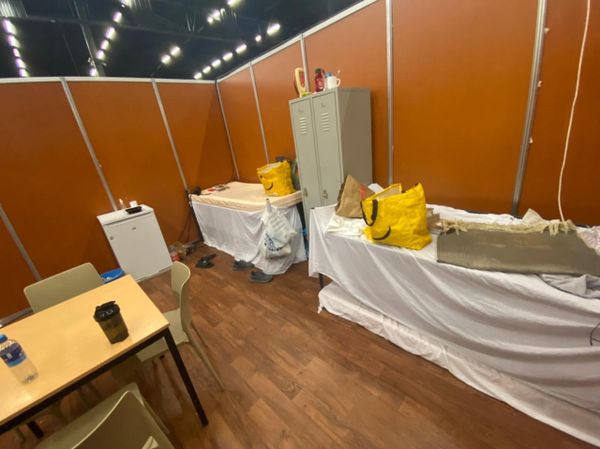 Due to the difficult conditions at the shelter, many asylum seekers are mentally unstable and many suffer from depression. According to Rabia, this could partly be solved by arranging sports activities or courses, just like at other asylum seeker centres. "We feel discriminated against Ukrainian refugees," says the 28-year-old asylum seeker. "They can work from day 1 and get many benefits, such as their own room. We have to share all facilities. I'm happy for Ukrainians that they end up here so well, but why don't we get those benefits?"
Asylum seekers on hunger strike
Rabia is not the only one who is angry. A number of other asylum seekers have gone on hunger strike in protest. So did a boy from Sudan who did not eat for four days. He has since been transferred to another asylum seeker centre. "Everyone wants to be transferred as soon as possible to a shelter with better conditions," says Rabia. "We all thought this would be temporary, but we've been here for months now."
Answer COA
The Central Agency for the Reception of Asylum Seekers (COA) has announced that it is aware of the hunger strike. "There was actually some unrest in Assen last week," COA spokesman Lennart Wegewijs said. According to them, it concerns one asylum seeker who went on hunger strike and has since been relocated. "We have now moved fifty people to a shelter in Arnhem, where they get their own room, which they share with one person."
Wegewijs continues: "We try to arrange the right reception and guidance for everyone, but due to the lack of locations it is more and more common that we use emergency shelters. In Assen we try – despite the limited resources – to organize something, such as Dutch lessons. But these lessons are only for status holders because some are still waiting to see if their future lies in the Netherlands or elsewhere. Again, that depends on the IND, not the COA."
Have you seen an error? Email us. We are grateful to you.