Culture

Minnie Kruip happy with Joop Kruip's obituary in book form
A mural by Joop Kruip was recently discovered in an old rectory at the Arsschool in Lichtenvoorde. The work turned out to be 'hidden' behind a plaster wall in the school auditorium, where a group of young artists had settled. The school must be demolished to make room for houses. As a result of the find, correspondent Henri Walterbos got in touch with Minnie Kruip-Pothof, Joop's widow. He made the following story about this which we do not wish to withhold from our readers.
LICHTENVOORDE/DE HAART – In the search for information about the mural, it is a logical step to get in touch with Minnie Kruip-Pothof. Half an hour later, after an extremely cordial phone call, I am already sitting at the table with her in the beautiful, almost fairytale-like farm where the family lived, in De Haart near Aalten. The original sketch drawing of the mural in the former Pastoor van Ars school is already on the kitchen table. Minnie points to it proudly and sits down.
Children's experience
In addition to the sketch, a seven-volume bound book 'Joop Kruip', which the family published independently in April this year, to do justice to the artist, his life's work and legacy. Little or no information in the book about the found mural. 'Design for a nursery wall painting, 40×55 cm, Gouache on paper,' according to the text line with the sketch. Not anymore. Minnie then tells what she knows about it. "He made it the year our eldest son was born, 1966. I don't remember much about it. Joop really made something of the children's experience, for children, that they liked to see. A few years ago I went to the school because I wanted to take pictures of it for the book about Joop. They said at school 'we do all sorts of things with the children here. Theatre, arts and crafts. We made a drywall for it because we were too afraid it would be damaged.'"

Joop Kruip at work. Photo: Alex Vreeman
Counter performance
The artwork was created thanks to the 'Contraperformance' scheme. The Visual Artists Scheme was a scheme in the Netherlands from 1956 to 1987 through which artists could receive an income in exchange for their services or artwork. "In connection with the reconstruction, a maximum of 1% of the sum could be spent on art for each government building," recalls Minnie. That the artwork in the school is a mural will be because it is cheaper than a mosaic, which is much more expensive. If it can be held, it must be put back somewhere inside," Minnie expects. "The national Heemschut organization has arranged for a mosaic by Joop on a wall in Utrecht to be carved, preserved and replaced in a new building. Then I once got a message from Apeldoorn, where there is also a mosaic on the outside of a school, that they are also keeping it. Fortunately, it is now happening again. Much of what was rebuilt during the Reconstruction era has been lost. I would love for the mural to be preserved because no one wants to do something like Joop used to do. And there will be many people who went to school there. I will definitely look because all I have is the sketch." Three years ago, six mosaic works by Joop Kruip were restored and restored in the former Ludgerus school in Lichtenvoorde, which is now part of the new IEKC (Integral Educational Child Center, HW), Den Gule Park in Lichtenvoorde.
Order
Saw the book again. A wonderful reference work on the artist Joop Kruip. Minnie is happy and proud of it. "A lot of work has been done, a lot of research has been done in Joop's diaries, notes and works. I kept saying "Joop is all right with you," and I pointed out that the bee was still on the table," she points to the pipe in question, next to a beautiful old monika in Joop's studio, where everything is still exactly as Joop worked there. "We really have to do our best to get a good overview. We had a very nice group of 11 people with whom we did it. Keeping Joop's work, that's what it was all about, taking care of Joop's work. The idea arose in 2018. From January 2019, they came here one day a month. It continued for a few years, until corona. Have they fixed all his work, which alone has taken them a year and a half to look at his work. The book costs 50 euros. It is deliberately kept cheap because people must be able to afford it. We don't care about the money. It's about Jobs. Joop was always very modest, always in the background. When he had exhibitions and it was opened, his name was mentioned, suddenly you heard someone reacting softly at the back of the room. It was Joop. I live among Joop's work. I think he has done a good job and that there is too little attention paid to it. It also has to do with his own character. I like to look at it myself, how nice that sometimes other people think 'Gosh, let's have a look at a book by Joop Kruip.' It had to be about the amount of work he did, in what choices they had to make because of the amount, the development, but also who Joop was as a person. His work was the most important thing in his life. He always pushed himself to the limit. All photos in the book were taken by Alex Vreeman. Once during his training, Alex had to photograph an artist. Alex chose Joop and has always kept coming, sometimes taking unexpected photos."
Minnie continues: "You can't really talk about a specific style at Joop. His work is recognizable. Joop worked entirely from the emotions of the moment. He was a very sensitive person, worked solely on his mood. Many people know exactly what to do when they start something. Joop never knew in advance what he was going to do. He put something on paper with a brush or pencil, and then went hey weeter. Joop had completed the courses 'monumental', 'portrait' and 'free painting'. When he was still at AKI, he was given six months to make mosaics. He made many. He also made stained glass, graffito (technique for making wall and facade decorations, where one or more layers of plaster (scratch layer) in other colors are applied to a base layer of clay or plaster, HW). He also made wonderful things with wood."
Not commercial
Then Minnie comes with two beautiful works of art made of very special hardwood. "Those panels disappeared like sandwiches during an exhibition. He never made them again after that. Joop was in no way commercial. Quite difficult because you needed the money. He never wanted to work just for money. He was also taught that in education that you shouldn't worry about money if you're so preoccupied with feelings. Later he was a teacher at an art academy in Kampen. He said: 'Damn, they're told what to do to get tasks later. If only we had it too.' He himself saw that as a very big disadvantage." The book gives her great satisfaction. "Then she could have known that Joop wasn't just a sissy," she laughs.
book launch
The book was published in silence, so to speak. "There has been no publicity and no official book presentation. We weren't into that at all. The book was on sale during the exhibition of Joop's works in the Koppelkerk in Bredevoort earlier this year. It hasn't happened again after that. There will probably be more exhibitions. The next exhibition will be one with only drawings," Minnie already knows.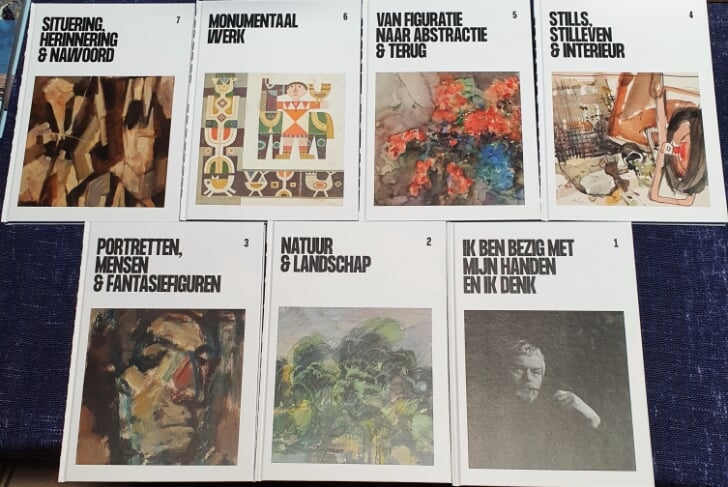 The seven booklets that together make up the Joop Kruip book. Photo: Henri Walterbos
The 'book' Joop Kruip consists of seven smaller booklets, each with its own title; 'I'm busy with my hands and I'm thinking', 'Nature and landscape', 'Portraits, people and fantasy figures', 'Still life, still life and interiors', 'From figuration to abstraction and back', 'Monumental work' and 'Situation, memory and afterword.' The authors of the impressive 307-page long book are the art historians Jaap Nijstad and Wim Prinsen, edited by Lejo Schenk.
The opening text of the book is quite correct, having had a tour through Joop's studios and thus through his life, and Minnie's studio herself, making beautiful ceramics; 'Much has remained the same in Joop Kruip's studio. After his death in 2016, his wife Minnie took care of the estate. In particular, the peace and quiet is preserved and thus the atmosphere in the workplace. The proverbial spirit of the artist still lives there and, perhaps more importantly, his soul.' Joop Kruip's work and legacy certainly deserve their own museum. His legacy is vast and touchingly beautiful. In this way, the mural also deserves a new life. The book Joop Kruip is available in the bookstore in Lichtenvoorde and via the website Joopreep.nl.
'key year' From: 'Joop Kruip, I'm busy with my hands and thinking', book 1 of 7.
'Joop Kruip, born March 22, 1935 in Lichtenvoorde, in the family of house painter Hendrik Kruip and his wife Anna Zonderland. Joop is the youngest of 11 children. Joop's father dies in 1937. In the period 1952-1956, Joop studied at AKI in Enschede. Joop graduates cum laude. In 1954 Joop gets his first assignment for a monumental work, for a Maria chapel in Haaksbergen. Other assignments for Haarlem and Asker follow. 1957 Joop receives his first major public commission for a series of mosaics at St. Ludgerus School in Lichtenvoorde. Since 1963, Joop has lived with his wife Minnie Pothof in 'Keet' in Lichtenvoorde. Tasks over the years; mosaics in St. Franciscus church in Nijmegen, probate factory Odink and Koenderink Haaksbergen, many branches of Boerenleenbanken, DRU factory Ulft, Exoduskerk Gorinchem, National Investment Bank The Hague, Philips conference center Hilvarenbeek. Recent public works are a relief at Hamalandhal Lichtenvoorde and the town hall Aalten. From 1980-1983, Joop was a teacher at the Christian Art Academy Kampen. After a period of declining health, Joop died at home on 26 October 2016 in the arms of his wife Minnie…'