It is only four years since the German artist Neo Rauch had a retrospective exhibition in De Fundatie Museum in Zwolle. A bit soon for a sequel? No, Rauch has been painting like crazy ever since. He easily fills up the museum with around 30 new canvases. Huge canvases, most are two to three meters wide and high. The sheer quantity and size of the paintings will make your jaw drop.
During the festive opening of the exhibition, the artist looks at his works on the wall with a characteristically thoughtful look. He never talks about paintings, but about pictures. And he himself is surprised by the large number he has made in the past four years: "I thought almost nothing of note had been achieved," he says with a thoughtful smile.
Rauch (1960) is world famous for his realistic portrayals that can best be described as disturbing dreams set in another era. Sometimes his figures appear to be from the 19th century, sometimes they are dressed in clothes from the fifties. In his new work, many people have wings or tails like a fish or a reptile.
'I work on several canvases at the same time'

Dark things are at stake; somewhere a man lies half-naked on an operating table while an insect-like figure bends over him. In another work, snakes snake their way up the legs of an apparently unsuspecting person. Chimneys smoke here and there against threatening cloudy skies.
A lot of time and attention is clearly put into the detailed performances. Rauch is a disciplined artist, he works five days a week from morning to night in his studio in Leipzig. How long does it take him to complete such a painting? "I can't say exactly. I usually work on several canvases at once. One work therefore also influences the other."
The images are created while painting. Rauch has no firm idea of ​​what the performance will look like when he starts working on a painting. The story unfolds under his hands. "I don't have a concept, it's my concept," he says with a smile.
The meaning of a picture is therefore not fixed, not even for him. The painting The Volcano School, completed this year, shows a factory where workers build scale models of a volcano. While in the background the real volcano is erupting. Rauch would say something like: we have to deal with inevitable, uncontrollable natural phenomena. Later he realized that it could also be the inevitability of a war, as it is now in Ukraine. But the viewer may have a different interpretation.
A dream pointed him in a new direction

The artist has gained fame mainly because he started painting clearly recognizable scenes at a time, in the early 1990s, when such a style was not very fashionable. He couldn't help it. "In the late 1980s I was in danger of becoming a mediocre abstract painter," he says. A dream that he remembers well pointed him in a new direction. "I walked through a strange city and ended up in a basement. There was a large round piece of art on the wall with black, intertwined lines."
He also began to make large circular works, called tondi, and the images on them became more and more realistic. A number of these early works can be seen in the Fundatie, which form a nice contrast to the paintings, whose paint has sometimes literally only just dried.
That Rauch, one of the most successful artists of the time, has chosen a museum in Zwolle to show his new work is due to Ralph Keuning, until recently director of De Fundatie. He has long been an admirer and friend of the artist and bought a number of works for the museum.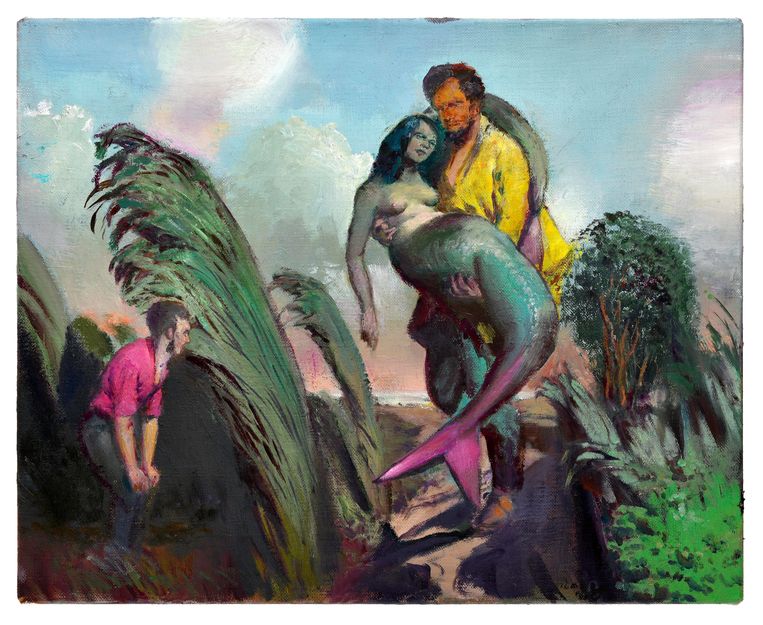 'Art gives comfort'

Keuning was discredited at the beginning of this year because of his management style. Staff complained about his confrontational way of communicating, an independent investigation found. Keuning's great ambitions for the museum had put pressure on the employees. Some employees felt 'emaciated'. Keuning left as director in June because the relationship was too disturbed.
For the time being, however, he will continue as an external consultant and implement ongoing projects. And so during the well-attended opening, Keuning shines once again next to Neo Rauch on the square in front of the museum. He has just been praised by Zwolle culture councilor Monique Schuttenbeld, who thanked him very much for putting De Fundatie and Zwolle on the cultural map over the past fifteen years.
How is he now? "This is an absolute moment of happiness", says Keuning, visibly moved. "Today should be about the art, not all the fuss. Art gives comfort." A little later he stands as usual in the museum room and gratefully accepts the visitors' compliments.
Neo Rauch gets a lot of attention in Dutch museums. An exhibition of works on paper opens on 9 October in the Drents Museum in Assen. About a hundred pictures will be shown, the majority of which have never been in the Netherlands before.
The exhibition 'Neo Rauch – Die Mitte' can be seen until January 8 in Museum De Fundatie in Zwolle.
Also read:

Neo Rauch's gigantic paintings are also a mystery to himself

They are huge, dreamy and confuse the viewer. It often remains a guess about the meaning of the paintings of Neo Rauch.
Director of the Museum de Fundatie demanded too much from his employees and resigns

Ralph Keuning, director of the Museum de Fundatie in Zwolle, is stepping down after being discredited earlier this year due to his management style.