The first room is a girl's room in candy colors. You stumble upon the pastel purple bedding, with a print of Belle or Winnie the Pooh. On a rotating bed, a giant teenager is busy with tarot cards. Under her purple veil you can just see a tuft of blue hair. This is 'The Girl', aka the virgin or the virgin, in the visual, feminist universe of the artist duo Boogaerdt/VanderSchoot.
Her dreamy teenage domain is the starting point for To travel without moving, the first exhibition of this duo, in the exhibition space Tent in Rotterdam. They depict a journey in the form of a life cycle, leading on to the 'mother' and the 'old woman'; to birth, death and rebirth. At the same time, the exhibition is an investigation of alternative histories and forms of society. In Tent Rotterdam, Suzan Boogaerdt and Bianca van der Schoot wonder: What if patriarchy is only a temporary hype?
In the spring, Van der Schoot delved 'like a monk' into books about the Paleolithic and ancient civilizations, many tens of thousands of years before Christ. She discovered that there is such a thing as 'feminist archaeology'. 'Archaeology came into vogue in the 19th century, in a society dominated by men. So it is not surprising that many archaeological finds were seen through a male eye.'
She cites as an example Venus of Willendorf, the naked, voluptuous female figure that was initially dismissed as 'porno avant la lettre'. 'Research shows that such figures – of which there are thousands – were probably part of a goddess cult, a religion focused on the worship of women and all facets of the female life cycle. Temples in the shape of wombs have even been discovered.'
Boogaerdt and Van der Schoot stick to their achievements, such as Antibodies (2020) and Foreign body (2021), worked on the future of man for some time; with societies that are more in harmony with the planet and with each other. In Tent, they investigate whether examples of this can be found in forgotten female-oriented religions that were closer to nature. In addition, they were inspired by the appearances of the Mesopotamian fertility goddess Inanna.
craft corner

In the first room, The Girl's sanctuary, the two artists drink coffee at their craft table, a bulging altar of junk where masks, wigs, clay dolls, stuffed animals, pantyhose, fake flowers and feathers are scattered in merry chaos around a sewing machine.
The craft corner gives a good overview of their working method (traditional, associative), choice of materials (eclectic) and taste. And the designer Lotte Goos, because the three of them stand for the now characteristic Boogaerdt/VanderSchoot style: ancient and futuristic at the same time, with feathers, animal skins and wool in addition to plastic, glitter and neon. Suggests ancient myths and civilizations, but is equally indebted to YouTube and TikTok. Synthetic and tactile at the same time: see the dangling flesh-colored pantyhose filled with Smurf snot – stir and knead. The design in Tent is mysterious and ethereal, but also physical and down-to-earth. At Boogaerdt/VanderSchoot you will find feminist theory, mixed with a touch of female body horror.
The latter was still the subject of a discussion in Tent. Shouldn't there be a 'trigger warning' with the one doll in the corner who appears to be bleeding profusely from her crotch – with blobs, threads, lumps and all? Suzan Boogaerdt laughs. "Such images were already present in our imaginations, and they refer to very natural processes in the female body: menstruation, abortion or childbirth. But if you never show them, in a museum or on stage, they remain taboo'.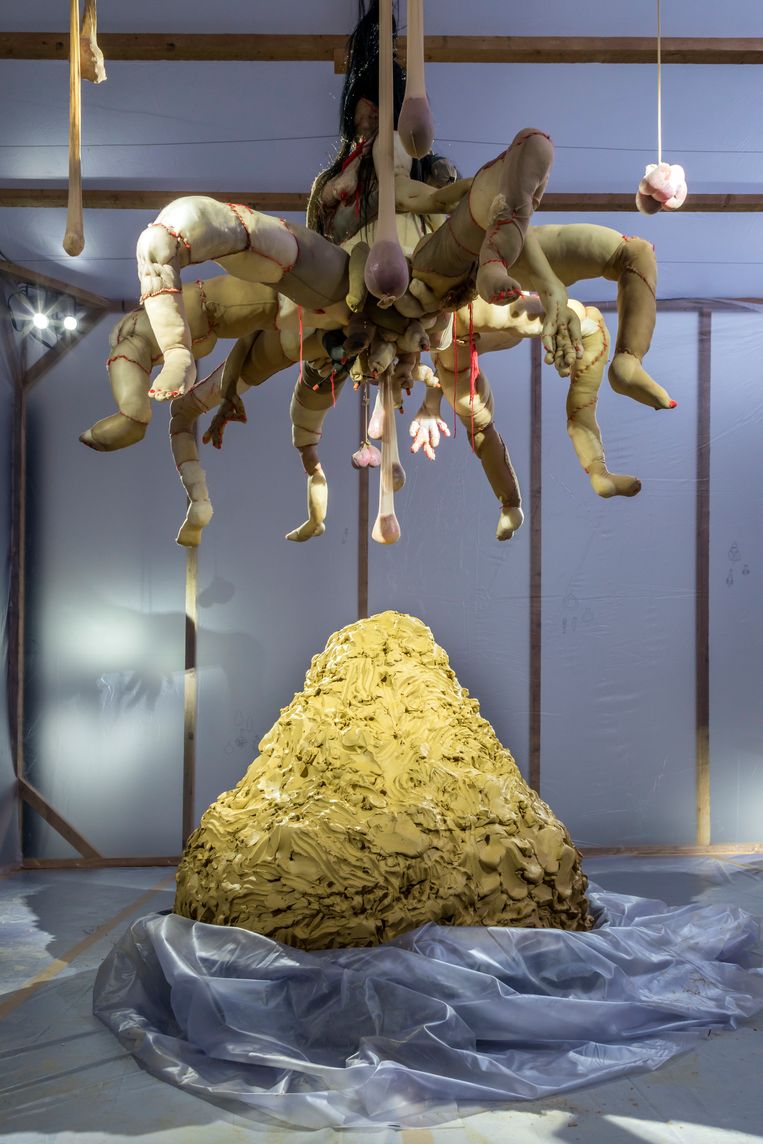 Modeling Goddess Prayers

The adjacent room is also aesthetically pleasing, where a large woman dangles from the ceiling, her body ending in an eerie tangle of arms, legs and other body parts. Below her shines golden brown and moist, a huge mound of clay. Here, visitors are invited to sculpt their own goddess statues, which they did in large numbers at the opening on Friday 16 September.
In other rooms, visitors can go on a 'visionary journey' with headphones or take part in a special sleep ceremony, which was once led by female priests. This stems from the performance Foreign bodywhich Boogaerdt/Vanderschoot did at the Holland Festival in 2021.
How do they experience the difference between performance and exhibition?
Boogaerdt: "For me it feels like a kind of loss of control, but for Bianca it's…"
Van der Schoot: '…freedom! But of course it is also very exciting. We can control the visitors' experience much less.'
In the theatre, the two make moving installations rather than plot-driven productions. Nevertheless, says Boogaerdt, the biggest difference is time. Time and chronology. In Telt, they have no influence on how long the visitors immerse themselves in a room or an experience, nor in what order they do it. Van der Schoot: 'In the theatre, sequence is important: you take the audience by the hand and guide them step by step through the story. That's not possible here.'
In this 'grey space', as they call it – between the black box of the theater and the white cube of the museum hall, they had to accept that all their images coexist and have no influence on the visitor's experience. Boogaerdt: 'At first we wanted to control so much more, with texts, instructions and arrows.'
Van der Schoot: 'But we have let that go. We show the images in a way that is meaningful to us, but the visitor is now making his own story with them.'
To travel without movingby Boogaerdt/VanderSchoot.
Until 13/11, Tent, Rotterdam.
Internationally active for over 20 years

Suzan Boogaerdt (47) and Bianca van der Schoot (49) have been an internationally active performance duo for over twenty years. They first made their ground-breaking productions under the banner of Toneelgroep Oostpool and later at Theater Rotterdam. They worked with director Susanne Kennedy in Berlin and at the Ruhrtriennale. In 2017, their works were selected for the 'theatre biennale' in Venice. For the exhibition in Tent, they work together with costume designer Lotte Goos, video designer Rodrik Biersteker, scenographer Lena Newton and the composer duo Florentijn Boddendijk and Remco de Jong.