The Royal Museum of Fine Arts Antwerp (KMSKA) has been closed for almost eleven years. The 19th-century museum building was 'worn down to the wire', says director general Carmen Willems. 'The last weeks when the museum was open, in 2011, blankets had to be distributed to the public, it was so cold in the halls.' To keep the humidity low, there was almost no heating in the building. The paintings by Rubens, around which the museum is built, so to speak, were no longer safe and lenders gave up.
How should we as Dutch see KMSKA? 'I often say that we are Rijk's little sister,' says Willems. The museum building in Antwerp is about half the size of the Amsterdam Rijksmuseum. The difference in collection size is much greater: KMSKA has 8,400 pieces, Rijksmuseum has one million. In August, Willems already showed a group of employees from the Amsterdam 'big sister' around: 'Of course they have also been through such a big, long renovation, and they said: everything will be fine. It was reassuring'.
The road to reopening was bumpy. When Willems took over as business director in 2017, the plan was to reopen in 2019. On Saturday, September 24, the time finally came, after an almost eleven-year renovation that cost 100 million euros. What is Willems most proud of now? 'I can not choose. You have to experience the museum as a whole…' And then she says: 'I am most proud of our transition from a dusty museum that was aimed at the art connoisseur to a fresh museum that is accessible to everyone.'
The purest feeling

The motto of the new KMSKA is 'The Cleanest Feeling': the museum wants to stimulate the visitor's emotions. Director General Carmen Willems: 'By responding to these feelings, this museum definitely also wants to reach out to people with no affinity for art.'
De Volkskrant went to see in Antwerp. Here are five absolute must-sees in the renovated museum.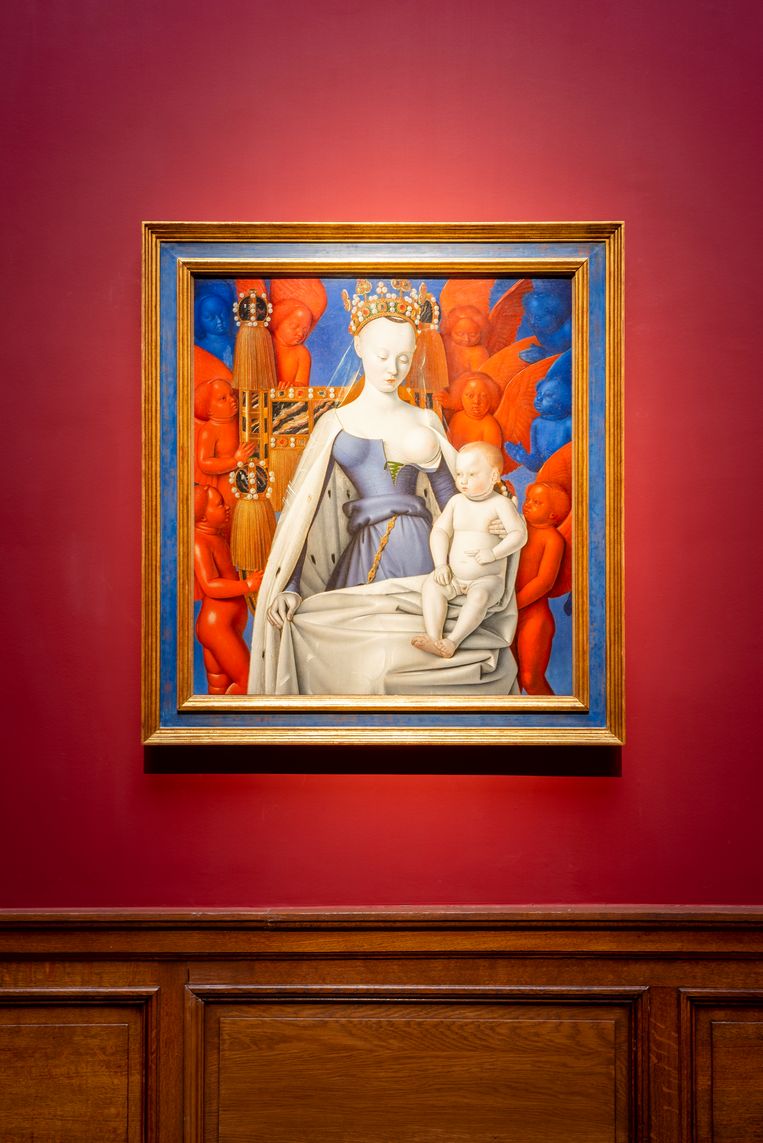 Jean Fouquet, Madonna surrounded by seraphim and cherubs (ca. 1452), in the Madonna room

KMSKA has no artwork that visitors immediately go to. None night watchmanno Mona Lisa. But if it's up to director Carmen Willems, this striking painting of Mary and Christ surrounded by red and blue angels. Mona Lisa from the museum.
Ask Koen Bulckens, curator of the Old Masters, if the painting has that potential, and he says: 'It is already a Mona Lisa. This is an iconic piece, the painting has something strange about it and that is why it continues to fascinate.' Jean Fouquet probably based his Maria on Agnès Sorel (1422-1450). This mistress of the French King Charles VII was known as the lady of beauty; she is said to have introduced plunging gowns to the court, such as the one Mary is wearing here.
This is actually half a work of art: it is the proper part of a ditychon. The left part (owned by the Gemäldegalerie in Berlin) shows Étienne Chevalier (c. 1410-1474) with his patron Saint Stephen. Chevalier, treasurer to Charles VII, commissioned these paintings. When the panels are hung side by side, as was the last time in Berlin in 2017, you can even see Christ pointing at Chevalier.
Christophe Coppens, Dromedaries (2022), in the Rubens Hall

The Rubens room is the museum's best-known and most important room. Whoever enters here will see a round bench in the center with two dromedary heads sticking out. The sofa is part of the children's treasure hunt 'De Ti', which was created by opera maker and visual artist Christophe Coppens (52).
As a child, Coppens liked to go to KMSKA with his grandfather. In consultation with the museum, he selected ten details from works of art, which he depicted in strange sculptures. Some of these works move, make sounds or have lighting effects. Coppens found Ruben's room the biggest challenge. 'I thought: what can I add to this?' Finally, he removed a bench and adapted it to look like the two dromedaries from Rubens' painting [Aanbidding door de koningen, dat in dezelfde zaal hangt, red.] has gone through the blender'.
To create De Tien, Coppens worked with the opera house de Munt's workshops in Brussels. The embroidery on these dromedaries was made especially for Coppens in a studio in Mumbai. And yes, you can sit on it and even sit on it.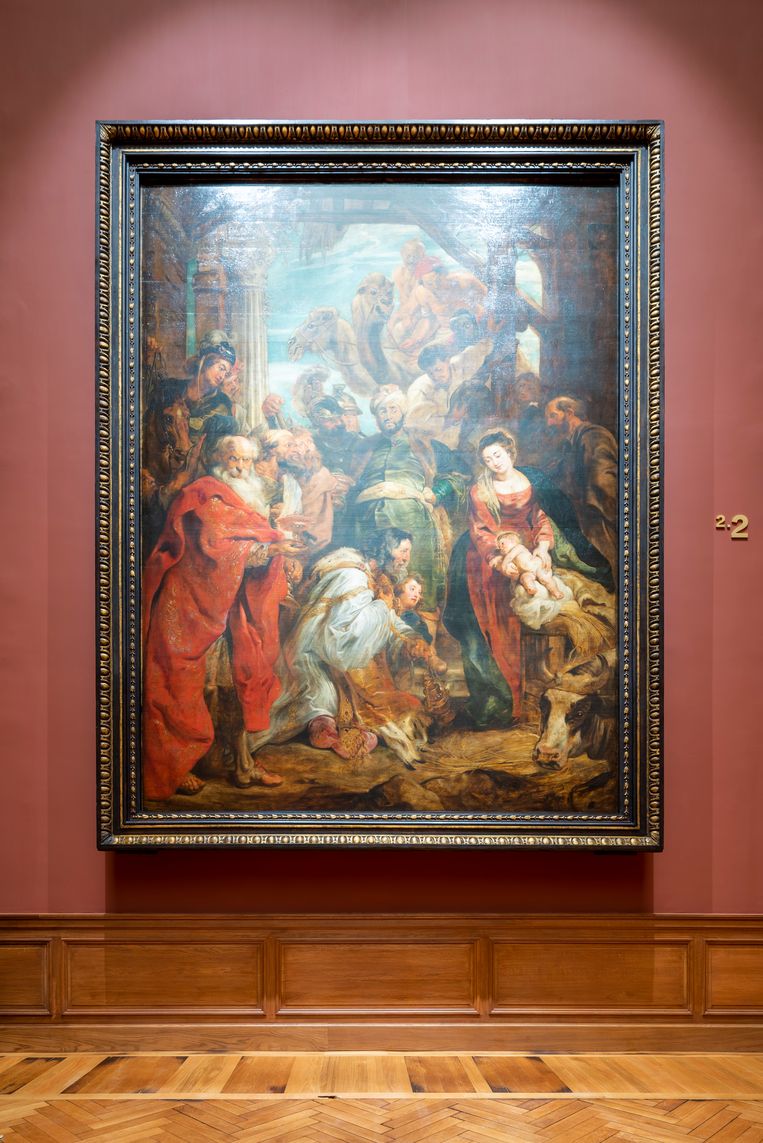 Peter Paul Rubens, Worship of the Kings (1624-1625), in the Rubens Hall

This overwhelmingly large painting (447 by 336 centimeters) is thoroughly Rubens, says curator Koen Bulckens: 'Rubens made operas in paint, so to speak. You can clearly see that here: the dynamics, the interaction.' Rubens had his own painting room, six meters high, where he could efficiently and quickly paint such large altarpieces.
'Because Rubens was so productive and had several assistants, his studio was sometimes disrespectfully called a 'painting factory',' says Bulckens. 'However, this panel has been the subject of a story for a long time, written entirely by Rubens.' In 2007, the artwork was carefully examined down to the square centimeter. The investigation showed that this tradition is correct.
In his efficient painting studio, the artist had set up a real 'picture bank' where he kept sketches that he could reuse. King Balthazar in the center therefore resembles a painting by Rubens from a few years earlier in posture, pose and dress, commissioned by an Antwerp merchant.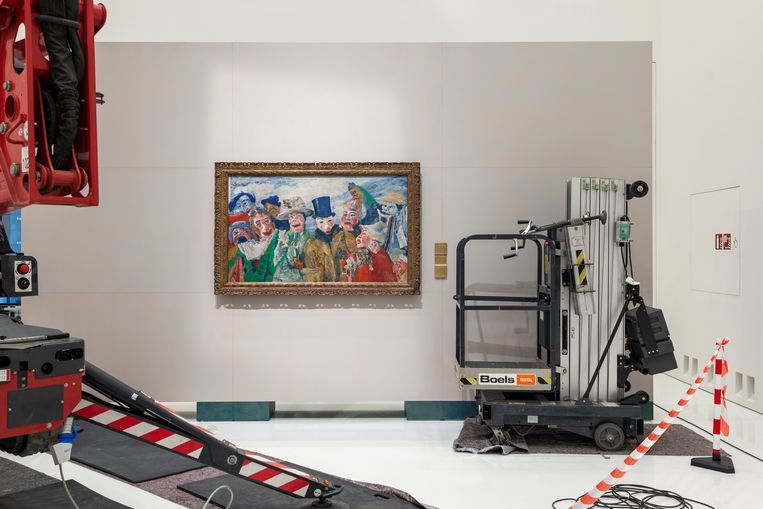 James Ensor, the intrigue (1890), in one of the Ensor rooms

KMSKA has forty paintings by James Ensor (1860-1949), making it the largest Ensor collection in the world. His famous work the intrigue can be found here. Adriaan Gonnissen, curator of modern art, sums up the qualities: 'It is one of his best compositions, with the figures that are only half on it. Look also at the full colors and the play of the hands between the figures.'
Ensor grew up in Ostend, above his mother's shop; she sold shells, souvenirs, rarities – and also carnival masks. What we see here is a carnival scene: 'Intrigue is the moment during the carnival celebration when everyone can be mocked. Here is the figure in the tall hat.'
The masks in Ensor's oeuvre have a special meaning, says Gonnissen: 'Ensor used them to reveal people, he believed that people show their true, grotesque selves during carnival.' The artist sometimes struggled to sell his work. 'It was seen as too avant-garde. His international breakthrough came only at the beginning of the 20th century, thanks to the interest of the German Expressionists.'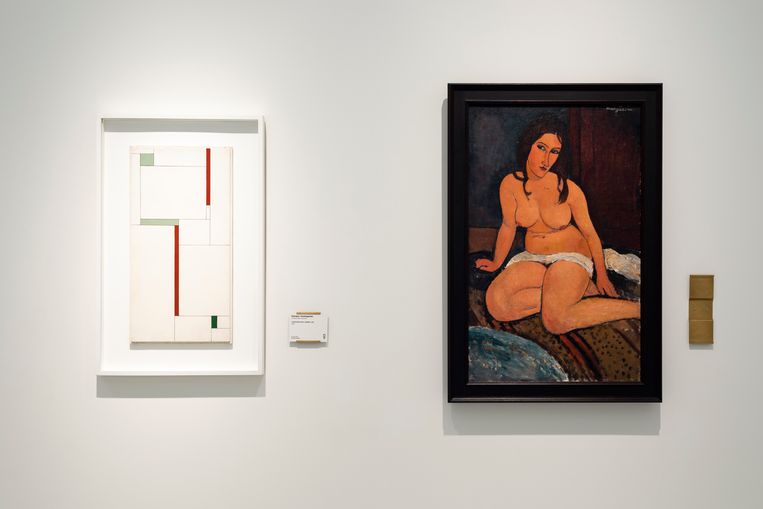 Georges Vantongerloo, Construction brown, verdâtre, vert (1938) and Amedeo Modigliani, sitting naked (1917), in the new space on 'Form'

Before the renovation, modern art at KMSKA could be seen in rooms that regularly had to be emptied for temporary exhibitions. Now the entire new, white area is devoted to modern art. Take a moment to consider this unexpected combination. On the left a composition by the Belgian abstract artist Georges Vantongerloo (1886-1965), on the right the seated nude of the world-famous Italian Amedeo Modigliani (1884-1920).
The Belgian government bought this Modigliani in 1926. Curator Gonnissen: 'They did a good job with it, it has been a mascot for the museum for a long time.' In 2015, a Modigliani canvas sold at Christie's in New York for nearly $160 million, making it one of the most expensive paintings ever auctioned.
Who would think of hanging an abstract piece of art next to it? It was a stroke of luck, says Gonnissen. In the depot, he and fellow curator Herwig Todt saw both paintings: 'Then we saw that something happens when you see them together.' You don't need to know art history for that, says Gonnissen: 'If you look at this with an open mind, you automatically get closer to the artist's creative process. You can see how they thought about their compositions, even though they developed very differently.'
artistic director?

The Royal Museum of Fine Arts Antwerp reopens without an artistic director. Last year, the Dutch art historian Jacqueline Grandjean was appointed to the position, but she left the museum after three months. She is now director of the Noordbrabants Museum in Den Bosch.