By the editors on 23/09/2022
STRETCHING – A Dutch proverb says: "What you get from afar is tasty". The meaning is that if something comes from far away, it must have required a lot of effort to get it. And then it becomes special and delicious. I wonder if that dragon will also go up at Eetcafé Rekken, because German dishes will be put on the table at the 4 October dinner.
The switch to Germany is not a big one, because Rekken is connected to the 'aover den paol' area via the Oldenkotte border crossing. Once a year the dahlia parade lets the Oldenkot neighbors enjoy themselves, once every three years (as in 2022) the parade even moves through the streets of Vredens gader. We invited Eetcafé participants Maria Karnebeek, Wilhelmien Winkelhorst-Karnebeek and Wolf Volkmann to talk about (eating) differences between Germany and the Netherlands.
Introduce
Love brings Maria Karnebeek (1958) to the Netherlands. "I was officially introduced by Jos in 1980. It is partly literal because I had to give up the trousers at the Oldenkot border, after which it was stamped. I lived just over the border and got to know Jos as a 14-year-old at the former café Hagens in Rekken. On our father's side we have something with the Dutch. An aunt of my father's, a sister and his daughter, i.e. three generations, were married 'over that poal'. My husband Jos died suddenly over a year ago. We have three children, Marijke, Bianca and Kevin." Maria was a Wirtachterin in Germany and worked in the industrial kitchen. Now she works several days a week as a domestic helper for the elderly. Maria has made her mark in voluntary life. In 2020, she was named a member of the Orange-Nassau Order.
Prussia
Wolf Volkmann (1944) is also a Prussian. He was born in Burscheid and began his apprenticeship in Cologne at the age of fourteen. In ten years he learned the kitchen trade by changing his work address seasonally, from Scotland to Switzerland. In Düsseldorf he met his wife Dorien, who worked there as a receptionist. Together they took over a hotel-pension in Beek, municipality in Montferland. They sold it ten years later in 1978 to take over a hotel restaurant in Dorien's hometown of Holten. After another ten years they sold this one too. "Beek was sold out of wealth, Holten out of poverty". Wolf went to work as head of nutrition at a health institution in Goor. Because of the beautiful and cheaper environment, he and Dorien bought a house in Rekken in 1999. The couple have two children, Christian and Marlies, and three grandchildren. Dorien died suddenly in 2003, Wolf retired in 2011. But since 2018 he and Marco Tuinstra have been head chefs at Eetcafé Rekken.
Tree
Wilhelmien Winkelhorst-Karnebeek (1935) was born in Mariënvelde in the Achterhoek. She and her husband Theo te Bulte owned a timber company in Groenlo and lived there for twenty years. In addition to her family, she worked in the company's office. They then moved to Rekken, where they continued their timber trade opposite the church at 't Kip. Her husband Theo died in 1995. She still has a relationship with her new husband Anton Winkelhorst lived at Zonderkamp for nine years. After his death, she moved to the German town of Vreden in 2007, near her sons Richard and Gerie. Wilhelmien is the grandmother of four grandchildren.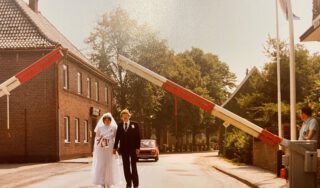 Eight differences between the Netherlands and Germany
1. Prices – Germany is cheaper than the Netherlands in many areas, especially the restaurants. How did it happen? Wolf: "When it comes to fancy restaurants, the difference is not that big. But with family businesses and formulas where restaurants also have a butcher shop, labor costs are saved and not everything will be declared to the tax authorities. The quality of what is offered does not suffer from this.
2. Pentecost – Where in the Netherlands you can now also pay with pin/chip in the football canteen, in Germany you often ask for cash in larger restaurants as well. Wolf: "The German sees cash as 'real money'. With a debit card, you can pay less privately."
3. Rules – Wolf: "What I personally enjoy very much is that in many German cities you can drink on the street. This ensures a lot of fun, especially in the summer, like in Berlin. In the Netherlands you can be fined for this."
4. Birthday – A funny difference between Germany and the Netherlands is that in Germany you only wish the birthday child a happy birthday and not his or her family.
5. Culture – The Germans are a little more distant and businesslike. We Dutch are quite direct and also quickly ask a personal question or automatically choose to guide someone. In Germany, this is not so quickly the case. It is wise to address unfamiliar people with 'Sie' instead of 'Du' first. By the way: This also changes among our eastern neighbors and they become a bit 'locker' like the Dutch.
6. Supermarket – They don't have the delicious airy bread in Germany, it's much heavier there. In a supermarket there are several types of bread and several choices in types of cold cuts. There is less choice in types of sweet spreads and fewer ready-made packages (such as World Dishes). More sweets here.
7. Humor – The Germans have a different kind of humour. The sarcastic, dark humor that many Dutch people have does not always go down well in Germany. So be careful before you make a harsh joke.
8. Drinking habits – The Germans like to toast with every alcoholic drink, you have to get used to it. Incidentally, they drink much more in Germany than in the Netherlands. In the Netherlands, every activity starts with a cup of coffee. In Germany there is no coffee, not even during the breaks. If you want it, bring the coffee.
Back to Home
Wolf: "I have many footprints in Holten, I have nothing to do with Germany. When I moved to the Netherlands with Dorien, a whole new world opened up for me. Germany was very conservative at that time." Maria: "Both me and my children have nothing to do with Germany. I was already out of place there because of my directness." Wilhelmien: "I have lived in Vreden in Germany for 15 years because of my sons, but I do not speak the German language. It is sometimes difficult. Fortunately, the Rekkense community is always ready to pick me up, for example to the Eetcaféen. When I recently banned from driving, I am very grateful for that."
The next dinner is in Den Hof on Tuesday 4 October. Entrance from 17.30, meal at 18.00. Application from Alie Sieben, tel. 0545-431656 or e-mail [email protected] There is a waiting list. Those who sign up now will only get an invite if someone drops out, but it's definitely their turn at the next dinner.
By Peter van de Vondervoort