Early birds

NPO 2, 19.44
The name of the nature reserve Plantage Willem III recalls the past, when the relatively warm southern slope of the Utrechtse Heuvelrug was used as a tobacco plantation. The area has been owned by Het Utrechts Landschap since 1995, and this week Early birds there a look. A meltwater valley from the last Ice Age can still be recognized in the sloping nature reserve, now covered in flowers and grasslands where Galloway cattle, Konik horses and fallow deer graze. Birdwatchers can keep an eye out for the mockingbird, the stone snake and the red-backed toad.
Drum

Canvas, 8.40 p.m
The journalist Hannis Martinsson receives a mysterious message from a young woman who claims to be his daughter Sonja and fears for her life. When Martinsson travels to the Faroe Islands, the archipelago where he grew up, she turns out to have disappeared. He starts an investigation and stumbles upon a web of secrets in the gated community. The six-part miniseries Drum is based on the crime novels by Jógvan Isaksen and can be seen in double episodes on Canvas from tonight. Lead actor Ulrich Thomsen broke through internationally with the film The party.
Robbie Williams: Real Stories

BBC 2, 9.45pm
Joined by BBC presenter Dermot O'Leary, Robbie Williams dives into the archive of footage of his performances from the past thirty years. Williams was 16 when he joined the wildly popular boy band Take That. The singer made himself impossible due to his drug use and perverted behavior and left the band in 1995 to focus on a solo career which would prove to be very successful. IN Robbie Williams: Real Stories he talks about the break-up of Take That, his solo performance at Glastonbury and the Take That reunion tour.
the seat

NPO 3, 22.10
(Drama, Saskia Diesing, 2019) Thriller writer Amanda Richter (Kim van Kooten) files a complaint against the man who allegedly raped her 25 years ago: politician Fabian Ploch (Jacob Derwig), who recently won the election. Made for TV, this powerful and superbly acted courtroom drama addresses issues that have surfaced in similar cases since #MeToo. Media attention for the course of such a case, e.g. Or the strategic considerations of accused men. Director Diesing and screenwriter-actor Lykele Muus placed the sympathy a little more with Richter than with Ploch, without providing for easy conclusions.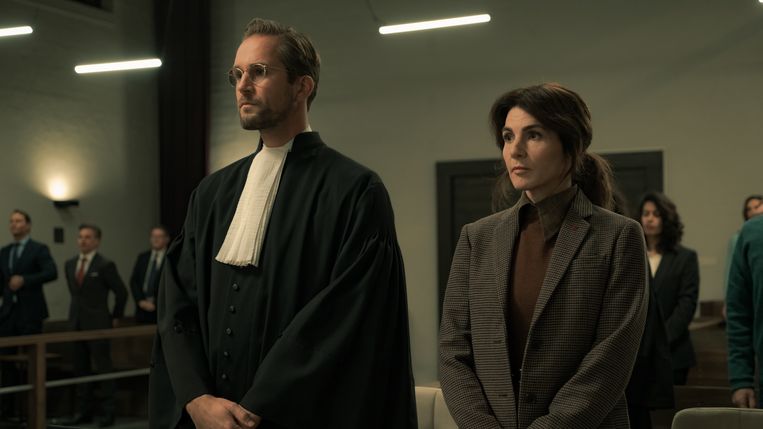 media storm

NPO 2, 22.10
Imaging and journalism are central media storm, the broadcaster Humans magazine, which can be seen every Saturday from today. Roos Abelman presents the first five episodes, after which colleague Tim de Wit takes over. Zooming into the coming weeks media storm together with special guests about, among other things, the image of the various current domestic crises. The program also considers TikTok's impact on our democracy, Sywert van Lienden's mask riots, #MeToo and the flow of fake news and disinformation.
Neruda

Canvas, 11 p.m.
(Drama, Pablo Larraín, 2016) The great Chilean director Pablo Larraín (none, Jackie, Spencer) made a beautiful, anything but unambiguous biographical film about his countryman, the poet-politician Pablo Neruda (1904-1973). As in his previous work, Larraín is not primarily interested in the facts, but in the myth-building around his protagonist. The main actor Luis Gnecco plays Neruda delicately and enigmatically: we never really get to know the author. The engine below Neruda is the fictional and slightly surreal detective Óscar Peluchonneau (Gael García Bernal). He is the man chasing Neruda, which ends in a beautifully filmed, Western-like apotheosis in the snow, where fact and fiction completely merge.
hearts Lady

NPO 3, 23.38
(Drama, May el-Toukhy, 2019) Anne (major role by Trine Dyrholm) has a lovely husband, lovely twin daughters, a perfect home and a good job as a lawyer specializing in helping rape victims. Director May El-Toukhy puts a soft fog over it, to visually emphasize once again how enviable, fairy tale-like Anne's life is. But then Gustav (Gustav Lindh), Anne's husband's troublesome teenage son, enters the house, and everything starts to falter for Anne. A film that dares to step into a morally murky swamp with both feet.