Shutterstock
News

Agrifood Monitor 2022
Today at 1:30 p.m – Linda van Eekeres
Many Dutch people, especially those living in rural areas, find it important to be less dependent on other countries for food. They also want the Netherlands to produce more food.
This is according to Agrifoodmonitor 2022, a study by Wageningen University & Research, which was presented today (Friday 7 October) at the opening of the Dutch Food Week in 's-Hertogenbosch. The respondents do not expect it to be easy to achieve. They also indicate that they are prepared, if necessary, to adapt their diet for greater food security.
In general, the Dutch are still positive about the agri-food sector. They value the sector more than, for example, the clothing or pharmaceutical industry or energy companies. But the social appreciation of most agricultural and food sectors is no longer increasing (which has been the case since 2018), and the appreciation of supermarkets has fallen. The involvement and how much a sector means to someone is the most important factor that translates into social appreciation. The sector's reputation is also an important factor, although it appears to be becoming less important in consumer judgement. This is followed by trust in food safety and trust in cooperation.
Consumers are most positive towards horticulture and arable farming and least positive towards pig farming and poultry farming. As a sector, fishing was included in the study for the first time. The appreciation of this is somewhere in the middle, like dairy farming, supermarkets and the food industry. This has also been the case in recent years.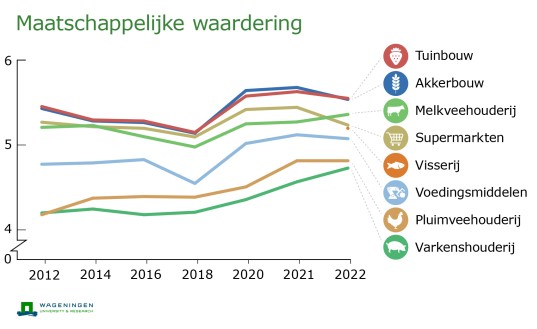 Sustainability and animal proteins
Consumers consider taste, freshness, safety, reliability, affordability and health important when it comes to food. Sustainability values ​​(environment, climate and animal friendliness) score in the middle. The Dutch assess that the efforts made by agriculture, horticulture, supermarkets and the food industry for sustainability are lower than during the previous measurement point in 2020. The consumer image remains positive for all sectors.
The Dutch most often eat bread, vegetables, fruit and dairy products and eat meat (beef, pork or chicken) more often than fish. Animal proteins dominate. Consumers say they want to replace dairy, meat and eggs with plant-based alternatives, but they often don't. Agrifood Monitor shows that the reason for this is that consumers lack the knowledge and skills to put plant-based alternatives on the menu. According to the researchers, they also experience little social pressure to eat plant-based alternatives.
Few effects of farmers' protests
The survey also asked about the impact of current events. The war in Ukraine has had no impact on the image of the Dutch agri-food sector. Farmer protests have a small impact on social appreciation (both negative and positive).
Have a tip, suggestion or comment on this article? Let us know
farmersbusiness.nl
Linda van Eekeres
Linda van Eekeres is co-writing editor-in-chief. She mainly focuses on macroeconomic developments and the impact of politics on the agricultural sector.