"There is increasing lobbying in Europe to lower the current target of 50 percent less food waste by 2030," notes Toine Timmermans. He is the director of the foundation Samen Tegen Eten Wastage, a movement of companies and public organizations whose purpose is clear from the name.
"The agricultural lobby would prefer that this sector not participate in the goal of halving waste. We think it's ridiculous. They are an essential part of the solution. The EU and most member states have joined the UN's SDG goals (Sustainable Development Goal, ed.), and they should become binding for everyone, from farm to table."
It is not only the organizations and companies within the fund against food waste who are of that opinion; in response to a recently published report by Feedback EU, dozens of organizations from twenty European countries are now calling for this.
More waste than expected

The non-profit organization Feedback EU estimates that the EU wastes around twice as much food as previously thought, at more than 153 million tonnes. The organization has calculated this on the basis of figures published earlier this year on food waste in agriculture.
To make it clear what order of magnitude we are talking about here, the report compares this figure with the figure for the EU's annual imports of agricultural products. It turns out that we waste more than 15 million tons more than we import. Food waste costs the EU around €143 billion a year and is responsible for at least 6 percent of European greenhouse gas emissions. Reasons enough to tackle the problem structurally.
It starts on the farm

Sanne Stroosnijder, program manager for food waste prevention at Wageningen University & Research, points out that it is not a new problem. "A study published by the World Wildlife Fund last year already showed that a large part of the waste takes place on the farm."
Why is this waste not or only partially taken into account now? Stroosnijder can come up with different explanations for this. "In order to formulate a binding objective, you must first know how big the problem is. What is left on the ground after harvest is usually not measured and monitored.
"And then there is the question of what exactly is waste: Is there waste left on the land waste? Or is it food for the earth? These kinds of considerations differ from product to cultivation method, so whether something is grown in the greenhouse or in the open field." There are also 'certain interests', the researcher acknowledges. "There is a strong agricultural lobby that prefers to stay out of the picture."
Binding goals

Director Timmermans calls the report 'well-timed', now that both the EU and the UK are looking at whether the SDG target for 2030 remains intact and whether this percentage should be binding. The Netherlands recently officially approved a binding target of 50 percent less food waste for the entire chain, as one of the last achievements of the then Minister of Agriculture Henk Staghouwer. Timmermans: "Our approach now is mainly to seek cooperation with other European countries, which will also continue to advocate an ambitious approach."
Supporting an ambitious goal is one thing, putting it into practice is another story. A quarter of all food in the Netherlands is currently wasted. Nevertheless, Stroosnijder calls our country 'the champion of fighting food waste'. But, she adds, "the main focus is on waste from supermarkets and consumers. We need to look more broadly at how we can fight waste throughout the chain. From farm to mouth, because there is still much to improve here. Fortunately, Feedback EU also draws attention to this with this report."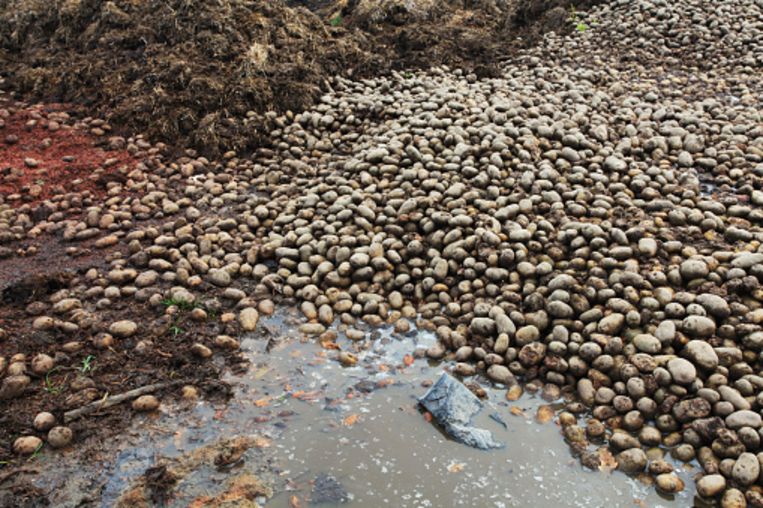 Timmermans also sees that a broader view is necessary. "The frontline farmers and extensive farmers are already working hard to put circular (or circular) agriculture into practice," he says. "But let's not point fingers: A farmer or grower does not deliberately waste. If some of your cauliflowers are yellow due to some disease, these cabbages are not fit for the market. If they stay on the ground, it is therefore not actually food waste. Although it is now taken into account in the Feedback EU report."
Market conditions

Market conditions can also lead to waste, Timmermans emphasizes. Sometimes on a large scale. "In the first corona year, farmers were left with one million tonnes of potato chips. The Netherlands is one of the largest exporters of french fries in the world. Everywhere the restaurants closed and it was not worth putting them on the market."
One million tonnes sounds more serious than it is seen in the light of the market as a whole, he puts it into perspective. "If you realize that 40 million tonnes of biomass and residual streams are produced and traded in our country every year, then one million tonnes is not so bad. But it sure is a big mountain. And a big loop to have to make feed for cattle out of it. It could have been better."
Both believe that the necessary improvement can be achieved not only in supermarkets and consumers, but also in the 'chain cooperation as a whole'. Producers and supermarkets, for example, should be able to enter into agreements more often in the event of a disappointing harvest, Timmermans believes.
"Suppose your apples are smaller than usual due to drought. Then try to see what is possible together with supermarkets. Maybe they can turn it into a special campaign: 'Small but nice'. The tendency is sometimes a little quick to make animal feed from foods that do not meet the high demands of the retailer and the consumer. Shame. Fortunately, there is gradually more attention to this, and a will from both sides."
"Many processes are under pressure," says Stroosnijder. "Robbery tanks work overtime, often also with residual flows that could be used in a higher quality, for example in animal feed. It could be much higher quality." But, she warns, "with stricter agreements, you also have to look for possible unintended side effects. A classic example of this is bycatch regulations. In practice, it turns out to be difficult to keep an eye on what part of the edible fish is thrown overboard , alive or dead. You have to prevent those kinds of effects from new policies and binding targets."
Also read:

We still throw away kilos of food, this is how you prevent it

Stale bread, leftover pasta, half a pepper; at least 10 percent of the food we buy ends up in the trash. During the Waste Free Week there are enough tips to change that.