Last summer I rode the new Stages Dash M200 on my handlebars. This new computer was launched in April alongside its larger counterpart, the Stages Dash L200. The American company, which most cyclists probably know from Powermeters, has updated their cycling computers. And it goes beyond just a nice new look for the Dash M200.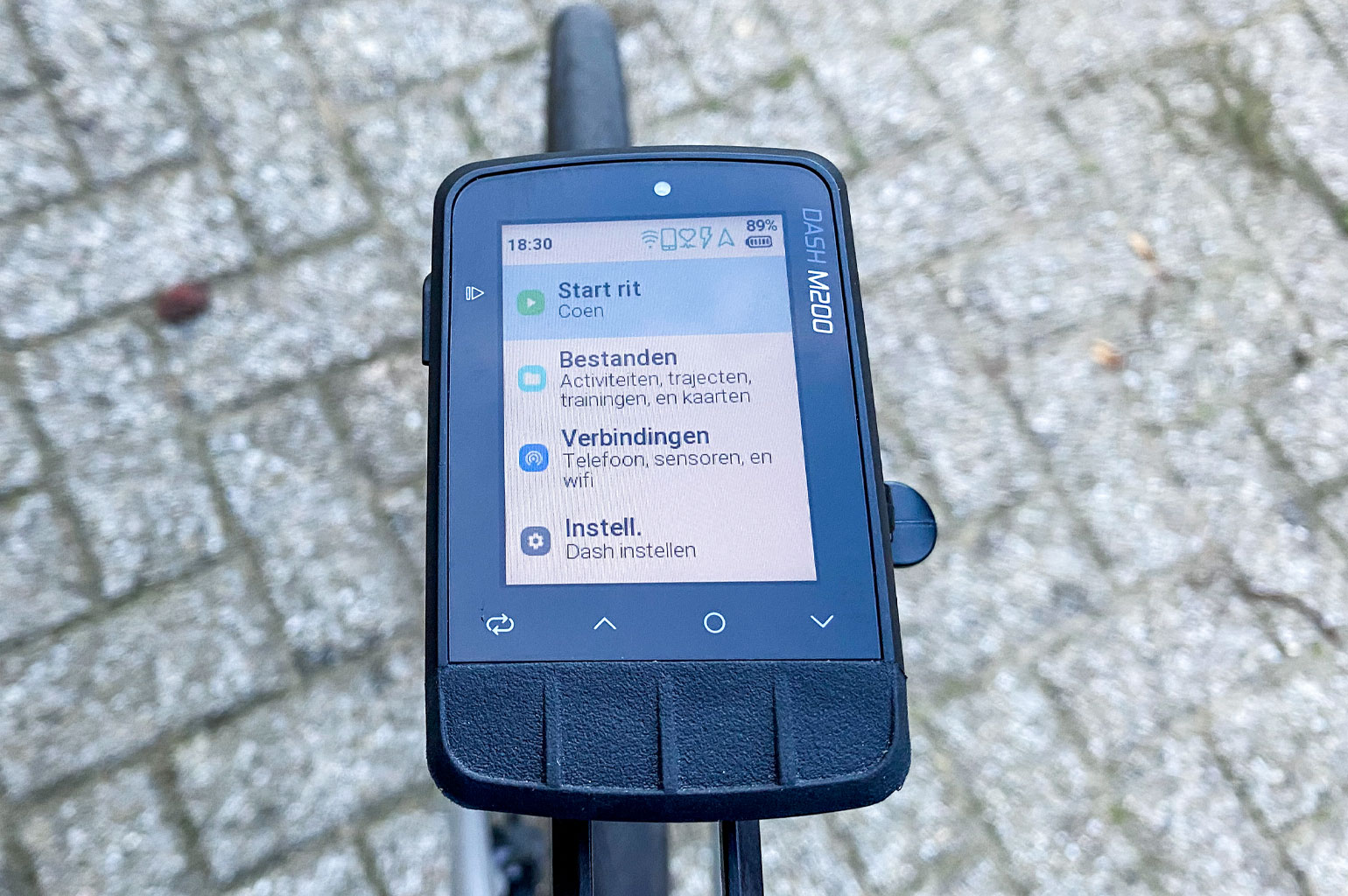 Dash M200 cycling computer
The first thing I notice is that the Stages Dash is placed in the holder by turning it a quarter turn. For me it is a big improvement because it can now also be used with out-front mounts from other brands. The earlier computers had their own unique holder, which made the options quite limited. The box contains a Stages out-front mount for a round handlebar and a wire as an extra security around your handlebar.
What they have cleverly done at Stages is that their own out-front mount is adjustable, so they only need one mount to fit both the Dash M200 and the larger L200. You can push the adapter forward or closer to your handlebars. In addition, you can also turn this adapter a quarter of a turn when you want to use the computer in landscape mode. You also get an 'anywhere mount', which you can mount on e.g. your stem or handlebars with a rubber band. My bike has an aerodynamic cockpit already fitted to a specific front mount and this Dash now fits that too.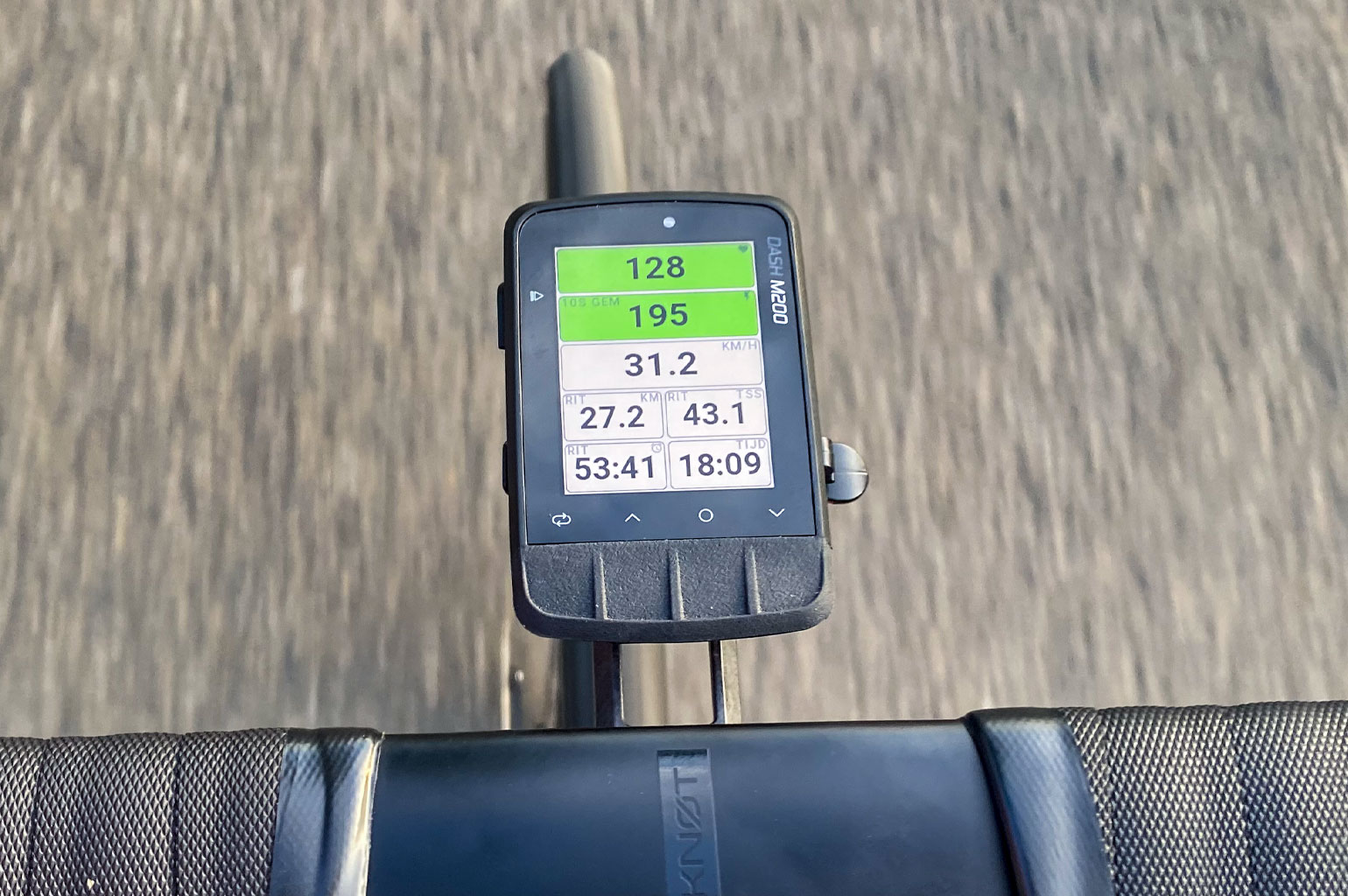 Color screen
In the launch article, I already wrote about the details of the Stages Dash M200, such as the color screen, the battery and the new control buttons. Setup and communication with Dash is done via the Stages Cycling app. It is also possible on the Dash itself, but an app works easier and, above all, faster. You can easily enter codes and names via the app using the keyboard on your mobile. Doing this through the Dash itself will require you to scroll through the alphabet letter by letter and confirm.
First of all, I connect WiFi so that the download of the free map material is faster. This takes some time because you can only select one country at a time. Now I may be a bit stubborn, because I want all the maps of the countries where I might be cycling immediately. Now Holland, Belgium and Germany make sense to me, but I also find France, Italy, Switzerland and Austria useful to have.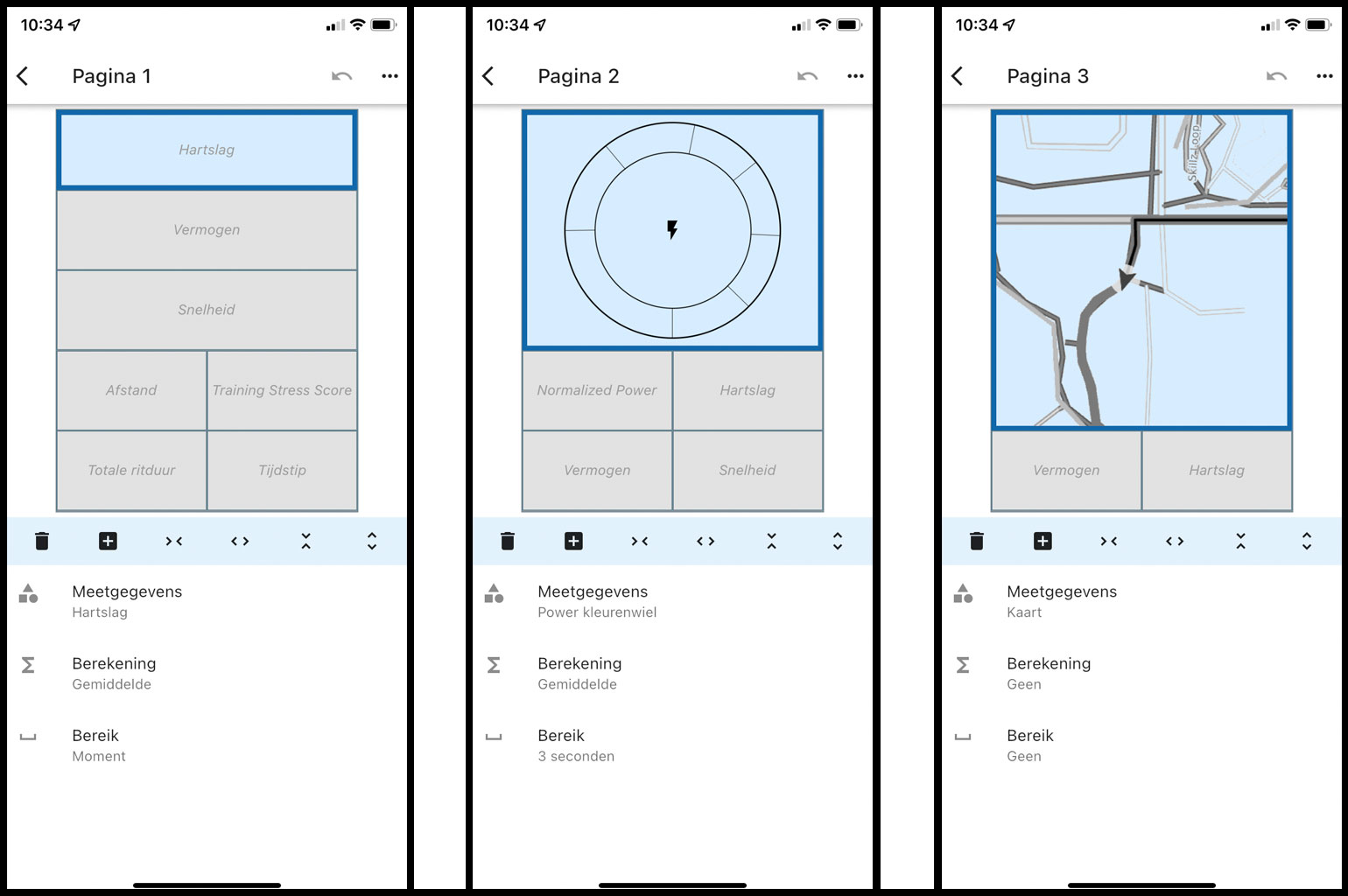 The app includes two profiles by default with different screen layouts. Through this menu you can easily create a new profile or change the existing profile. With the layout of the screens, you have a lot of options, where you can not only see numbers but also visualizations of, for example, power and heart rate.
In combination with the bright color screen, you can see very quickly and clearly which zone you are driving in, if you have set your zones of course. On my 'home screen' I can see at a glance how high my heart rate is and how hard I am pedaling. The box with this information is colored with the corresponding zone.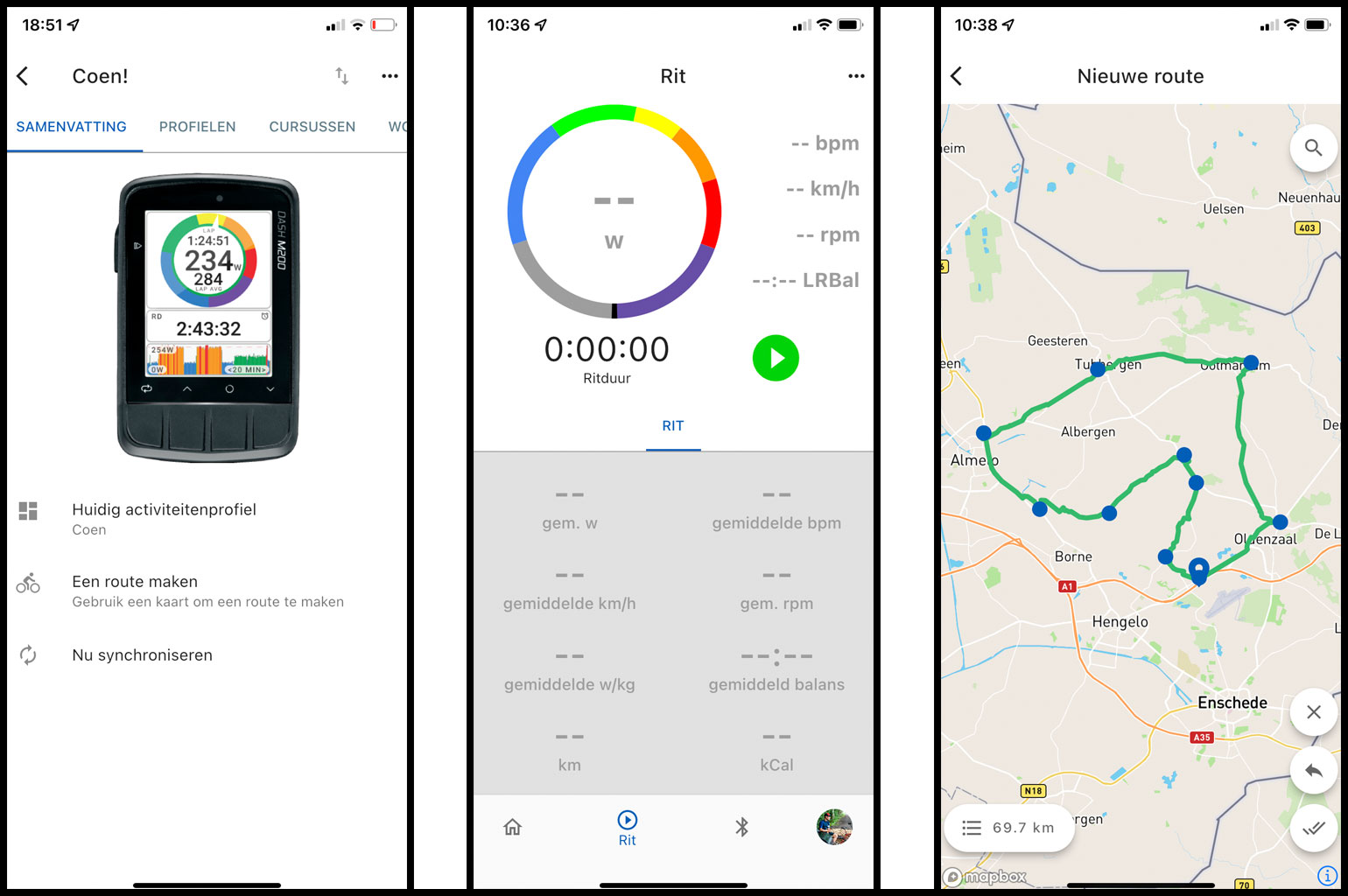 Stages Cycling app
I already mentioned that you can configure the Dash through the app. There you can also connect to various software that you use, such as Komoot or Strava. Once you've made this connection, you'll see the data in the Stages Cycling app after syncing. For example, if you've created a route with Strava or Komoot, you can send it to Dash via the Stages Cycling app and ride it. The app also includes a route planner that you can send to your Dash immediately after planning. On Dash, I had to search for a while the first time, because the Dutch translation for routes doesn't quite make sense to me.
Synchronized routes can be found under the heading 'Courses'. From the English courses, this is not a crazy translation, but not as I use it myself. In the app, you can see all the routes that you have in your Komoot or Strava account and you can forward them to Dash. You can tell if a route is on the Dash when the Dash icon is colored. In addition, you can also see how long this route is and what the number of altimeters is.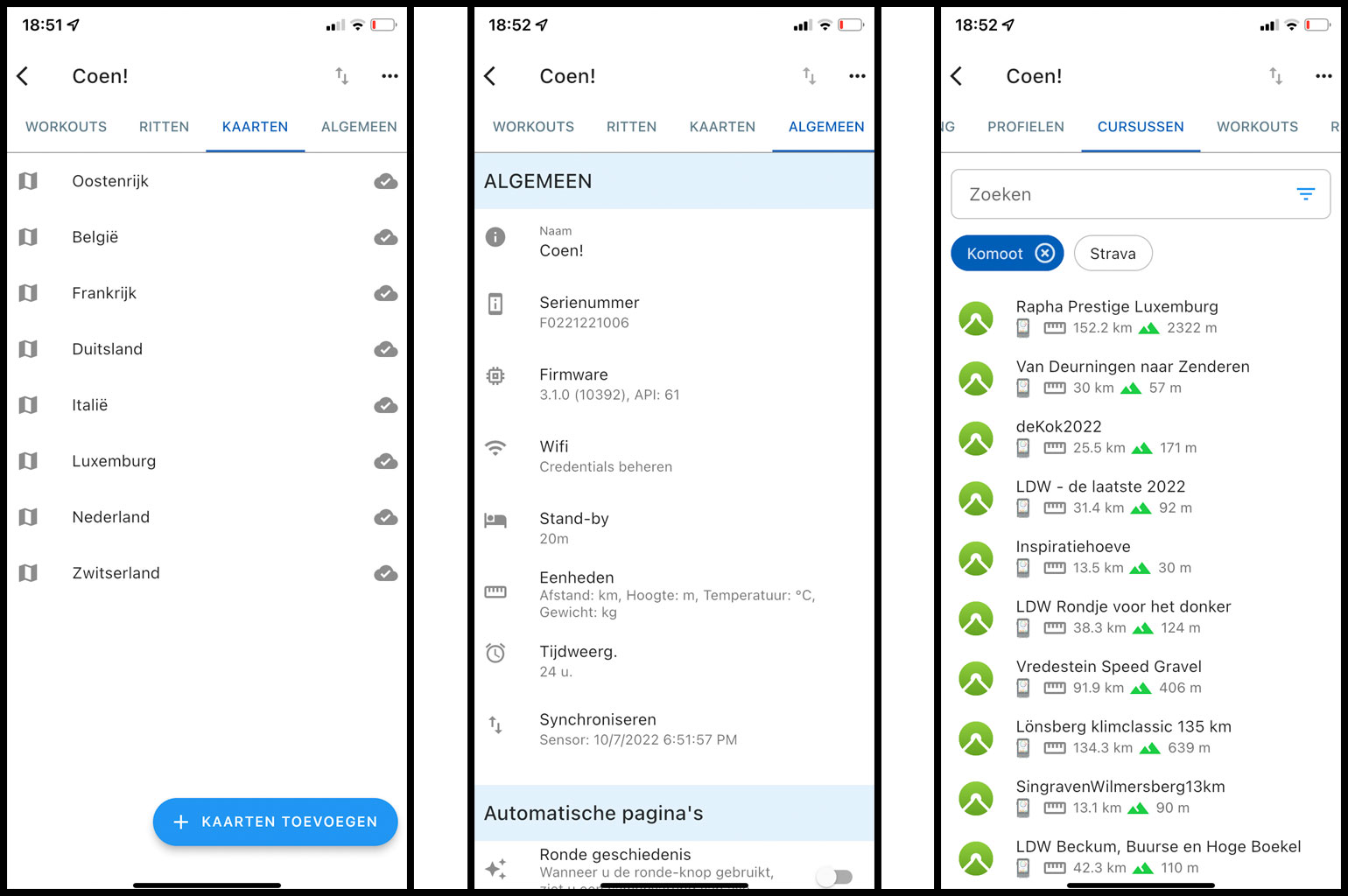 Color data fields
If you work with training software such as TrainingPeaks or Today's Plan, you can load ready-made training sessions onto Dash via the app. This is then displayed on your Dash, where you can even have an automatic profile created with the most important training data such as power, heart rate and time. Just like the visualization of, for example, your heart rate or power with the color wheel, a pre-planned workout is also clearly displayed. If you want to do a block workout, it will be displayed on the Dash including the colors corresponding to the zones. This looks nice, but also makes it very clear and you can also immediately see when it really starts to hurt during training.
The use of a cycling computer is very personal. One person will only see a route along the way and cycle by feel, while another really sees it as a training partner. In that respect, Dash is a computer that you can really use in any direction, because the settings of the different data fields, workouts and routes are very spacious. Personally, I primarily use a bike computer for navigation and I also primarily want to see power and heart rate data, and that's how I've been using the computer for the last few months.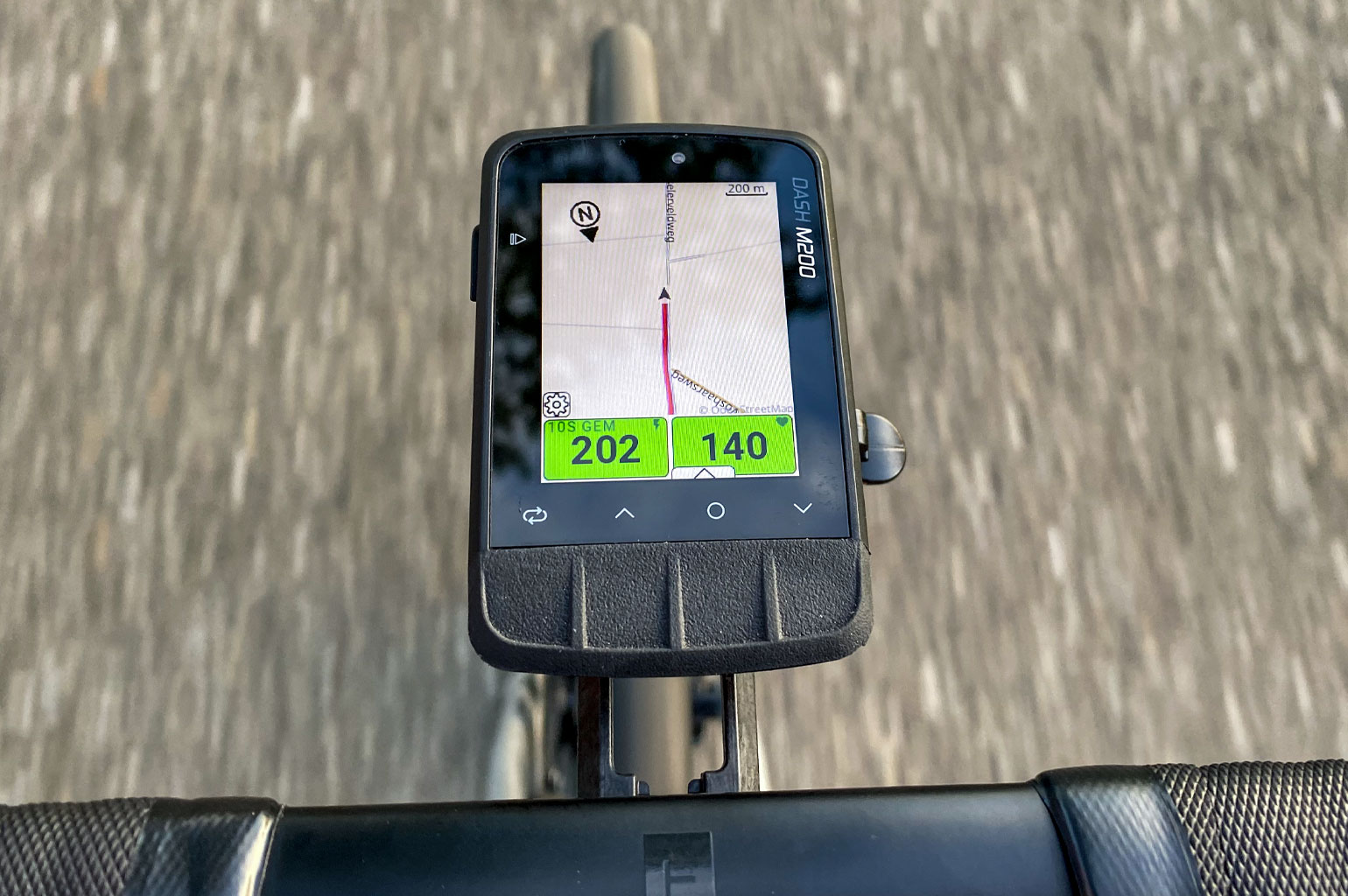 First impression Stages Dash M200
When I took the Stages Dash M200 out of the box, I was already excited about the looks. It looks delicious and the color screen plays a big part in it too. Very smart from Stages to switch to the most used system for mounting the computer in the holder. Now it can also be used together with, for example, HideMyBell, and I can easily put it on all my bikes. At the top of the screen you can see which sensors are connected and if you are connected to the satellites. The first time it takes a little longer for it to have a GPS connection, and if the satellite icon is green, you're good to go.
The display is very clear and bright. The screen automatically adjusts when it gets dark, so you can read everything well in the forest. The color screen has a positive effect on the appearance, and in combination with the visuals, it also reads well. I think it's cool to see something other than just numbers on your screen.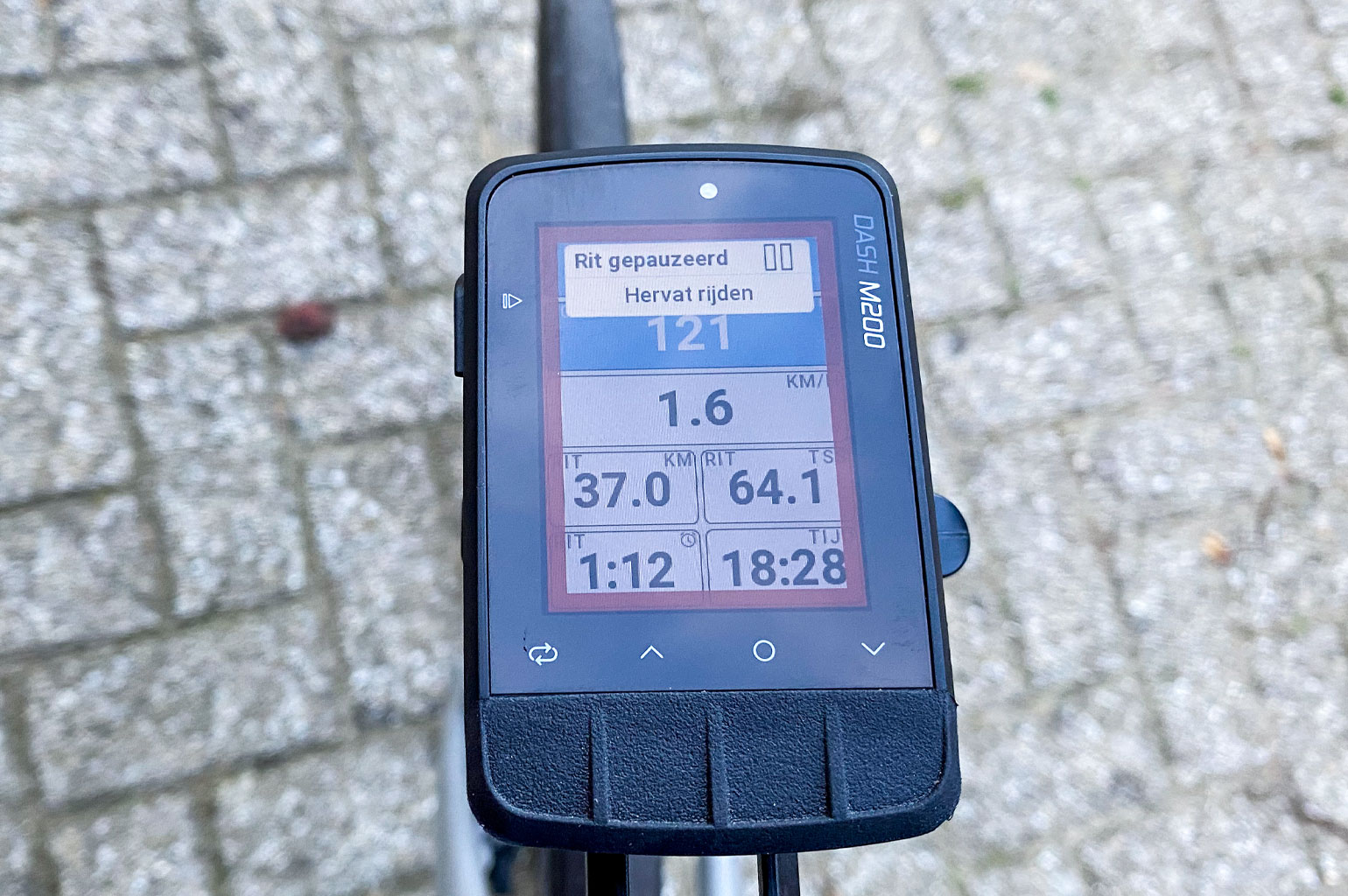 It is easy to choose a route via the app and if you have also connected Dash with WiFi, forwarding is easy and fast. The same applies to uploading the trip when you get home. If you've only paired the Dash and your phone via Bluetooth, it sometimes takes a long time, and it doesn't always automatically forward the ride to Strava or Trainingpeaks. You can manually forward it to these platforms. In combination with WiFi this works fine and uploads automatically. In addition, you can always connect the computer to your computer or laptop with the included USB cable to upload it this way.
When I navigate with Dash, I have a map in view with my power and heart rate data below it. Personally, it's the screen I use the most, and I have the data I care about on one screen. The navigation is nice and clear with a thick blue line and arrows indicating the direction. The part of the route you have already driven will turn red. You can choose to have waypoint messages on your screen with a pop-up for, for example, the next turn.
If you go into a wooded area, you'll notice that Dash sometimes has trouble receiving the satellites, making it less accurate. Dash will notify you that you are off route. The route remains visible in the form of the blue line, but without arrows. When the reception of the satellites is good again, the arrows on your picture will also become visible again and he will resume navigation. If you accidentally make a mistake yourself, you will also get a message and you can cycle again in the direction of the blue line on your screen to continue the correct route.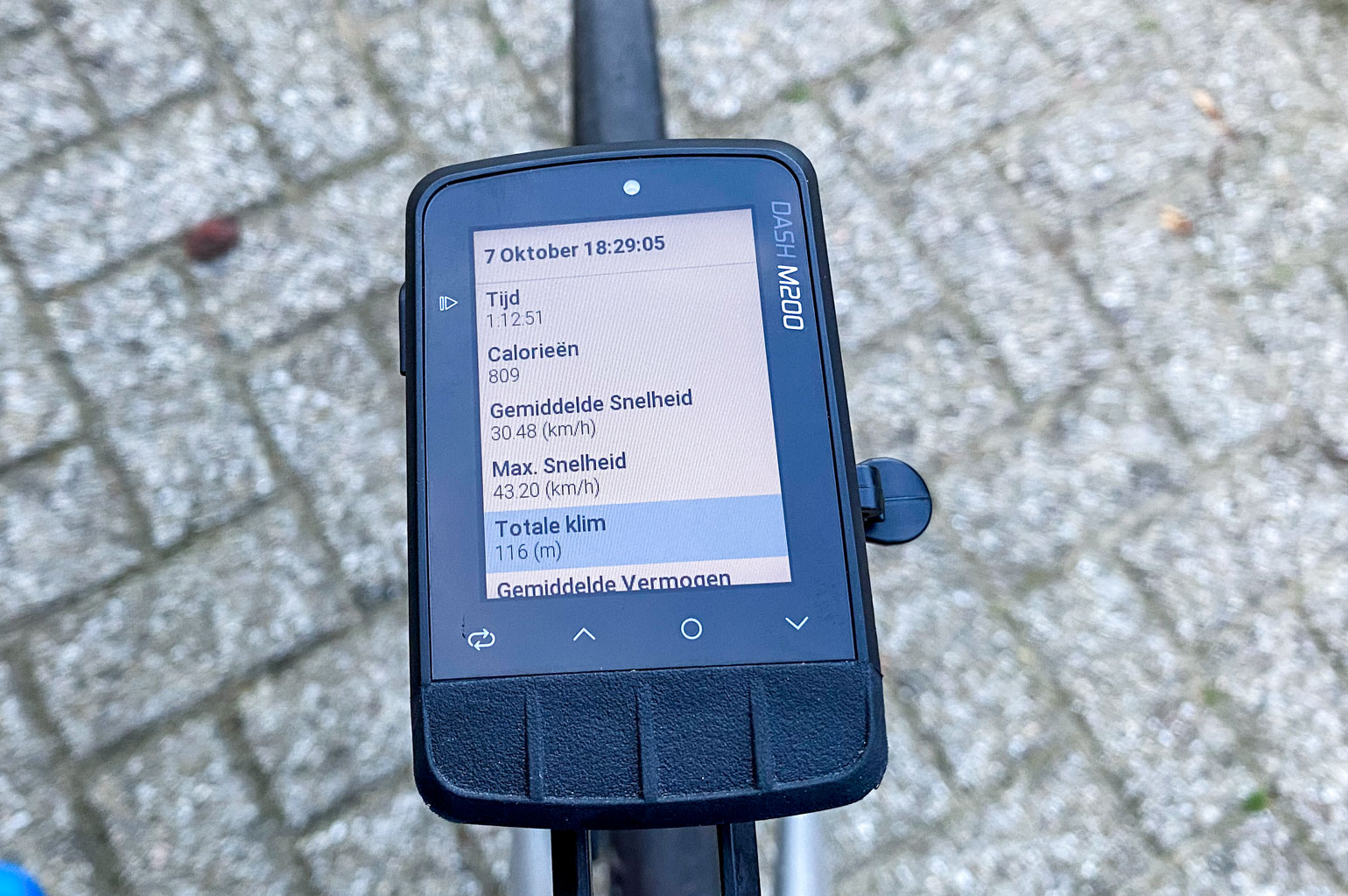 Conclusion
The €279 price of this computer is comparable to its competitors. The ease of use of Dash is simple and certainly with the app it is easy to set up if connected to WiFi. As a cycling computer for training and tracking your ride, it is ideal and nice and clear. There is still room for improvement in terms of the Bluetooth connection and GPS reception, but in terms of appearance, ease of use and the slim color screen, it can already compete with other cycling computers.
Via internships