Farmers can again take action against the government's nitrogen plans on Tuesday. This was announced by Bart Kemp, head of the farmers' action group Agractie Nederland, on Monday. He stated that the actions are not organized by Agractie.
It is unclear where protesting farmers may appear. Rijkswaterstaat advises road users to pay extra attention, to keep a sufficient distance and to take speed differences into account.
Decentralized actions
Yesterday, things went wild again throughout the country due to protest actions by farmers. On several motorways, such as the A67, A28 and A2, tractors stood still or deliberately drove very slowly. Ministers Christianne van der Wal (Nature and Nitrogen) and Henk Staghouwer (Agriculture) have condemned the farmers' actions. They called them 'not appropriate' and urged the protesting farmers: 'Please stay within the law.' That didn't stop them from also settling in front of Van der Wal's house, as angry farmers reported there last week. Besides, she wasn't at home.
Contrary to the large protest in Strø, there was no clear initiator behind yesterday's blockades. The farmers organize the actions in small groups and must themselves assess which actions are appropriate. LTO Nederland reiterated on Monday that farmers must act 'with dignity'. "We are not involved in these wild actions," said chairman Sjaak van der Tak.
'Violent'
Farmers adhered to this to a greater or lesser extent. Near Hoogeveen, there were about seventy tractors on the highway after they passed a police roadblock via the slope. A farmer speaking on behalf of the group said some of the group had been "behaving unruly" by blocking traffic. Despite the division within the group, he was satisfied with the action: "We could show ourselves as farmers." In Apeldoorn it was even more rowdy: shit was thrown in front of the town hall. In the town hall in Raalte there was a meeting with the mayor and councillor. In the evening there was another 'surprise campaign' in the media park in Hilversum. It is not clear exactly why they were protesting there – ultimately NOS is not responsible for nitrogen policy – but the farmers' rant made it to live broadcast by NPO Radio 5.




Do not let peaceful action escalate into a peasant revolt

Bart Kemp, foreman Aggractie Nederland
Thus ended the day, which the farmers' action group Agractie Nederland had started with a 'last appeal' to Minister Van der Wal (Nature and Nitrogen) not to go through with his plans. "Do not continue on the chosen path. Don't let peaceful action escalate into a farmers' revolt," said foreman Bart Kemp in a vlog. "Know that farmers will fight for their future. How long and how far they will fight is up to them."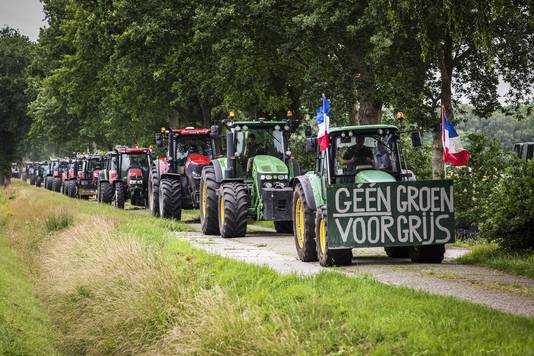 During the demonstration in Stroe, Kemp, a sheep farmer by profession, said that Holland is 'at war with the peasant republic'. For the sake of clarity, he added that the peasants must wage their struggle without weapons. "We understand that farmers feel unheard, and we understand the feelings. Stroe sent a strong signal, but I am concerned that the ministry is closing the doors to hearings.'
'Throw the book in'




Politics must be off the table. Normal actions seem to have no effect

Mark van den Oever, foreman Farmers Defense Force
Mark van den Oever, foreman of the Farmers Defense Force, does not want to bear responsibility for the protests. But according to him, there is a great will among his supporters 'to throw in the towel'. "The minister has angered many farmers. We'll have to see what happens, but I won't be responsible for that." He had a message for the farmers: "You know what to do."
He himself stood with his tractor on the A59 near Oss, and later went to the provincial house in Den Bosch, where police and riot police were present. "Politics must be off the table. Normal actions apparently have no influence,' says Van den Oever, who referred to the demonstration in Stroe. The House of Representatives last week approved the government's nitrogen plans.
Spare the citizens as much as possible
Van den Oever called for citizens to be spared as much as possible. Many Dutch people still understand the farmers' protests, according to a survey commissioned by Panel Inzicht Ordinary newspaper. More than 80 percent of the 1,000 respondents thought that it was fine that the actions were held, although half believed that it should be done according to the rules.
There were traffic jams all over the country. For example at Best, where around forty tractors drove on the road. At Assen (A28) there were even 60 tractors that drove around the police via roadsides. Hay bales were thrown onto the road on the A67 near Liessel and between Groningen and Heerenveen (A7), and there was also 'something on the road' at Boerakker and Leek, according to Rijkswaterstaat. In the late afternoon, there was another series of actions, including between Arnhem and Utrecht on the A12 and at the Zwolle-Zuid exit, and there was also a delay between Groningen and Heerenveen (A7) due to the actions.
File costs 200 euros per hour per lorry
Protests were not only held on highways, but also at various town halls. In Raalte, Apeldoorn, Epe and Rijssen, among others, farmers gathered to demonstrate against the nitrogen plans. Bales of hay and pallets are set on fire.
It is up to the police, said spokesman for the Minister of Justice Dilan Yesilgöz, and not to the national government. As far as she is concerned, farmers who break the law, for example by taking tractors onto the highway, do not get away easily. They get as many fines as possible afterwards, Yesilgöz said last week.
Transport en Logistiek Nederland (TLN) finds it unacceptable that highways are blocked during demonstrations and calls on farmers to stop as soon as possible. "It cannot be intended that actions endanger others or make work impossible," the transport organization says. A traffic jam costs about 200 euros per hour per truck, calculated economist Henry Steenbergen from Rabobank.
Watch our videos about the farmers' protests below:
Free unlimited access to Showbytes? There can!
Log in or create an account and don't miss any of the stars.

Yes, I want free unlimited access