Petra, can you briefly introduce yourself?
Petra Mulder is the name, 30 years old and born and raised in beautiful Bedum. I have two older and one younger sister. Two of my sisters live in Bedum, as do my parents, so I drop by here regularly. I have lived in Groningen for about four years now. I just moved again and now I even live next door to my sister. There is nothing wrong with that, because I am a real family person.
I think the communication and journalistic skills were there early on?
Especially the technical skills. After HAVO, I followed a course in communication systems at the Hanze University of Applied Sciences in Groningen and successfully completed it. Here I learned to build websites, make videos, but I also followed design and communication courses. This education was just new when I started it in 2008.
The tip for this came from my father, who in any case advised all his daughters to learn how to use computers at a young age. I took that advice quite literally because I spent many hours at home taking and editing all kinds of photos and videos. When I was working on the degree, I quickly realized that I wanted to work for a media outlet.
And then you were able to work as an intern at RTV Noord in 2013?
Yes, but also in 2011. Actually, I really wanted to work at Nickelodeon in Amsterdam to make children's programs. I made it through to the final five but just didn't make it. Parallel to this story, Plan B had already been implemented because I also had talks with RTV Noord. And finally I was able to work here as an intern. Maybe a good thing, because otherwise I probably wouldn't be working here right now.
I joined the new media department in 2011, as a shy 19-year-old girl, and at the time I was involved in creating social media. Something that was still in its infancy back then. Rens van Stralen was my internship supervisor and he ensured that I could return to Noord after my education. I was allowed to see all departments and after six months became AV editor. Which meant that I placed online videos that came in from various places with an accompanying text.
Your 'television breakthrough' followed a year later on Ekspedition Grunnen?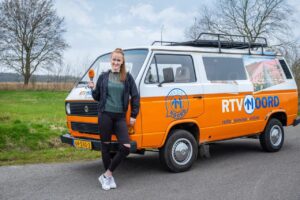 It's not quite right, because that's what I started at the beginning of 2017. I previously made my TV debut for the Easter program 'Eitje, eitje', which I was also responsible for the production of. The night before the broadcast, we hid twelve eggs throughout the province, and from the studio we followed the people diving into all kinds of bushes to get the eggs to the surface.
In fact, it is quite natural at Noord that you also tell something about the day in the broadcast that made me appear on the TV screen. And it was quite a self-conquest for this shy girl at the time. I think it was in 2014, and I look back with pride on this broadcast, which I prepared entirely myself. This was followed by the Expedition Grunnen broadcasts.
What exactly is your role in that program?
At first I only helped to edit the program, but pretty quickly I was asked if I also wanted to join the bus. I thought it was a very nice program and I thought, 'I'll go on the road and we'll see'. At the beginning of 2017, I started as an onliner at the same time as presenter Ronald Niemeijer. A busy but also very varied job. I post all kinds of things on Facebook, Insta and on the website, I go inside with the people, but I also handle all the messages and questions that come in through the various channels.
For this program there are always three of us on the go. But what people may not know is that I also regularly do the editing. For this, I look at all the pictures and topics that come in and make a program of more than 20 minutes, from which I have to make the choice, which topics are funniest and most interesting to send.
I am also helped by the presenter on duty, with whom I regularly consult. Both during the day itself and sometimes for evaluation the following day. Fortunately, we are always on the same page. I am perhaps most proud of this behind-the-scenes role.
Since when have you been a sidekick at Noord Today and how do you like it?
That role came about more or less by accident, because no one from the permanent core was available for a particular broadcast. I got a text asking if I'd like to fill this role two days later and I thought, 'Surely it needs to be discussed and approved with management first?!' But of course it had already happened. A day later I went behind the scenes to see what was expected of me and a day later it was my turn.
Have you been nervous before your first TV appearances?
Before that broadcast, I was nervous because I was more or less thrown to the lions. But luckily I only knew in advance that this was coming, so there wasn't really much time to think about it. Luckily I got a lot of compliments afterwards because I didn't feel too good about it myself.
In fact, I never have the feeling that something went well or without problems. But it was something I would never have dared to do before. In August I can do the presentation of Ekspedition Grunnen again, and after not doing this for a few months I find it scary again.
Are you regularly recognized on the street?
You could experience that for yourself before we entered the Hotel 't Gemeentehuis in Bedum, haha. When I was queuing for an attraction in Disneyland last week during my holiday, I heard people saying to each other: 'Look, she's from RTV Noord'. I'm too shy to look back right away. But I notice in all the reactions how popular and well-known Ekspedition Grunnen is, because that is what it is about in most cases, despite my activities as a sidekick at Noord Today and my presence in radio broadcasts that can also be followed on television.
Fortunately, it is not so bad with the strange reactions on the street. However, I regularly receive special reactions via social media or unusual calls during a broadcast. It's the flip side of being famous, but apparently something that comes with it.
Are you also very active in dance and drama?
It has been there from an early age. I am a fan of musicals because I love the combination of dancing, acting and singing. I always thought I couldn't sing, but when I auditioned for musical theater Goov in 2016, I was surprised to learn that I had a talent for it. I dance at a dance school in Groningen and I give music lessons at various primary schools.
I used to have my own dance group here in Bedum, but unfortunately it has come to an end due to corona. I also like writing, especially writing exciting youth stories. I even wrote a children's book a few years ago. For example, I would also like to become a screenwriter and take a course for this. But finding the time for this is not easy because of all my hobbies.
What are the highs and lows of your RTV Noord career so far?
I started in Noord with two positions and more and more things were added. In its heyday there were even ten, now there are only seven. I like to do many things and at Noord I get the chance to learn new things. That's what I like about this employer. But perhaps the production of the Winterberg Expedition is my greatest highlight. I was able to figure out this production all by myself beforehand.
As a low point, I mention the aforementioned Rens van Stralen's death two years ago. He was my internship supervisor twice and gave me the opportunity and confidence to further develop myself and learn many different things. So he was my mentor but also a kind of father figure and is not only missed by me a lot.
Do you have any special work anecdotes?
I have a story about an item that didn't make it to the air. Ronald once made a post about a couple traveling together. I had already edited the video when the phone rang. 'If this post goes out I can file for my divorce!'. So the best man turned out to be out with his mistress, who might not even know he was married. This meant that we had to quickly shoot another film.
Has the city of Groningen become 'the place to be' for you?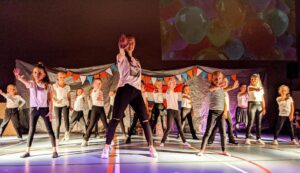 Living in Groningen is much more convenient for me in terms of work and hobbies. But I still have more with Bedum and do not rule out that I will return to stay here later. My roots are in Bedum and I have built up good memories there.
Where will Petra Mulder be in 10 years?
I think this might be the hardest question. At Noord, they sometimes tell me to make concrete choices, but I enjoy doing so many things. I don't really see myself as a reporter or presenter, while many think that is exactly why I work in Noord. But I'm much more proud of the work I do behind the scenes.
In addition, I am currently working on starting my own company, where I use a photo shop to edit pictures that parents have taken of their children's offspring. This leads to special and unique images. For example, of a child standing on a large book table with a glowing book. I can use a lot of my creativity in this. I am already in the process of creating my own website.
Do you want to say something more?
I think we have already discussed a lot. I hope this helped readers get to know me a little better. Thank you for your time, I will visit my family now…..