Visibly dazed, Harry de Winter addressed visitors at the opening of his very first exhibition on Dutch soil last week. Showing his art to the outside world was something he couldn't imagine for years. That he was now suddenly in a gallery full of invited guests, to open his own exhibition, he had absolutely not dared to predict recently.
"I thought for a long time that I had shown enough to the world in my working life. Suppose I show my works, I thought, do I give everyone the right to shoot me? No, I really didn't like that. Especially not in the Netherlands. Because here the prevailing idea is that one should not stick one's head above the ground. So I wasn't interested in that. I'm doing this for fun."
But suddenly he was there, in Galerie Weisbard, Hugo Borst's Rotterdam gallery. Dozens of guests watched as he spoke in a timid manner. De Winter, an experienced media executive, read from a note. "I'm a little naked here." This, he also said, had never been the intention when he started making it. He looked frail and tired and quickly sat back in a chair.
But De Winter endured the baptism of fire. After his talk, what he had hoped for in Rotterdam happened: the viewers lingered for a long time on his works, which are often funny, stimulating or challenging. "Really witty work", says studio owner and author Hugo Borst.
De Winter's work is clearly the product of a collector: De Winter makes his 'boxes', as he calls his dioramas, with the countless things he has collected over the years as a fanatical collector of all sorts of things. . From barbies to Action figure and statues of Mary. He has studios in his houses on Bonaire, in Amsterdam and in Spain, where he now works with these things on a daily basis.
De Winter, who sold his production company IDTV in 1996 for a sum of millions, now spends hours a day in these workplaces. He calls this daily activity "Priegelen". "Priegel, until I think to myself: and yes, now a work is finished. I can completely lose myself in it."
Diagnosis

De Winter is seriously ill, he has known that for three years. Asbestos cancer is the diagnosis. That's what the same doctor who had first said he didn't have cancer asked in early 2020. He is so sick that he is doomed: in the injury period of his life, he has little left to lose. He has lived for three years with the idea that he is terminally ill. At the time of the diagnosis, he had just decided to come out as an artist.
"My life has gone in a different direction, but when I was fifteen I already wanted to be an artist. Art: it's always been in me. But after my final exams I suddenly had to make a career choice. The ambition to become an artist disappeared from me during those years. Art, obviously that wasn't who I was. But years later, after the sale of my company, I suddenly got a place in my house in France, a small house under the swimming pool that no one did anything with. I then turned it into my first studio."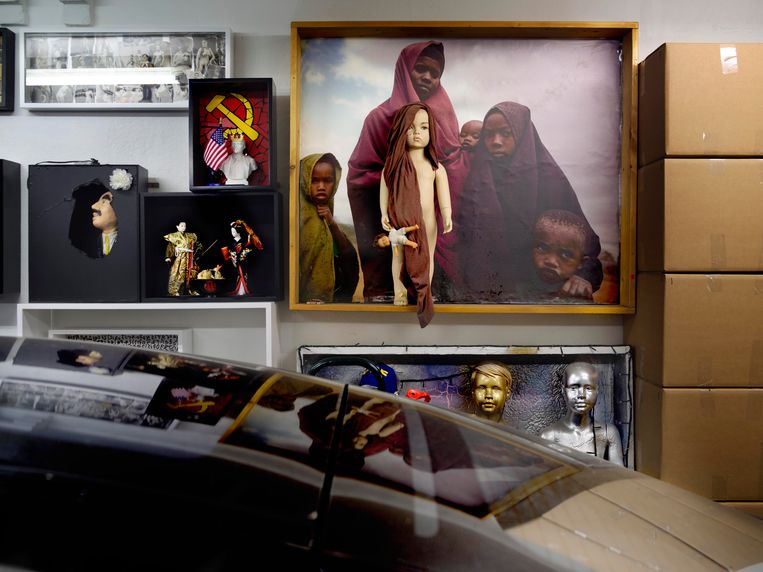 First he started painting that place. "But I didn't think I was good enough." By chance, De Winter then came across a new art form. "I came across boxes at a French DIY market. I bought ten of them. I got a lot of inspiration from filling. I took as a starting point all that I have collected, and it is a lot, to put together scenes."
Without examples, on your own. Friends, the only ones who got to see his work in the early days, told him more and more emphatically that he should show his work to the outside world. "But that was not my intention at all."
However, he was eventually persuaded. The first exhibition on Bonaire, far away from the potentially critical Dutch public, was 'a lot of fun', at the second "60 percent of the works were sold. A sales success." And an exhibition in Miami during the art fair Art Basel Miami was the decisive factor.
It tasted like more. "There, of course, I was completely anonymous. Harry deWinter, who the hell is harry winter? I walked across the street in Miami to see what was happening. Although we didn't have the stand where the most sales were made, we did have the stand where the most photos were taken. It seemed like everyone came back to shoot."
On the couch and depressed

At the time of the exhibition in Miami, De Winter was not yet ill. "In any case: the diagnosis had not yet been made. I got it in early 2020. It turned out that I was no longer cured. The doctors have been trying to prolong my life ever since."
Turning a fatal disease into a chronic disease, one of his doctors called it. His partner, the actress Yvonne van den Hurk, was immediately off the map, he recalls. "I myself reacted differently. Very secondary." The stroke came afterwards. But, according to De Winter, there was no point in dealing with death full-time. He could probably have laid down on the sofa and become depressed, but it soon proved to be 'quite difficult'.
To travel, to live, to create: he continued to do so emphatically, even when it was physically difficult for him. "I will remain active until the end. When people around me ask if I have any regrets, the answer is no. From nothing. I have been a Sunday child, with a wonderful life. Yes, I also want to be 85. It is unfortunately not the case. I would also like to have been Picasso, who was still in his mid-eighties. My own father did not die until he was in his nineties, despite his wartime time in Auschwitz, where he lost his wife and child. I will really not to reach that age, but luckily I've always done everything I wanted to.'
He still does, he says. He can barely handle it physically. It was unclear in advance whether he would come to the opening in the Rotterdam gallery: He was there, even though he looked frail.
"Everything is outsourced in advance. The production of the exhibitions, the organization. I withdrew from that after I got pneumonia for the second time this month. This time in Germany. We were there recently to film my father's escape from Sachsenhausen to the American sector, but on day two I got sick. I spent a week in the hospital in Potsdam." Pained: "Pneumonia like this won't kill me, but it will give me a huge blow to the head."
He now sleeps in the afternoon, and he meets less and less with others. In recent years, he has been asked more often about what it means to become seriously ill. Why was he particularly affected? "I was always called a Sunday child by everyone, including myself. Because everything I tried worked. So I've had a wonderful life. In my eyes, it's just getting sick bad luck."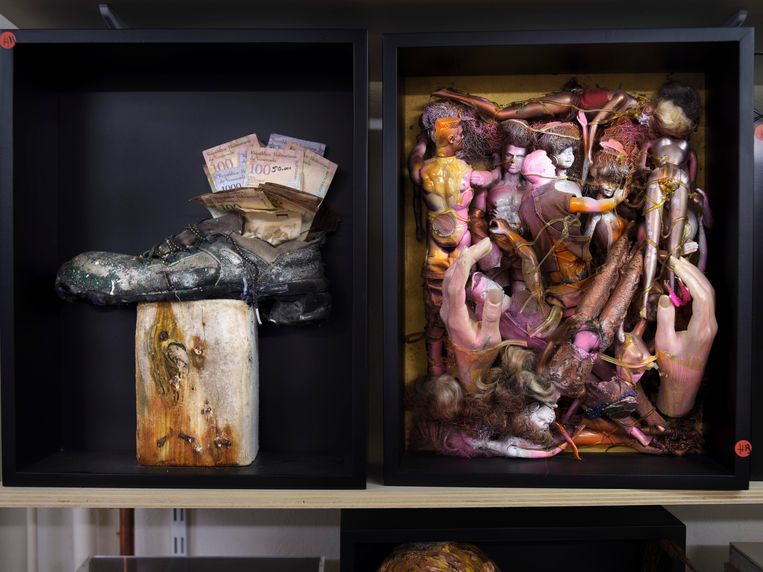 "I now meet people in the hospital who have the most terrible forms of cancer. They are then twenty or thirty years old. They have not yet started their lives. Not me, I've just had a great life for over seventy years. But I'm pathetic. I mean, yeah, I'm really pathetic."
"Because I now also know that my life is going to end very dramatically. This situation must end in euthanasia. Because I really don't want to wait until I die from this disease. It is a terrible death. No, euthanasia is not a pleasant prospect. But compared to the young people in the hospital, at least I've had a fantastic life'.
Then he asks if he doesn't sound too rational. Because it is not intended that way, he emphasizes. You never know where you stand when it actually comes up, De Winter admits. "Unfortunately, I cannot cry. It seems delicious, which is why I unfortunately use the word. But I can't cry. Yes, with a movie or a series. But not active. The grief is behind a wall, with me. I'll see if I can find a therapist soon."
Human behaviour

Dying in itself won't be so bad, he supposes. As long as "it's just a little comfortable". "It is more difficult for the latecomers, I think. Of course there are billions of corpses in the world, dying is very normal. What is particularly poignant is the smaller scale: what your death does to your friends, your children. It is much worse to have to stay back."
"I once said in this newspaper that if god exists, he must be an asshole. I said that in connection with the war story of my father, who lost his family in Auschwitz. It's just really hard for me to believe in a god like a goodness. Because why would a god have accepted this kind of human behavior? The industrial killing of millions of people? Babies, children, adults, my half-sister, born in Auschwitz and killed there."
He has not changed his mind now that death is approaching, according to his doctors. "I wish I was religious and that I had an idea of ​​what happens after death. But I just don't have that image. I don't want to hurt others either, I just like how they find support in their faith. But my illness has not changed this perspective either."
His view on the meaning of life has not changed either, he says. "The meaning of life is to live from start to finish. There is nothing more than this life, so live it wholeheartedly and do it in the most positive way possible. With your friends, with your family, with your acquaintances. And try to mean something to society."
He says that he has always done it himself. His legacy is already divided on paper, charities will get a share of his fortune of millions, although he prefers not to talk about it. "After the bad news, I had to think for a long time: what does my illness really mean for making art? Suddenly I had no idea how much longer I had to live. At the moment the cancer is fairly stable, I'm not going down like a spear. But whether it is a retrospective, a first or a final exhibition: I just don't know. It really doesn't stop there."
He resigns himself to it. When the exhibitions are over, he retires to one of his three studios. Creating with death at his heels, sometimes completely forgetting while doing it. "Art now plays a hugely important role in the quality of my life. I can lose myself in it for a few hours every day. It helps a lot."
Harry de Winter exhibits at the Beurs van Berlage in Amsterdam (30 September – 2 October).
Harry de Winter (Oss, 1949) was a radio producer for KRO, VARA and NCRV for a long time. In the 1970s he also became a television producer. After a forced departure from NCRV, which canceled his programme, he founded his own production company, IDTV. As a TV producer, he first made a name for himself with concert recordings of bands such as U2 and Pink Floyd. Later he thought lingo, which became an international hit, and other programs. IDTV also produced critically acclaimed series such as pleading and Old money. In 1996 he sold his production company. In the following years, De Winter focused on projects such as a TV channel The conversation, which was supposed to offer quality TV to a large audience, and to the NGO 'An Ander Joods Geluid'. Since 2001, this NGO has preached a just and peaceful solution to the conflict between Israel and Palestine. De Winter donates the profits from the art, which he has now started selling, entirely to cancer research.
Also read:

Harry de Winter in the Ten Commandments

Harry de Winter (Oss, 1949) signed as TV producer for IDTV – meanwhile sold to VNU – for programs such as 'Taxi', 'Lingo' and 'Pleidooi'. De Winter is also one of the signatories of a manifesto against deterioration of society and deeply involved in the peace movement in Israel.