Young Brussels Arnaud Eubelen (31) creates obscure designs that emphasize the poetry of the banlieue. He transforms trash from the streets of Brussels into elaborate design designs that are prized by galleries. "The city is my material library."
"It's quite empty here at the moment because a lot has been sent out to exhibitions." When entering Arnaud Eubelen's studio in Molenbeek, the emptiness to which the designer refers is not particularly noticeable. Glass doors, pieces of scaffolding and wooden planks: materials marked as waste lie scattered in heaps. The apparently carefree designer sits on a self-made bench consisting of bare pieces of concrete, steel and corrugated plastic – the seat. The sofa is like a chameleon in the jungle.
Arnaud transforms discarded materials into furniture and objects such as lamps, chairs and sculptures. His work is highly appreciated. He is exhibiting this week at Paris+ par Art Basel, at the London Design Fair and Art Antwerp is also on the schedule. Brussels Eubelen is the new kid on the block.
The reason: his special intuition for selecting materials. Arnaud looks at waste with a different eye. He sees patina instead of dirt. "As soon as something is thrown away, it loses value and becomes waste," he explains. "But there is a certain aesthetic to discarded objects. You have the feeling that the materials have really come to life, that they are telling their story. This lacks new materials." When I photograph his works in his studio at the end of the day, after a walk through the banlieues of Brussels, I understand that he is not talking nonsense. He plays with patina, with color, with the texture of the materials. His compositions are well thought out and balanced. He's just good. The boy has it.
Like a madman on the bike
Arnaud often goes outside to get material and inspiration. A large part of his design practice consists of… bicycles. "The best neighborhoods are Molenbeek and Anderlecht," he explains. "These neighborhoods are not necessarily dirtier, but people are used to just throwing their large household waste on the street. The best day is Sunday. Then everyone cleans up their house. I often cycle at six in the morning when the streets are quiet. Because I focus my attention on the mess on the sidewalks, sometimes cycling becomes dangerous." It's neither Sunday nor morning, but we're going out together by bike. What he told about dangerous cycling becomes a fact within five minutes: Arnaud drives like a madman through Brussels traffic, ignoring the traffic lights. "You have to drive like a taxi driver: in harmony with the dynamics of the traffic," he laughs.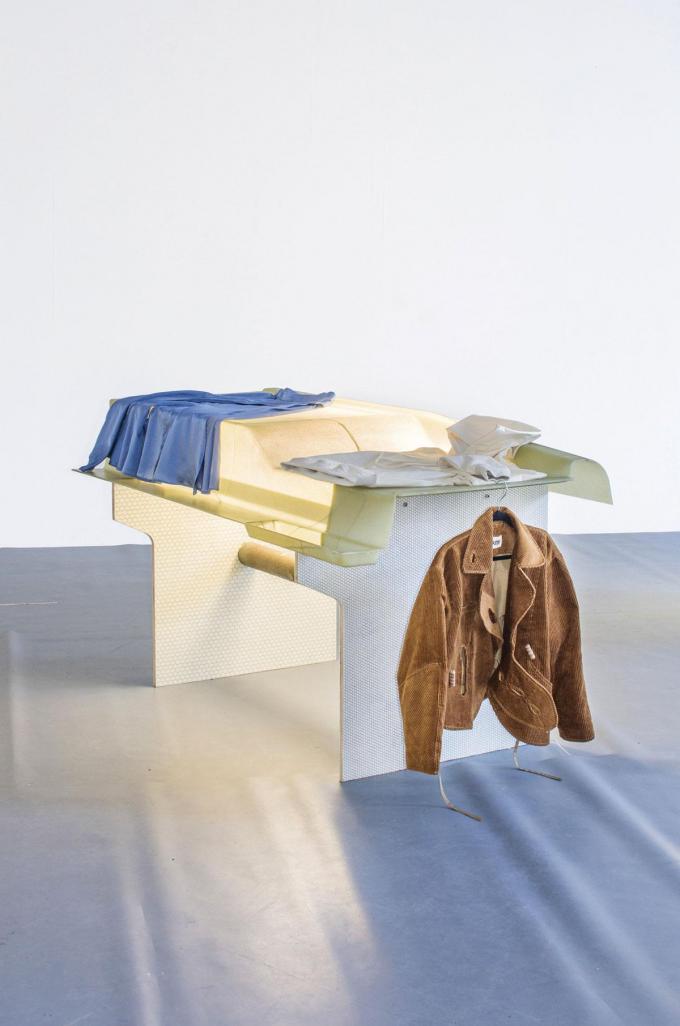 He often stands on the pedals to survey the streets, with his gaze straight over the roofs of the parked cars. "It works like a flea market; you don't know exactly what you want to buy, but you keep your eyes open for certain things." Like glass. "It is transparent and has a nice light effect. And besides: glass on the street is something you usually avoid. It is dangerous. I think that's a nice contrast. To me it sparkles like gold." In Molenbeek we cycle past a rounded mirror against a facade. No one cares except Arnaud. He stops but doesn't take the mirror with him. Not necessary at the moment. The designer really makes me look at it seemingly banal mirror. "It just creates a big hole in the facade; the trees opposite are reflected in it." An objet trouvé annex trompe-l'oeil.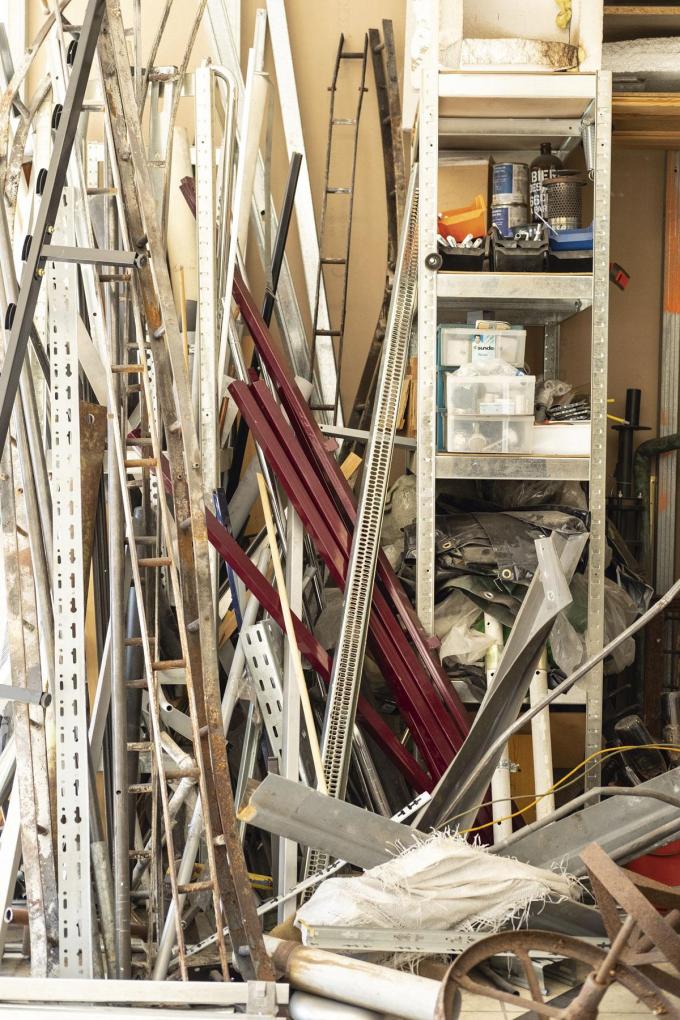 Arnaud mainly looks for large piles of rubbish that people would rather not see lying in their street. "Normally I don't consciously go looking, but I scan the streets if I'm going somewhere. If you consciously search, you often find nothing. At times when I need a particular piece, for example a large plank of wood, I can look around for three hours and still come home from a walk."
Je-me-fault
When we have just crossed a busy intersection without paying attention to the traffic lights, Arnaud points to the Veststationen to indicate that there is often usable junk there. Yards are good sources of timber. Because of the way he feels so at home in the slums, the question arises whether it is not about more than just collecting material. "I like working-class neighborhoods," he admits. "People are more lively and all the houses look different. However, neighborhoods like Molenbeek and Anderlecht feel. They are my living environment, but also my source of inspiration. I want to bring the atmosphere of these streets to the living room. And create a new image for discarded materials."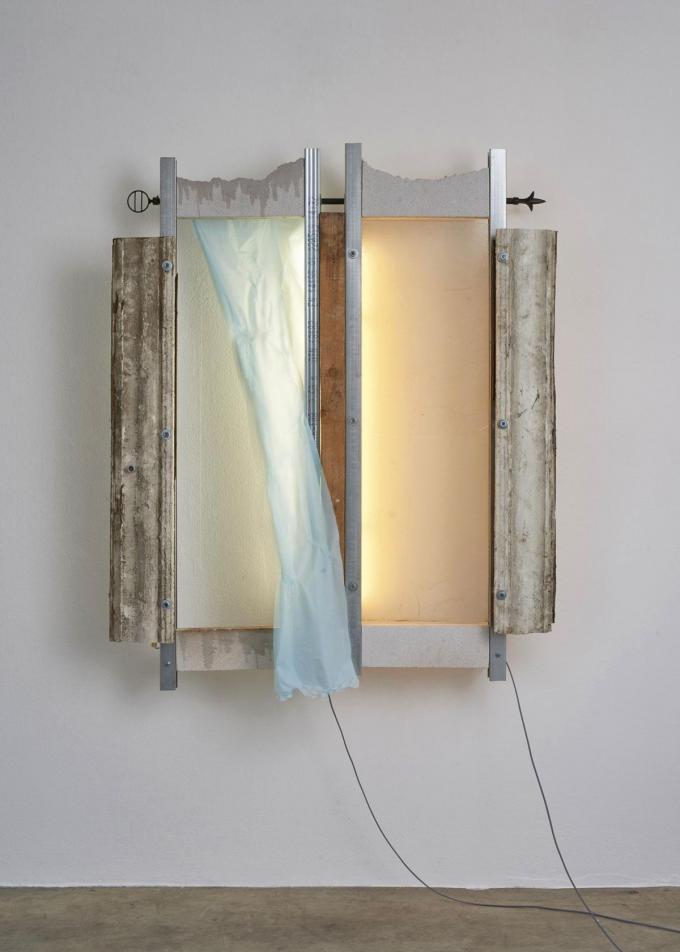 He does not applaud the slums endlessly. The designer realizes all too well that these are places with social and economic challenges. On the other hand, these neighborhoods have one great quality: they convey a great sense of freedom. There is a certain you-me fallacy because there seems to be nothing to lose.
His fascination with dystopia dates back to his childhood. "I grew up in Cheratte, a small mining town north of Liège. The abandoned industrial buildings were my playground and around the age of eighteen they became the subject of my photography." He visited the many abandoned construction sites and industrial buildings – for example along the Maas – to hang out and take pictures. His photography would form the starting point for his designs. "In Liège I was part of the collective La Superette. Together with them I developed my style by building and exhibiting furniture for the space. That's also where the idea arose to work with trash from the street, which I hadn't done before." Arnaud then realized that raw materials are simply ubiquitous. "Moreover, these raw materials have a direct connection with the city. They carry the atmosphere of urbanization without you having to force it as a designer. Meanwhile, I think it's strange to buy material." Beyond the obvious ecological aspect of recycling, this way of working simply feels more genuine.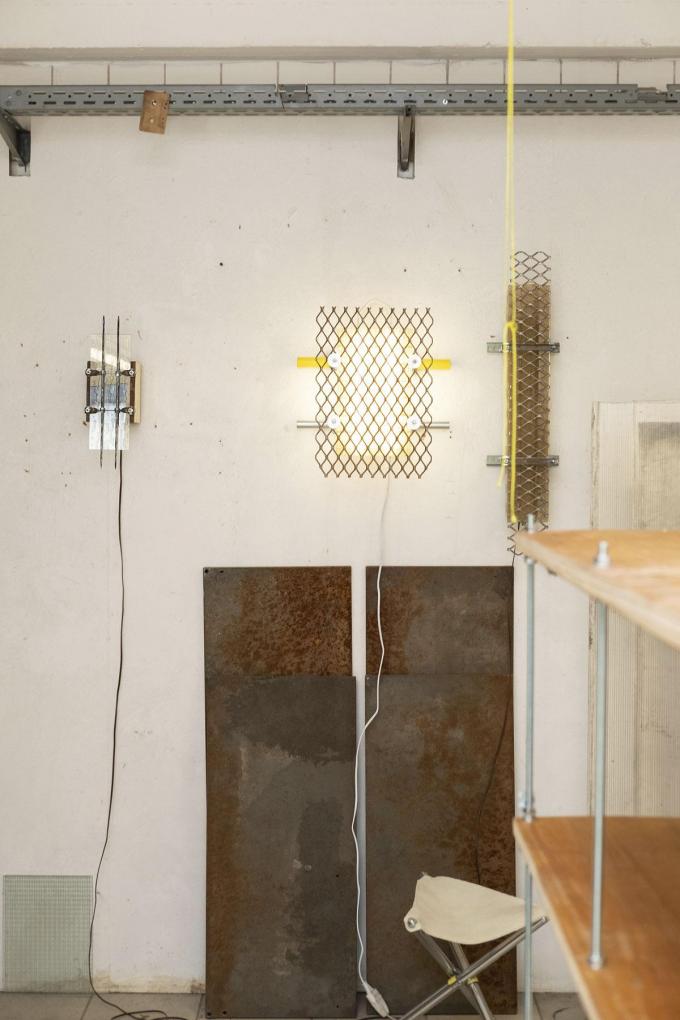 Ikea manual
Our last stop is Vossenplein in Marolles, the most famous flea market in the country. Strolling around there with Arnaud is a different experience. While two tourists stare at an old analog camera, he rummages through cardboard boxes. "I come here when I'm looking for something specific, like electronics or tools." He quickly finds what he was looking for: a convex lampshade for four euros. It ends on its self-constructed, fold-out luggage carrier.
"Just walking around here and seeing all the objects together inspires me. Sometimes the sellers display their goods in an interesting way and they unconsciously form good combinations of materials. But I don't buy too much here. Because it is mainly interior stuff. I want the outside world. Otherwise, my work becomes too domestic."
After some more fiddling, he finds an old catalog from 1932. From Yale, a brand of door locks. He browses hypnotized. "The pictures show a bit of how I design." Arnaud points to technical drawings where the parts of each lock are clearly visible and separated from each other. He does. "I always try to visualize the entire anatomy of the object, a bit like an Ikea manual." Arnaud deals not only with the beauty of old materials, but also with the old, analog mechanics: the position of a certain bolt, the curve of a thread, the interaction between two plates. The simplicity of the technique resonates in the almost chaotic mass of materials. "I really use the simplest ways to build. My work is very low-tech."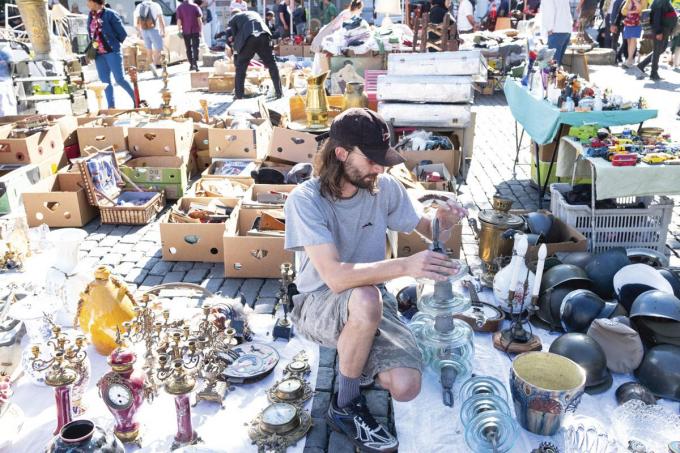 The world in decay
On the way back we cycle along his 'boulevard of stuff', the Boulevard du Midi. Twice he makes a sharp U-turn to enter a street. His eagle eye had noticed something again. "How can you suddenly conjure such a large pile of garbage out of your house and put it on the street?" he wonders. If I look at it long enough, I also discover a certain aesthetic: laminate and garbage bags turn out to be strangely photogenic. Arnaud's ideas are starting to take hold of me too.
A neighborhood in decline, the average Belgian would think. Arnaud sees the decay of the whole world in it and likes the apocalyptic thought. His work refers to sci-fi films such as Blade Runner in which darkness and tipple – the word sci-fi author Philip K. Dick coined to describe ever-growing waste – creating the atmosphere. "End-of-the-world films like this have a big influence on my practice," he admits. "My work also deals with the end of our technological society, when the abundance of materials is over and people have to work with what is available: waste. That's how it is now. Scarcity is imminent. Building materials have become ridiculously expensive. Initiatives like Rotor, which recycles and sells building materials, will become the norm in the future."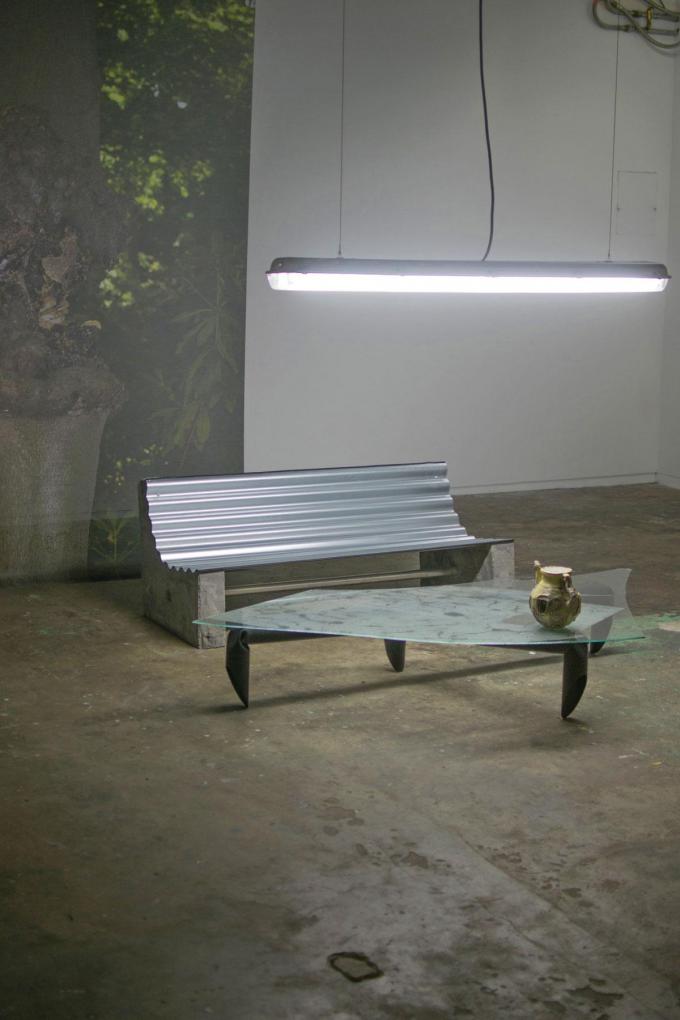 Technically, Arnaud sells street trash to wealthy design enthusiasts. I raise this while we drink a three-euro Moroccan pea soup in the heart of Molenbeek, which we both season with too much olive oil and chili powder. With his robot design, the young rebel deliberately disregards the usual paradigms of the design world: clarity, functionality, craftsmanship and beauty. He fights against the stereotype of smooth, stylized objects. "I'm not so much against design theory, because it has also taught me a lot. My point is to introduce new ways of producing. To create from your own financial reality and that without compromises, such as comfort." He rolls a cigarette. "I want to open a new field in this world of things. I don't sit down and draw. I cycle around. That's my design process."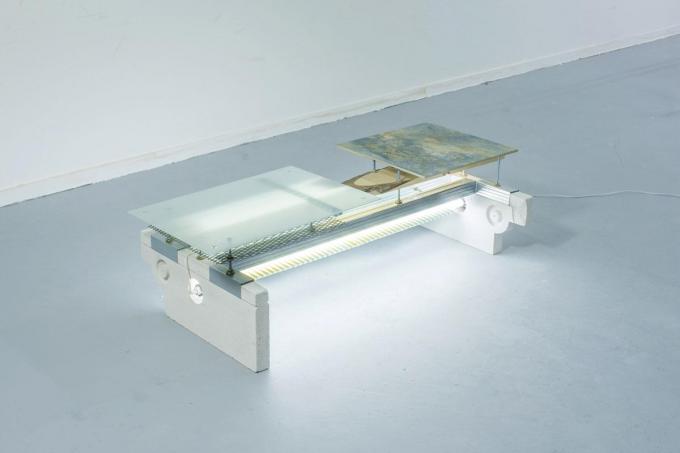 With a burning palate we return to the studio.
Waste becomes art: through Brussels with Arnaud Eubelen
October 20-23. Tools Gallery during Paris+ par Art Basel,
Grand Palais Ephemere, Place Joffre 2, Paris.
– Until 18 Nov. Poliform Lyon, rue du Colonel 1, Chambonnet in Lyon.
– Until 18 Nov. La Sira, just one step from heaven – Quai Aulagnier 153, Asnieres-sur-Seine.
arnaudeubelen.be